We love this list of February journal prompts!
There are so many things to love about February: Black History Month, American Heart Month, Blah Busters Month (yes, it really is!) and … the month of love! Around here we like to focus on self-care and strengthening family bonds during the month.
[Tweet "#NowReading: February Journal Prompts #journaling #selfcare"]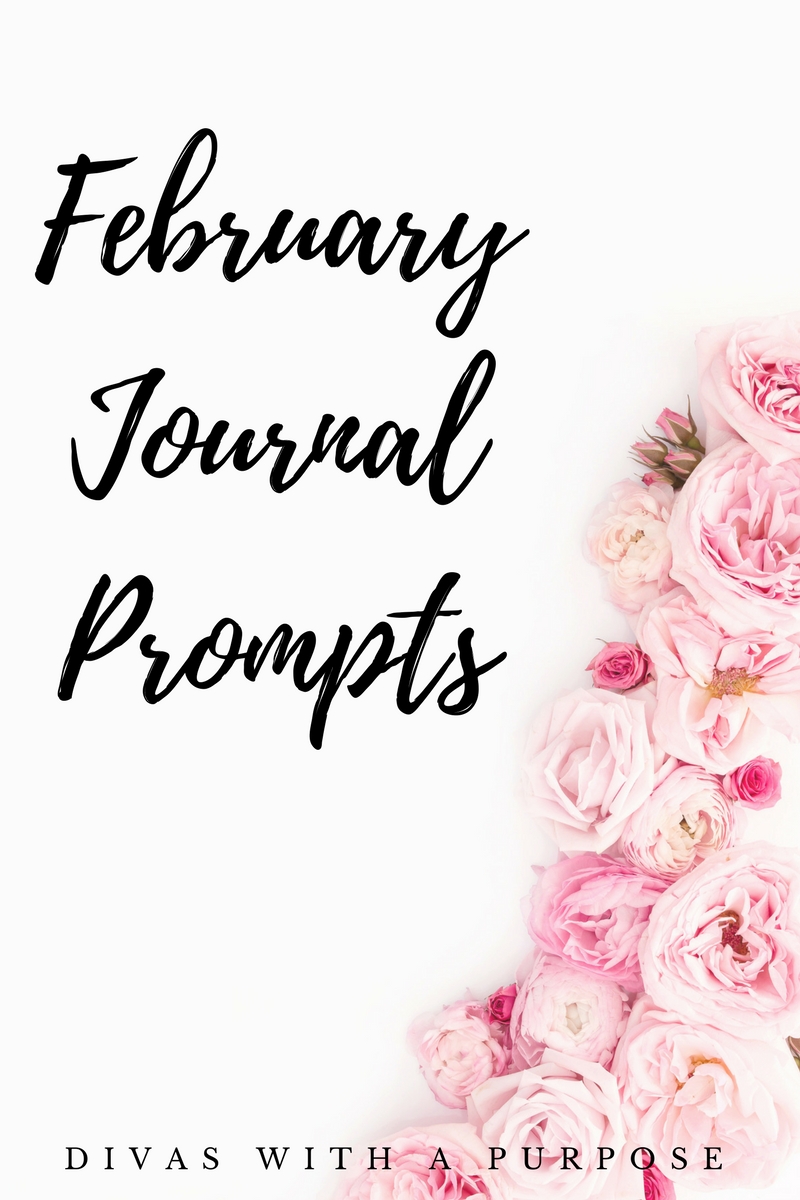 February Journal Prompts
These journal prompts can be used so many ways. We use them as a part of our family journaling project. I also use these to provide content for my business live-streams and social media posts.
What does Valentine's Day mean to you?
Who is the person you think about the most this month?
Have you listed your business goals yet? If not do it this month.
The weather outside is…
Explain what the words love and romance mean to you.
It's heart month, what small changes are you putting in place?
Is your business on track?
What's the best business tool you find most worthwhile?
I love to journal because…
Do you take much stock in Groundhog day?
List two things you can do to clean out your closets to get ready for spring.
What bulbs or seeds are you going to plant this year? Pretend if you don't have a garden.
The winter birds I love to see, and feed are…
What new clothes do you want for this spring and summer?
How many Valentine's cards are you sending?
Find a chocolate recipe you could make this month & describe how you made it, who you shared it with and how it turned out.
How's your product planning coming along? List out the products you plan on creating this year.
What's your favorite topic to blog about this month?
What top qualities do you find as important in a relationship?
What's the funniest thing you have seen people do this month?
Write about how you view your parent's relationship.
Be truthful and describe how February really makes you feel.
What's your favorite romantic movie to watch?
Are you sick of this crazy weather this year? Let all your feelings out!
What qualities do you love about yourself?
What family memories do you have of Pancake day, or just pancakes breakfasts in general?
What is your favorite soup?
What's your favorite red dress or outfit that you own or would love to have? (This prompt make me think of my friend and fellow blogger, Janeane Davis)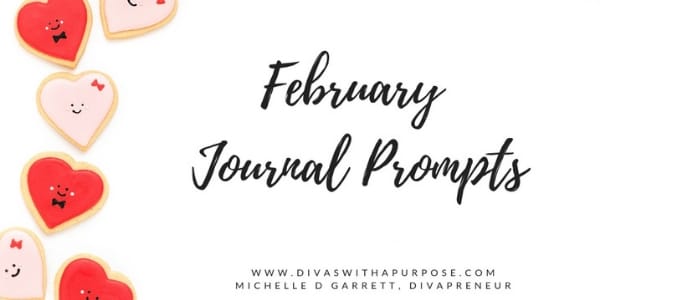 More February Journal Prompts
It's Valentine's Day this month. What are your plans, if any? You can also write about a Valentine's Day that has meaning to you
Feb 2nd is Ground Hog Day, are you expecting 6 more weeks of winter?
What makes you feel loved?
What's your favorite red outfit that you have now, or have worn?
How will you show love this month?
How are your New Year's goals coming along?
Its American Heart Month, what steps are you taking to keep your heart healthy?
What tangible goal can you set for the upcoming week?
What's your perfect winter meal?
Select a song that matches your life now.
How do you define self-love?
Create a Valentine or Love related Doodle.
Write out 5 things you love about yourself.
Write about 3 people who you admire, and why.
One thing that you would like to improve is…
What's your favorite way to help someone?
Write about any obstacles that February usually has for you.
Write about a time that you laughed so much it almost made you cry.
What plans do you have for Spring?
On a scale of 1-10 how do you rate your health?
What new habit would you like to start?
Are you tracking your sleep? How much sleep do you get each night?
How many photos have you taken this month so far?
Look up at the sky and write about the colors and cloud formations that you see.
Write about one small thing that has happened to you this month that has made you feel grateful.
How much time are you spending on social media these days?
What does friendship mean to you?
What prayer, poem or song gives you comfort?
What did you wear today and why?
Describe your commute to your job.
How was your February?