There are tons of easy ways to say thank you to those we cross paths with on a daily basis. It's amazing the impact a genuine smile and small act of kindness can make on a person's day.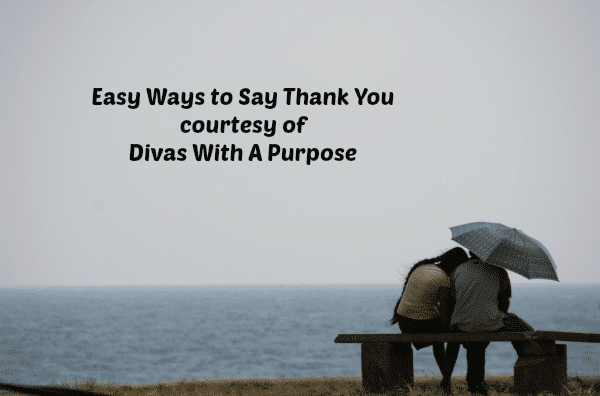 With a note: Yep, a handwritten one. Remember those? With technology, email, Facebook, text messaging, receiving a hand-written thank you note or card could be a welcome surprise for someone
Lend a hand: Offer to help with a project or assignment. Know a task they absolutely despise doing? Take the time to do it for them. Believe me, they'll appreciate it
Frame a gratitude quote: You can get an inexpensive frame and print out (or even write out if you're the creative sort) a thank-you quote to give to them.
Refer their services: If you've got an awesome stylist, direct sale consultant,  dentist, etc – keep their business cards handy to give out to others. Write your name on the back so your friends will be able to let them know you sent them their way.
With a  meal: If it's your spouse, cook their favorite meal and serve it to them. If it's a friend or relative, drop off a ready-made meal or have something delivered to their home to give them one less thing to do one evening.
With some alone time: Offer to baby-sit their little ones so they enjoy some time alone or a night out.
A hug: Yep, it can be just that easy sometimes.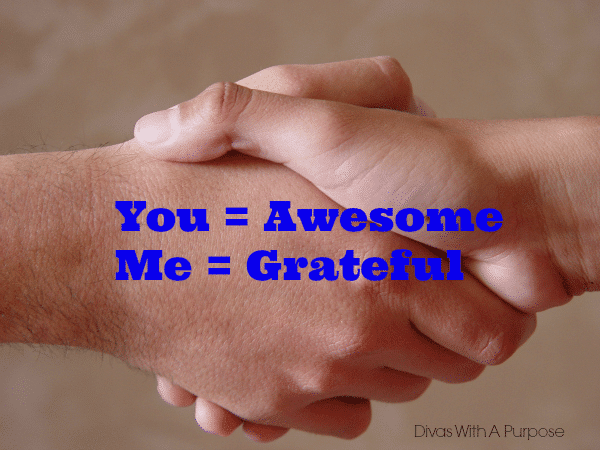 One-on-one time: Taking the time to give someone your undivided attention is a great way to show them how much you truly appreciate them.

With you words: Telling someone exactly why you appreciate them and what they've done to make you thankful is priceless. It's easy to say thank you, take it a step further and sincerely tell them why
Return a favor: Did a co-worker help out with a deadline? Take the time to assist them the next time they need it, without being asked. Bring them supplies from the supply room. Fill up your husband's fuel tank (okay…gas is a tad high these days…he'll appreciate a half-tank!).
Questions: Take the time to ask someone how they're doing, how they're day is going and sincerely listen without waiting to respond or chime in with your two cents
Welcome to Thankful Thursday! Each week here on Divas With A Purpose, we take the time to focus on what we're grateful for – no matter how small or insignificant it may seem. I encourage you to share in the comments below and to chime in on our Facebook community
.