Happy Thursday Divas! I hope you've had a fantastic week! It's my favorite day – time to stop and reflect on the positives in our lives.
Gratitude comes from how you look at the things you encounter on a daily basis. It is a natural feeling that comes from truly appreciating the people and things in your life. However, you can easily miss what is right in front of you.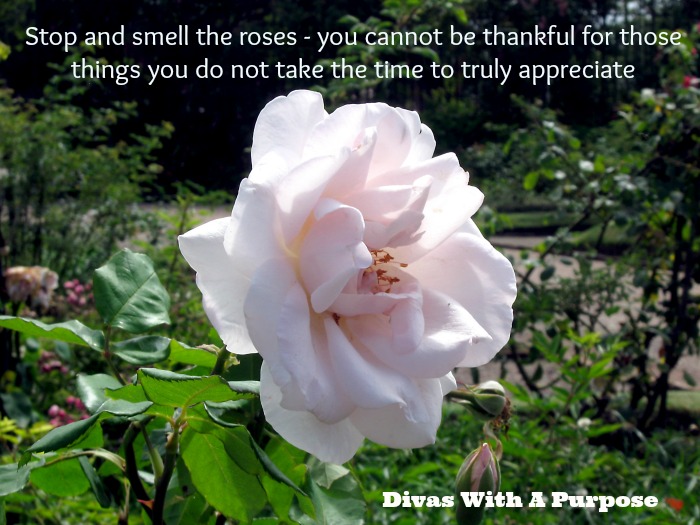 First, you have to embrace that old cliché and stop and smell the roses. You can't be thankful for something you don't notice or enjoy. Roses really do smell great, by the way.
Then, you need to make this appreciative approach to roses and life a habit. I'm not suggesting you ignore the ugliness in the world, but you have to habitually see the beauty.
Start writing down every positive thing that happens to you, and all the things you like. Do this until you start automatically seeing the good things in life. If you've ever bought a red car, and started seeing red cars all over, you know how awareness can alter your perception of reality. To see wonderful things all over, train yourself to look for them.
As you get into this habit gratitude it is only natural that you will begin to experience a much richer and enjoyable life.
Each Thursday on Divas With A Purpose, we pause to reflect on what we're thankful for. Gratitude is a huge part of my life. A few years ago I made a conscious decision to reflect more on what I had versus what I did not have – since then I've seen a considerable positive change in my attitude and demeanor even in stressful situations. I encourage my supporters to take a moment to think about what they have to be thankful for. Feel free to share below in the comments – you never know how you'll inspire and motivate someone else.
[inlinkz_linkup id=359331]