I don't know about you, Divas, but December has been a crazy month. I can't believe that Christmas Day will be here in 10 days! My children's last day of school is this Friday and we're excited for the winter break – sleeping in, late nights watching holiday movies and traveling to visit family and friends in my hometown of Charleston, South Carolina.
My children remind me of the true reason and joy of the season when I find myself bogged down with the tasks associated with being a work-from-home mom in the beginning stages of running her own business full-time and then it hits me – oh, yeah, I should be preparing for Christmas and New Years! Whether it's the excitement they get shopping for others their age for our local toy drive, decorating our home, making cookies, or "helping" to wrap gifts for family and friends.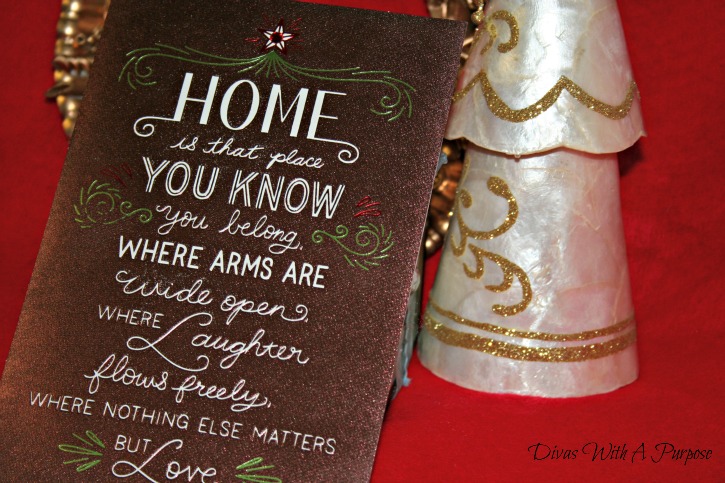 My Goal: To Be In The Moment
My youngest son recently asked what I wanted for Christmas and I had to pause. There wasn't any specific items that came to mind. To be perfectly honest, all I want for Christmas this year is to truly be in the moment – not rushed, not focused on a gazillion other things, but to truly enjoy my loved ones and the joy of the season.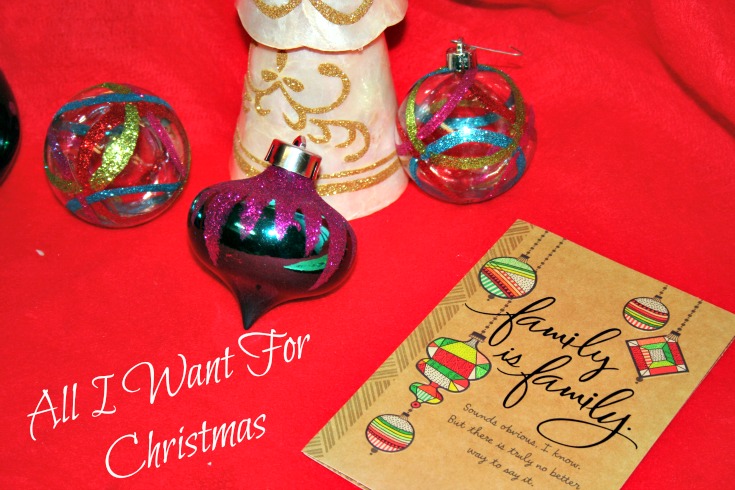 One of my favorite ways to be in the moment is taking the time to send out personalized holiday cards. Let's be honest, Divas, I'm not the best when it comes to sending out those beautiful holiday cards with highlights from our year and candid photos of the family to all our family and friends. I do, however, get joy out of picking up cards for specific people who've crossed my mind to let them know I'm thinking about them. I try to send "just because" cards out monthly to family and friends as a way to stay connected and bring a smile to their day. During the holidays I am more intentional with this practice.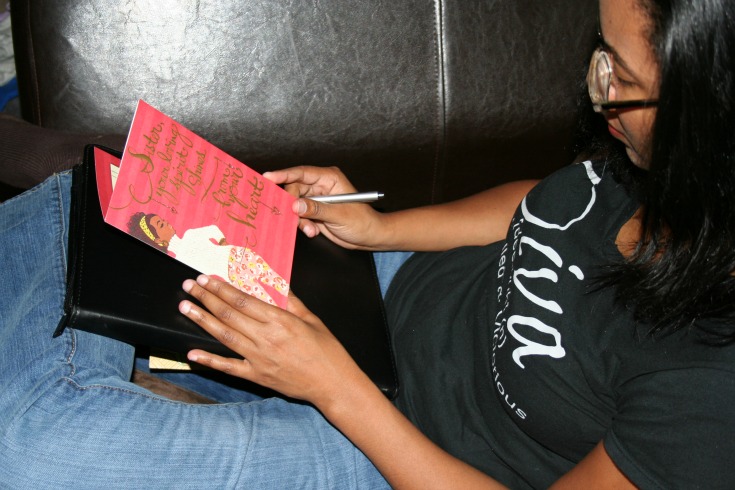 Recently Mahogany sent me a package of beautiful cards to send out to my family and friends this holiday season. I am never disappointed when it comes to Hallmark cards. The Mahogany collection includes cards with vibrant art and soulful messages that truly resonate with me. As I sorted through my package, I mentally made note of who would be the perfect recipient for each of them – from my parents, my Divas, friends near and far, and even the absolute perfect card for my husband.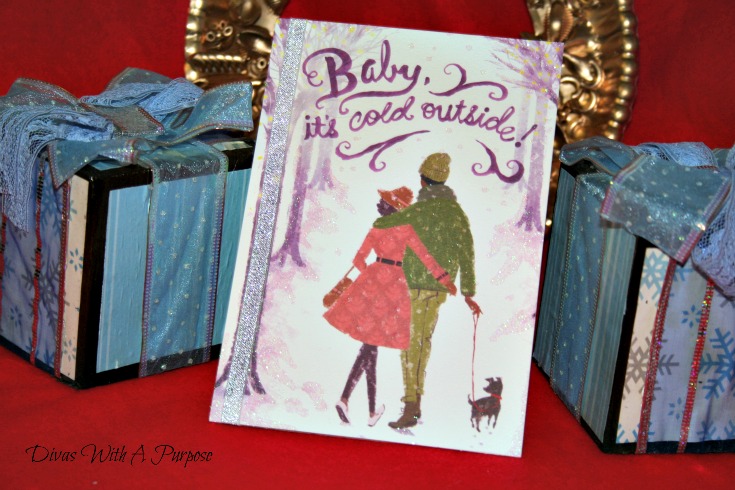 My circle of Divas recently had our family holiday gathering and I included one of the holiday cards in the gift for our exchange. The sassy Divas on the front of the card even resembled us, but most importantly the words said it all:
"Some years we share more laughs,
and other years we need more hugs.
But the beautiful thing is that
our friendship is a constant
we can depend on."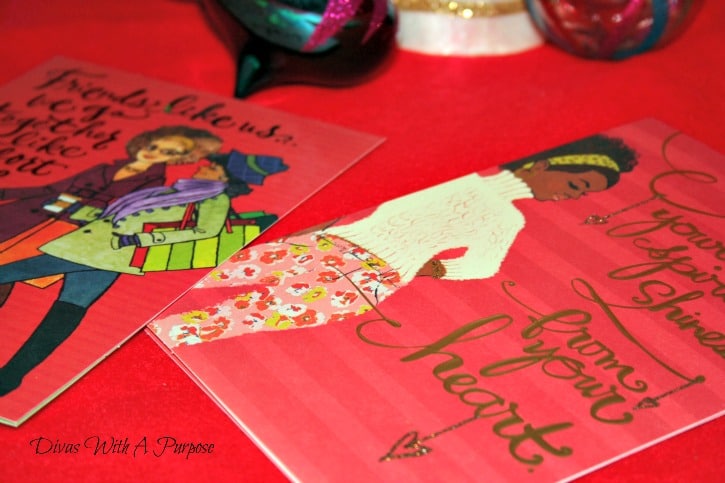 Yes! Those words personify our friendship perfectly! We're so thankful this has a been a year filled with laughter and love.
I've shared before that I'm blessed with an extremely large family – I'm one of the oldest of 70+ grandchildren on my mother's side. I have some amazing younger cousins that are doing fantastic things with their lives and I love to encourage, celebrate and motivate them as much as possible. I recall my twenties vividly – being out on your own, responsibilities, bills, student loans coming due. Mahogany, also, has cards that have humorous messages and slots and spaces to include a little extra, as we call it in our family.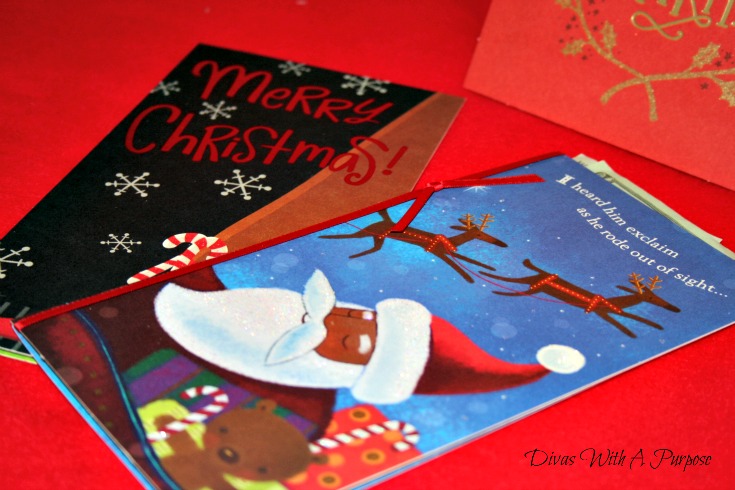 How To Be In The Moment
I challenge you to take the time to send out a few holiday cards to someone that may need some encouragement this holiday season – believe me, a beautiful heartfelt message from someone who cares truly makes a difference and will bring a smile to their heart. There's something about getting comfortable with some beautiful holiday cards, a warm cup of hot cocoa and some great holiday music to truly help you get in the holiday spirit and focus on the true meaning of the season.
I encourage you to pause, slow down and truly focus on being in the moment over the next few weeks. You are creating memories that will last a lifetime – do not rush through them. Here are a few other ways I remind myself to be in the moment:
Do less. Declutter your to-do list. Delegate and eliminate.
Spend time doing nothing.
Focus on what is in front of you – not what need to be done, didn't get done or won't get done.
Perform a random act of kindness to bless someone else this holiday season.
Be thankful.
Have a fantastic holiday season, Divas! I'd love to know how you are spending your holidays and how you will strive to be in the moment.
There are some fantastic bloggers sharing what they really what for Christmas on the Mahogany Social Media Channels. Follow along on Facebook and Twitter using the hashtag #SoulfulTrueYou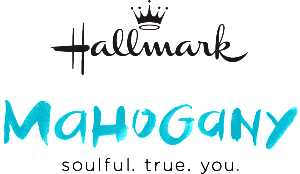 This is a sponsored conversation written by me on behalf of Mahogany and The bLink Marketing Network . The opinions and text are all mine.