I found out about the Ibotta app about a year ago, but have recently begun to utilize it regularly as part of my frugal shopping for groceries and personal items. I love this app!
What is Ibotta?
Ibotta is a free mobile application that you can download on your smartphone or tablet.
You can find rebates on grocery items, restaurants, apparel, health & beauty products, electronics, pets, home improvement and babies & kids! Ibotta works in over 80 stores. To "unlock" the rebates you will need to do simple tasks like reading fun facts, watching brief videos and occasionally posting to your social media outlets.
Once you purchase the featured products, you verify your purchases by scanning the barcode and uploading a copy of your receipt. Ca-ching! Money is added to your account and once you reach at least $10 – you can either transfer the cash to your Pay Pal or Venmo account or redeem for gift cards to stores like Starbucks, Regal Cinemas, iTunes and more!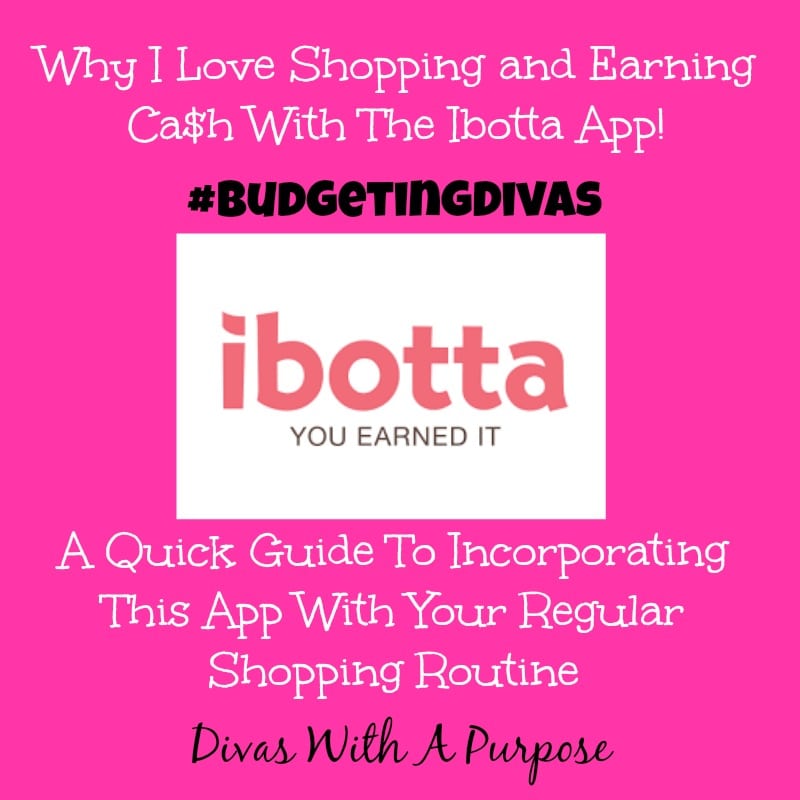 Ibotta Bonuses
Team Bonus: By building a team, you can earn additional bonuses based on the amount of your rebates and your team's total rebates.
How do you find team members? Connect your social media accounts. Facebook friends that are already on Ibotta will be added to your team. Share your link with your friends and family and they'll be added to your team. Currently, for each person you refer to Ibotta, you can earn an additional $5 when they join and redeem their first rebate.
Special Purchases: You can, also, earn additional bonuses by purchasing certain products and completing tasks. There'll be a trophy icon next to the items that qualify for these bonuses.

How I Incorporate Ibotta Into My Shopping
With my shopping, I strive not to purchase products that I will not use. I generally don't believe in spending money to save money. I do, however, believe in stocking up on items when they are on sale and I can get a great deal with cash back, rebates, etc. on them.
I do spend some time planning out my shopping trips. I usually go shopping with my children and incorporate them into our shopping trip. My three year old counts the items in the shopping cart – mainly because she loves to do it, it helps her with her counting skills and encourages her to stay in the cart rather than walk / run around the store. My six and three year old share the duty of scanning our items if we're using mobile apps to get additional savings. My thirteen year old is responsible for double-checking the list and matching any paper coupons we may have.
Grab the Ibotta App by clicking here.
When we get home, as we're putting up our groceries, we're scanning and confirming our rebates on our apps and quickly submitting a copy of our receipt. Typically within 24 hours the rebates are confirmed and added to my account. Yes – it's really that easy!
My Total Ibotta Rebates By Month
Are you connected with me on Instagram? I share my Ibotta purchases and rebates on there as I earn them, too.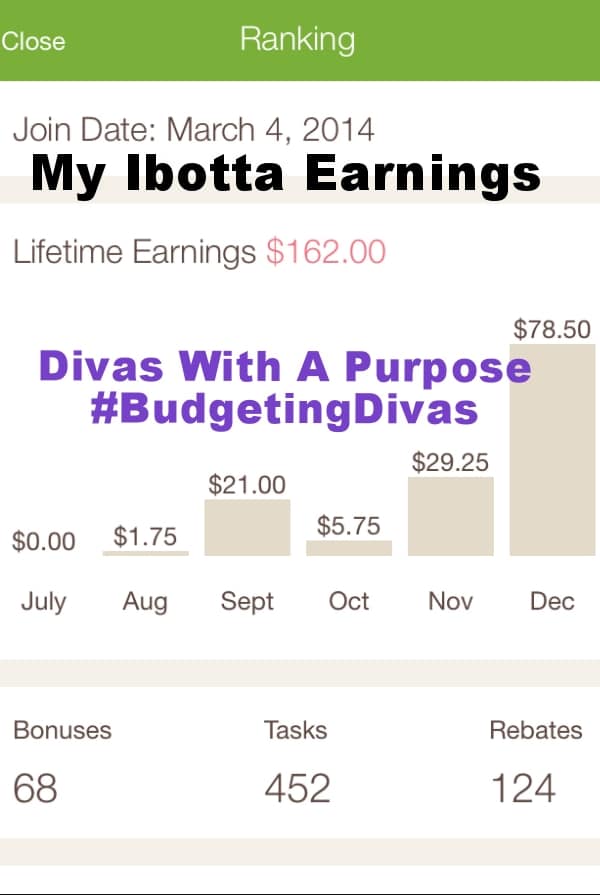 April 2014: $11.25
June 2014: $2.25
August 2014: $1.75
September 2014: $21.00
October 2014: $5.75
November 2014: $29.25
December 2014: $90.00
January 2015: $0.25
February 2015: $13.75
Grand Total: $187.50
I'd love to hear how you use Ibotta or any other savings apps to help save money.