We absolutely love the hustle and bustle of the holiday season. This is a time of year where we travel more for fun versus business. We get a chance to spend time with family and friends. Most importantly it seems each year we create new memories and traditions.
This year my oldest son and I were chatting about our December schedule and realized we'd be traveling right up until Christmas Eve. What about Santa's cookies? he asked. In our household, if there's one time we'll get homemade cookies it's Christmas Eve. That's a tradition that started with my parents. My mom, an emergency room nurse, typically worked more during the holidays but I can always remember her carving out time with us to make cookies and treats for Santa.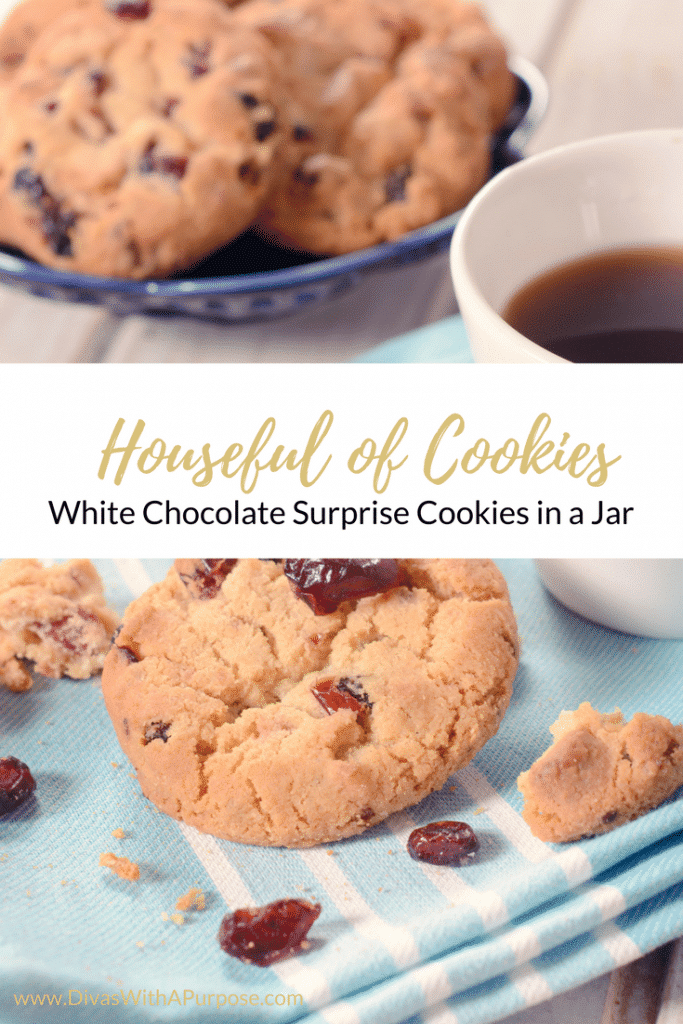 [Tweet "#NowReading: White Chocolate Surprise Cookies in a Jar Recipe #HousefulOfCookies"]
I've been wanting to try mason jar recipes for some time now and love the idea of giving them as gifts. (When I say awhile now, the mason jars have been sitting in my garage for maybe 2-3 years.) Thanks to this wonderful recipe, we're able to kickstart our holiday festivities by preparing the jar recipes together and still have homemade cookies on Christmas Eve with less prep work.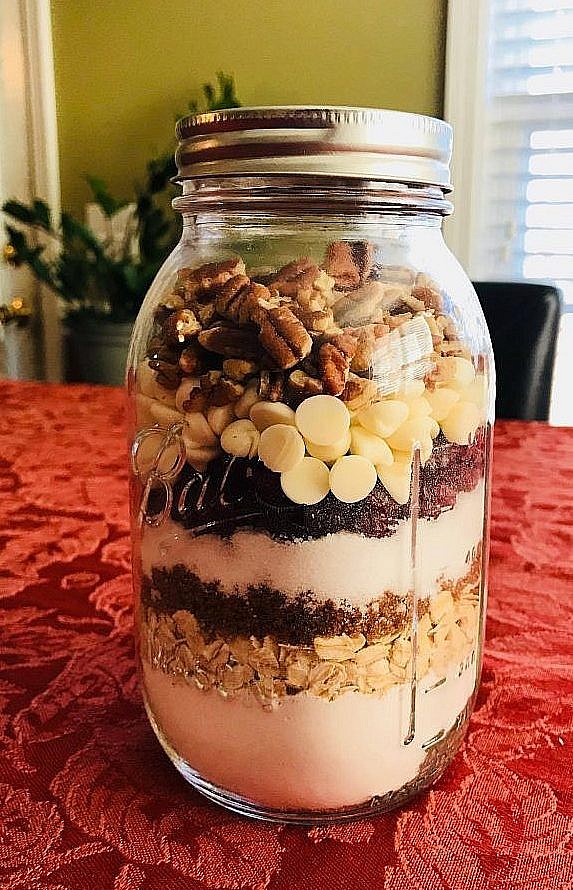 Cookie In A Jar Recipe
Yield: 18 cookies
White Chocolate Surprise Cookies in a Jar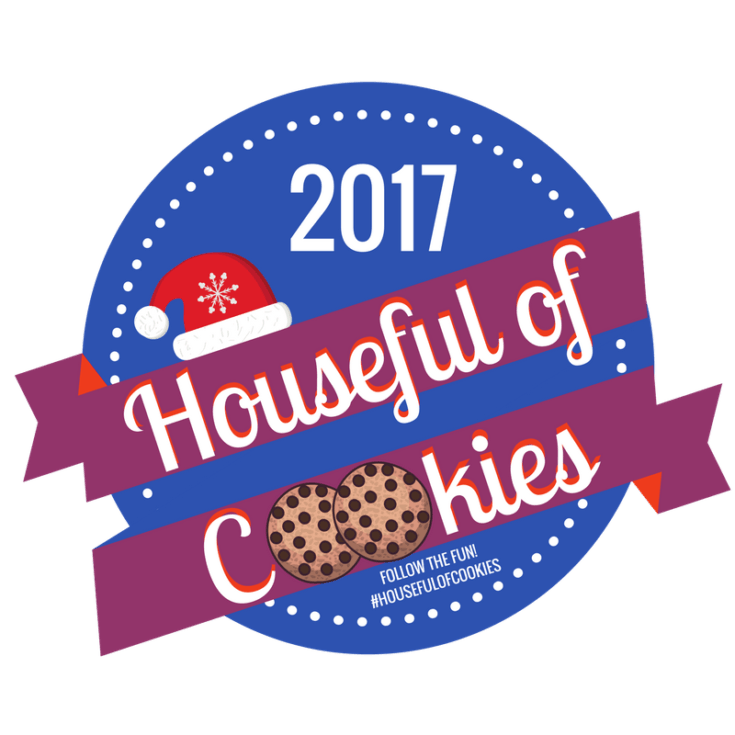 Ingredients
1 – one quart mason jar
1 cup + 2 tablespoons all-purpose flour
1/2 - teaspoon baking soda
1/2 - teaspoon salt
1/2 - cup old fashioned oats
1/3 - cup packed brown sugar
1/3 - cup white granulated sugar
1/2 - cup dried cranberries
1/2 - cup white chocolate chips
1/2 - cup pecans, chopped
½ cup softened butter
1 egg
1 teaspoon vanilla extract
Instructions
In a medium size bowl combine the the flour, baking soda and salt. In a 1 - quart mason jar, add the flour mixture. For best results, tap the bottom of the jar gently after each layer to remove additional air. Evenly layer the additional ingredients in the following order:
Oatmeal, brown sugar, granulated sugar, dried cranberries, white chocolate chips and pecan pieces. Add the lid and close the jar.
When ready to prepare preheat oven to 350 degree, spray a baking sheet with baking spray or line with parchment paper.
In a medium size bowl, beat together ½ cup softened butter, 1 egg, and 1 teaspoon vanilla extract until fluffy.
Add the entire jar of cookie mix, stirring until well blended. Drop by heaping teaspoons onto prepared baking sheet.
Bake for 8-10 minutes or until edges start to brown. Cool on baking sheet for 5 minutes, then, remove and cool completely on a wire rack.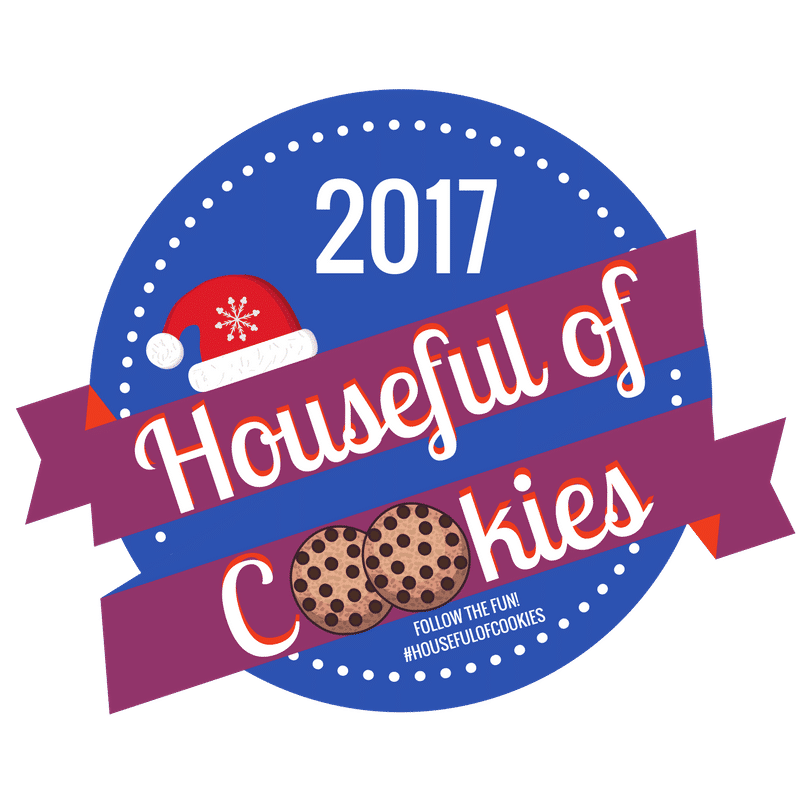 Houseful of Cookies 2017 Blog List
Houseful Of Nicholes – Slow As Molasses Cookies
A Crafty Spoonful – Chocolate Peanut Butter Crinkle Cookies
A Real Urban Mom – Chocolate Chip Cookies
Big Green Pen – Holiday Cookies
Dash Of Evans – Cranberry Hootycreeks
Divas With A Purpose – White Chocolate Surprise Cookies
Everyday Party Magazine – Simple Caramel Cream Sugar Cookies Swirls
Fab Haute Mama – Belgian Waffle Cookies
Good Girl Gone Redneck – Perfect Holiday Saltine Toffee Treat
Happily Homegrown – Old Fashioned Hermit Bar Cookies
Her Life On Purpose – Red Velvet Cake Mix Cookies
Honest & Truly! – Triple Chocolate Dipped Cookie
Hysterical Mom – Lemon Sugar Cookies
I am the Maven® – Moldy Mice Cookies
Kenya Rae – Pecan White Chocolate Chip Cookies
Keep Calm & Teach Fifth Grade – Winter Wonderland Sugar Cookies
Kiss My Tulle – Chunky Christmas Cookies
Mom On The Side – Hopscotch Crunchies Holiday Cookies
Mom The Magnificent – Dark Chocolate Peppermint Dipped Cookies
More Than Thursdays – Mint Surprise Sugar Cookies
Mother Of The World – Classic Chocolate Chip Cookies
Our Crafty Mom – Peanut Butter Chocolate Cookies
Peyton's Momma – Chocolate Covered Christmas Trees
Simplify Live Love – Double Chocolate Pomegranate Cookies
Teachable Mommy – 3 Ingredient Peanut Butter Cookies
The Biswolds – White Chocolate Chip Toffee Cookies
The Olive Blogger – Gingerbread Biscotti
We're Parents – Cranberry Cheesecake Cookies
Please visit all of the blogs as they've worked really hard to participate in the blog hop 🙂 Until next year, we bid you happy baking!