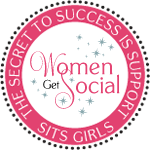 Happy Monday Divas!!! I hope you all had a fantastic weekend – plenty of rest, relaxation and family time! I'm overstuffed on BBQ – I celebrated two weekends in a row with each side of my family AND tossed in a first birthday celebration on the 4th with my BFF of almost 30 years for her youngest son.
Excited to start off this week by being featured on
The SITS Girls
 – a group of 40,000 women bloggers dedicated to supporting one another.  Whether it's through the awesome forum where ideas and questions are shared, through comment love and blogger how-tos and tips.  I've met some wonderful bloggers through this site and welcome those of you visiting for the first time!
I strive to create a space that is motivational and uplifting to divas from all walks of life.   I encourage all women I meet to
Unleash the Diva in Them
by being Driven, Inspiring, Victorious and called to Action!
Have a fantastic Monday, Divas and thanks for stopping through!
 I would love if all you wonderful bloggers would chime in on my Blogger Series: