This Tools 4 Wisdom Planner is a sponsored post with affiliate links. I really used this planner and all opinions are mine.
Have you heard of the Tools 4 Wisdom planner?
I have looked for years for the "perfect" planner. Between family and professional obligations, I need a planner that allows me to track it all – appointments, birthdays and anniversaries, blog responsibilities, direct sales appointments, and my oh-so-busy social life (tad bit of sarcasm, there!).  Also, a few years ago I introduced The Divatude Challenge – a year-long focus on S.M.A.R.T. goals that includes weekly, monthly and quarterly accountability. Part of the challenge includes creating targeted action steps each week that align with your overall goals – having those action items visible in my planner were a must and helped shape my schedule and focus.
Imagine my excitement when I received a planner to review that encompassed ALL of my needs PLUS some! I'm doing a happy dance all over again.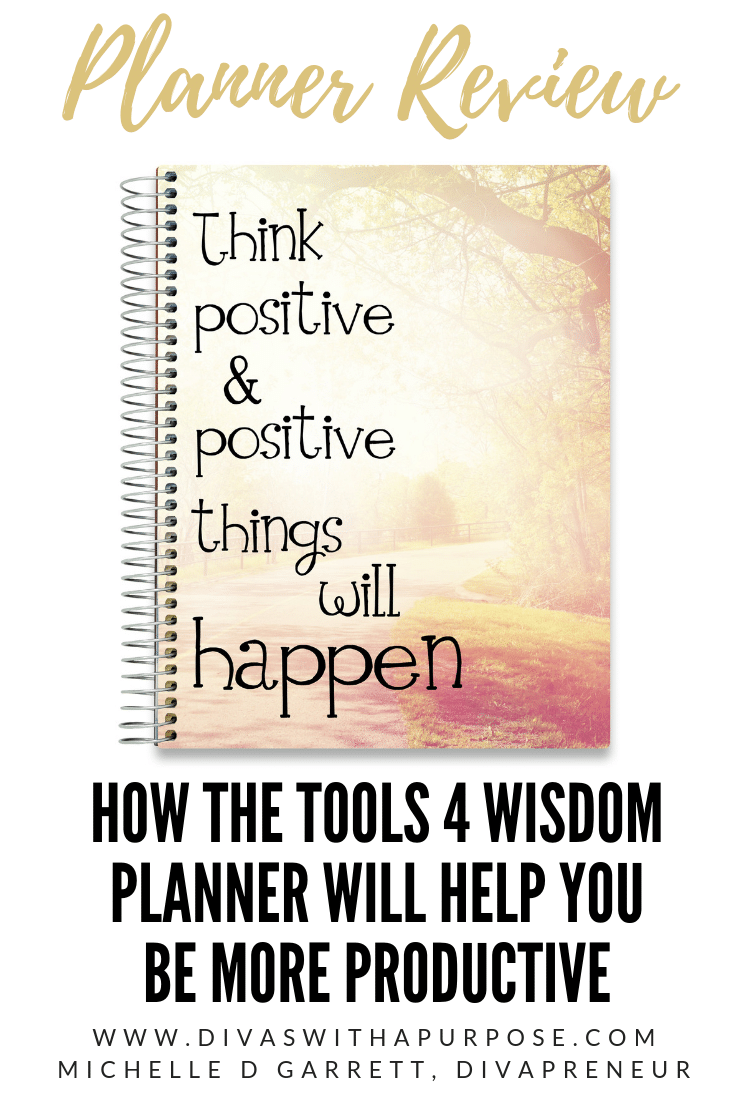 Key Features of Tools 4 Wisdom's Planner
A SMART Goal-Focused Planner that can (and should) be used to manage your personal and professional activities
Ability to track your annual, monthly and weekly goals, priorities and action items
Daily schedules in 30 minute in increments from 5 AM to 11 PM
Thought-provoking questions to ensure you are focusing on items that truly impact your overall goals
Tool 4 Wisdom's Planners strive to help the users THINK SMART with a weekly planner that lays out each week for you to list the primary outcomes you want, steps to accomplish those outcomes and creative ideas to enhance your life. There's even an area to prioritize your action items to help you remain focused on what's truly important and essential.
Tool 4 Wisdom's Planners strive to help the users THINK CREATIVE by asking questions about your goals, your dreams and how your life will ultimately look, so you can answer—finding answers you may never have known were inside you. Scientific studies have proven that unlike electronic alternatives, the very act of writing on paper stimulates new creative thinking. The more you write by hand in your Weekly Planner, the more new ideas you will inspire. I've tried to use electronic planners and am always drawn back to trusty, paper planner.
And finally, Tool4Wisdom's Planners strive to help the users THINK BIG by helping you live the life you were destined for, in small, manageable steps you take every week, and great new ideas you get by writing every day.
You can get more details on and purchase your own planner on Amazon by clicking here.
I'd love to know – what do you look for in a "perfect" planner?
Have you found one you really love or are you still looking?
I'd love to help share and encourage you with your success!