Welcome fellow bloggers and participants in Biannual Blogathon Bash for June 21 – 24, 2013! The Blogathon is a biannual online event for bloggers to help us improve our blogs, meet and connect with fellow bloggers and share valuable information to make us all even more awesome!
Challenge Intro
In our mini challenge, I will explain the basics of StumbleUpon and how to utilize it to drive additional traffic to your blog.
What is StumbleUpon
StumbleUpon is a site that helps you (and your potential readers) find new and interesting items on the Web.  As you "stumble" through different websites, you tell the site what you like and dislike so it can learn what will appeal to you.  StumbleUpon has approximately 25 million users and over 1 billion monthly page referrals!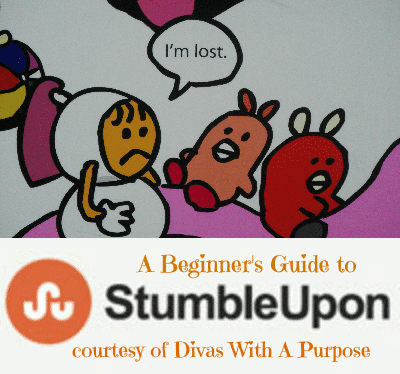 Getting Started With StumbleUpon
Once you create your free account, download the StumbleUpon toolbar. It's very simple to use and the main features you'll be utilizing at first are the thumbs and the stumble button.  Hitting the stumble button will load a random page based on the interests you selected during your account setup.  It's not mandatory to give a page a thumbs up or down, but doing so will help the website determine how much it's shown.  Thumbs up will help it be shown to more users, thumbs down will make it be shown less.  When giving a thumbs down, it's good to utilize the thumbs down menu (see arrow button next to it) – this lets StumbleUpon know why – not of interest to you personally, spammy, 404 error, etc.

Once you find great content, you can add it to an Interest list to easily access, add your comments or thoughts for other users to see and share it with others via Facebook, email or your StumbleUpon circle.

 Finally, we're going to do a quick introduction to your StumbleUpon Profile page.  This is where you'll be able to easily access your likes, specific lists you've set up, comments you've made, your overall StumbleUpon history, a snapshot of everyone you follow, follows you, your interests and channels you follow. Currently you can only follow up to 500 people at a time.
From your profile page you can quickly add a page to StumbleUpon or search to find new content based on key words.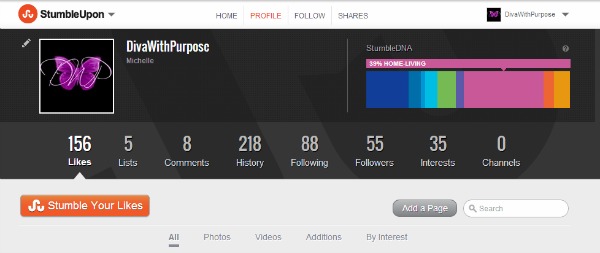 How StumbleUpon Can Help Your Blog
The key with StumbleUpon is sharing websites, utilizing the thumbs up and thumbs down options and writing reviews and/or adding comments to sites. This helps the site know what is worth sharing with others.
Over-sharing your own sites is not recommended and can get you banned from StumbleUpon.  Major blogging sites have faced this battle in the past.  My suggestion would be to share posts that truly are informative and would be relevant long-term.
Stumble regularly – I've added this to my daily blog routine for social media.  As I make my blog visits, I will hit the stumble button for articles that really stand out to me.
Network with other Stumblers that share similar interests to yours. The sharing of Internet content among bloggers and users cannot be underestimated in this age of social media.
By properly categorizing your post and utilizing key words, you increase the visibility of your post to new readers. Consider adding a StumbleUpon button to your sharing buttons so readers can easily and quickly submit posts they feel are "stumble-worthy" to the site.   StumbleUpon has quickly become one of my top three sources of referral traffic – and I will admit that I have not utilized it as regularly as I should
Mini-Challenge
If you don't have a StumbleUpon account, create one, set up your Interests and begin stumbling relevant content. Submit one relevant blog post of your own and at least three of other bloggers.
If you already have a StumbleUpon account, but aren't utilizing it regularly. Consider adding StumbleUpon to your list of daily blogging tasks.  Begin connecting with other StumbleUpon users and adding them to your following list. I challenge you to utilize the Stumble and thumbs buttons to find and recommend content you come across. Add at least 2 relevant comments each day you utilize the site.