I know I'm not the only parent who finds herself anxiously searching Pinterest for "simple Elf on the Shelf ideas" right before her kids wake up, right? Our Elf on the Shelf returns every December 1st and my kids excitedly begin their countdown on Thanksgiving Day. I gave up early on with wild and crazy ideas for a few reasons.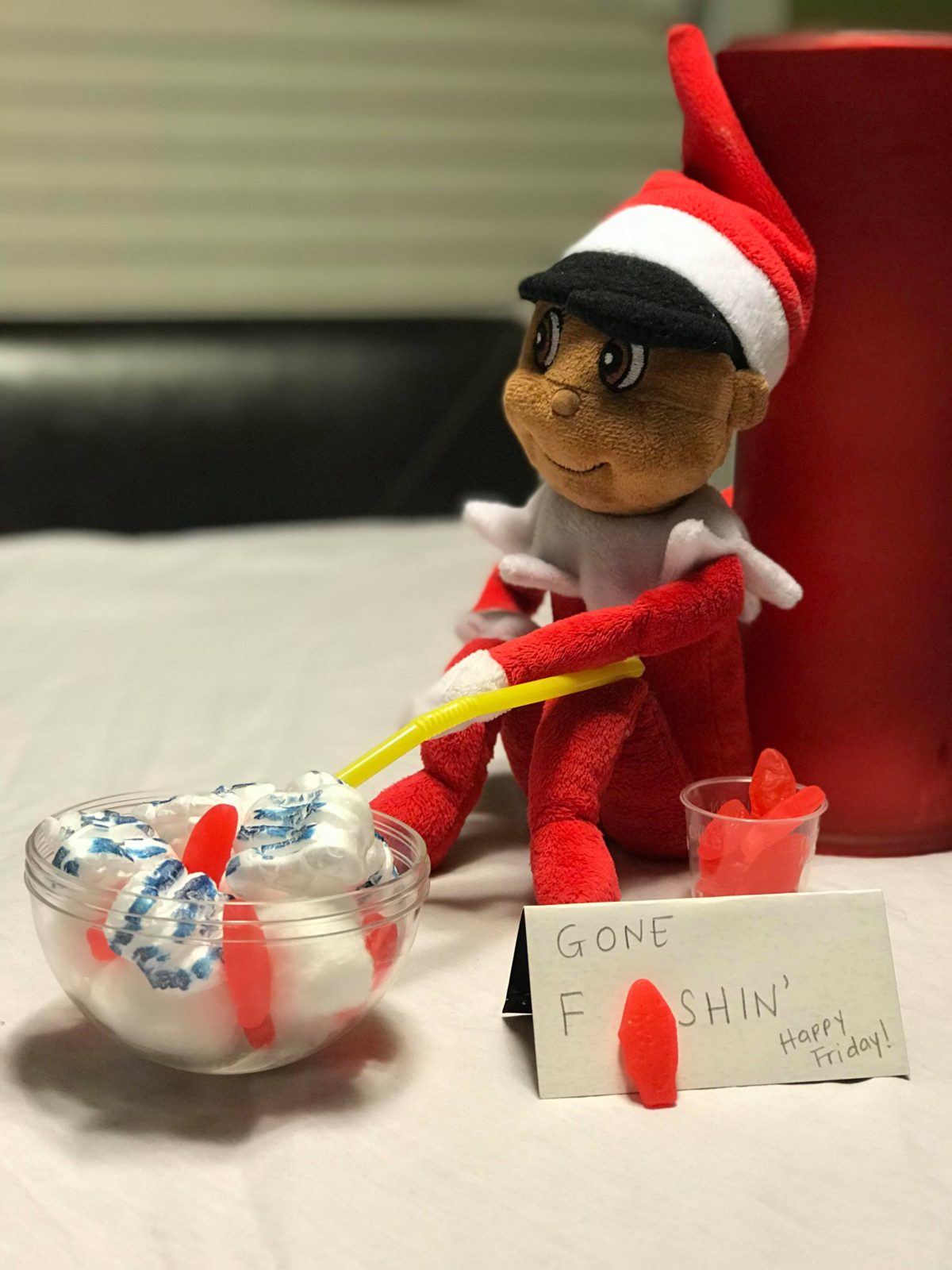 Number 1 – I'm just not that creative. It's not my ministry. I own that. I just want to have fun and deliver some holiday magic.
Number 2 – my memory is horrible hence the early morning Google and Pinterest searches.
Number 3 – seriously, it really doesn't take much to bring a smile to my children's faces. The magic is in the enthusiasm we all have as we get closer and closer to Christmas.
A few years ago, I began planning out our Elf's escapades early on and setting an "alarm" to Move the Elf. It's helped tremendously. Also, if I happen to be traveling my husband or oldest son can easily step in to help without giving me the "Really?!?" look when I ask them to do something really outlandish.
Do you want to be a bit more creative with your Elf's escapades? Did you know there are different accessories you can purchase to help you "stage" scenes easier and quicker? What will they think of next?
24 Simple Elf on the Shelf Ideas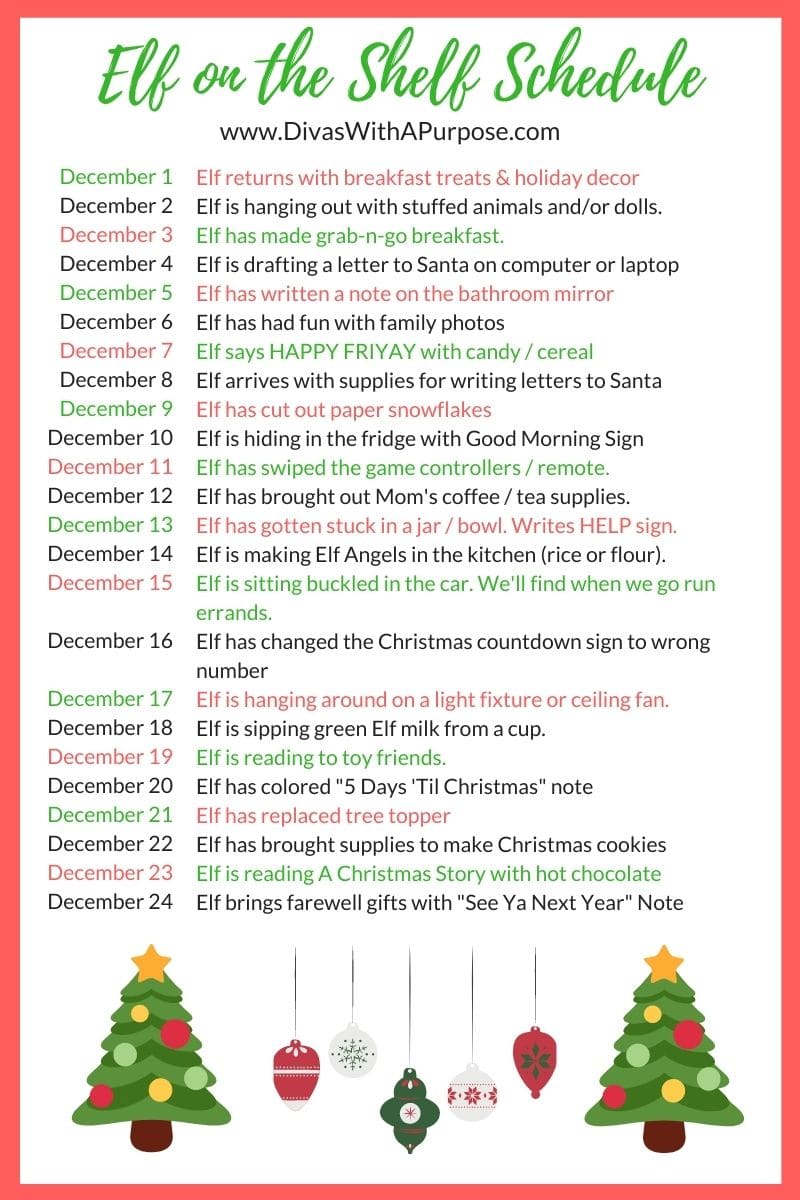 Elf returns with breakfast treats & holiday decor
Elf is hanging out with stuffed animals and/or dolls.
Elf has made grab-n-go breakfast.
Elf is drafting a letter to Santa on computer or laptop
Elf has written a note on the bathroom mirror
Elf has had fun with family photos
Elf says HAPPY FRIYAY with candy / cereal
Elf arrives with supplies for writing letters to Santa
Elf has cut out paper snowflakes
Elf is hiding in the fridge with Good Morning Sign
Elf has swiped the game controllers / remote.
Elf has brought out Mom's coffee / tea supplies.
Elf has gotten stuck in a jar / bowl. Writes HELP sign.
Elf is making Elf Angels in the kitchen (rice or flour).
Elf is sitting buckled in the car. We'll find when we go run errands.
Elf has changed the Christmas countdown sign to wrong number
Elf is hanging around on a light fixture or ceiling fan.
Elf is sipping green Elf milk from a cup.
Elf is reading to toy friends.
Elf has colored "5 Days 'Til Christmas" note
Elf has replaced tree topper
Elf has brought supplies to make Christmas cookies
Elf is reading A Christmas Story with hot chocolate
Elf brings farewell gifts with "See Ya Next Year" Note
Do you want your Elf Pets to live like royalty? Then decorate their new home with the DIY mix and match kit. With this fun collection, they will feel at ease as soon as they step through those doors!
There you have it 24 simple Elf on the Shelf ideas to keep your family on their toes and you with your sanity. Happy Holidays!
Bonus Idea! If you have a Smart TV or Apple TV, you can play this YouTube Video showing your Elf "stuck" on the screen:
If your Elf is not brown, you can find other options by searching "elf stuck in tv" on YouTube.
There are tons of different holiday activities to do with your family to spread holiday cheer. They say this is a great time of year for a reason.
Santa Mail directly from the North Pole
You can have these "delivered" by your elf or let your children get excited with real mail delivered directly to them.
15 Elf on the Shelf Accessories