Most women can relate to that wonderful time of the month where we're made so aware of our womanhood. Many of us have that oh-so-embarrassing story where we wore white pants on the wrong day or had to purchase our pads or tampons for the first time from a male cashier. It's part of growing up – a rites of passage of sorts, right?

For many women in developing countries, that one week out of the month is more than just a slight inconvenience. Since they lack access to affordable maxi pads, they are forced to miss school or work. No work more times than not means no pay in a developing country. And for many of these ladies, even losing out one day's salary can be detrimental to their families' livelihood. Think of this the next time you purchase a package of your trusted brand at your local drug store – imported brands often cost more than a single days wage. The alternatives – cloth rags, bark, or mud – don't prevent leakage and can often put them at risk for serious reproductive health issues when you consider they often lack a clean water supply.

Sustainable Health Enterprises (SHE) is a social venture on a mission to invest in people and ideas that are most often overlooked and considered taboo as vehicles of social and economic change. The SHE28 campaign is its initiative to address this pertinent, but often silent, issue with an innovative product design and economic opportunities for women and their communities. (Some divas with a serious purpose!!!)
SHE is coupling its LaunchPad with a sustainable business model that will create economic opportunities all across the value chain – from the banana farmers who will sell their banana fiber to SHE to the women entrepreneurs that will be equipped with business skills training and education to sell the LaunchPads in their communities. For every women-led and operated business that SHE invests in, approximately 100 jobs are created and approximately 100,000 girls and women have access to affordable menstrual pads.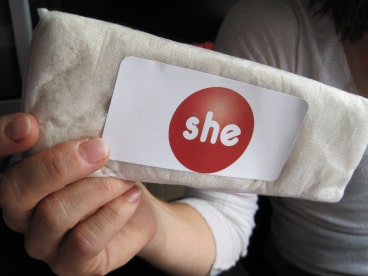 They have developed an patent-pending, low-cost, and eco-friendly menstrual pad, the SHE LaunchPad, that makes an absorbent core (the highest material cost driver) for pads from agro-waste (banana fibers) without using any chemicals or super absorbent polymers. The SHE28 campaign launched in Rwanda in 2009, and girls and women, will now have access to a menstrual product that will be priced at 5 cents per pad!
I love that SHE is, also, dedicated to instigating change with its education and advocacy programs. Educate the people and you empower the people! SHE is currently in talks with Rwandan Ministry officials to ensure menstrual hygiene education is widely available across all government primary schools.
How can you help?
This post is brought to you as part of my involvement with The Global Team of 200 – a highly specialized group of Mom Bloggers for Social Good members who focus on maternal health, children, hunger, and women and girls. Meet the team. See our press. Contact us to get involved.