This article shares 30 September Social Media Prompts to help you show up consistently prepare your social media content calendar for the month.
Fall is in the air. Quarter 3 is coming to a close and there are so many amazing ways to show up within your business this month.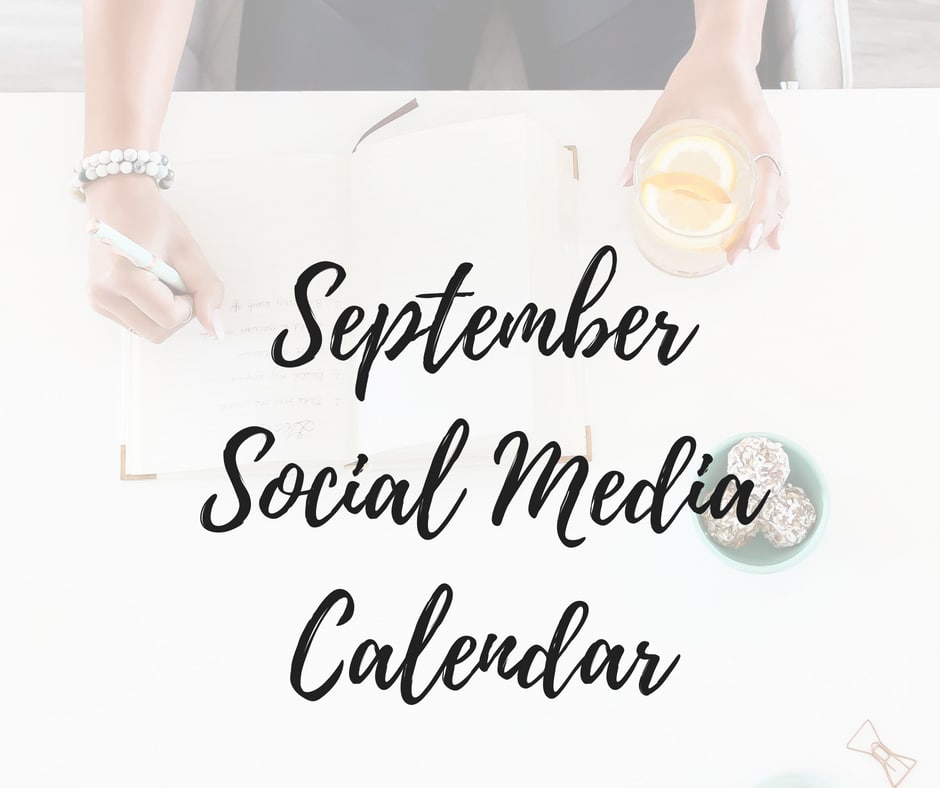 Each month I strive to share a social media calendar to get you started with engaging content to connect with your followers and build a community of supporters and customers. Community building has been a game-changer for my business and social media presence. When you are in the process of building your community it is important to post consistently on your social media channels, engage and be your authentic self.
In the Facebook Live video below, I discussed ways to incorporate some of this month's prompts into your social media strategy, and shared ways to use this calendar consistently in a way that fits your community and its needs. The video is a few years old, but the strategy and content still hold true.
Below is a graphic you can save for easy access, or you can bookmark this article to refer to each day for your September Social Media Prompts. The great thing about these prompts is that you can use them to post on your social media channels – Instagram, Facebook, Twitter, TikTok, Snapchat. The list is endless. You can create images, live-streams and even quick video snippets to answer each prompt and encourage your followers to respond back to you with their answers or ideas.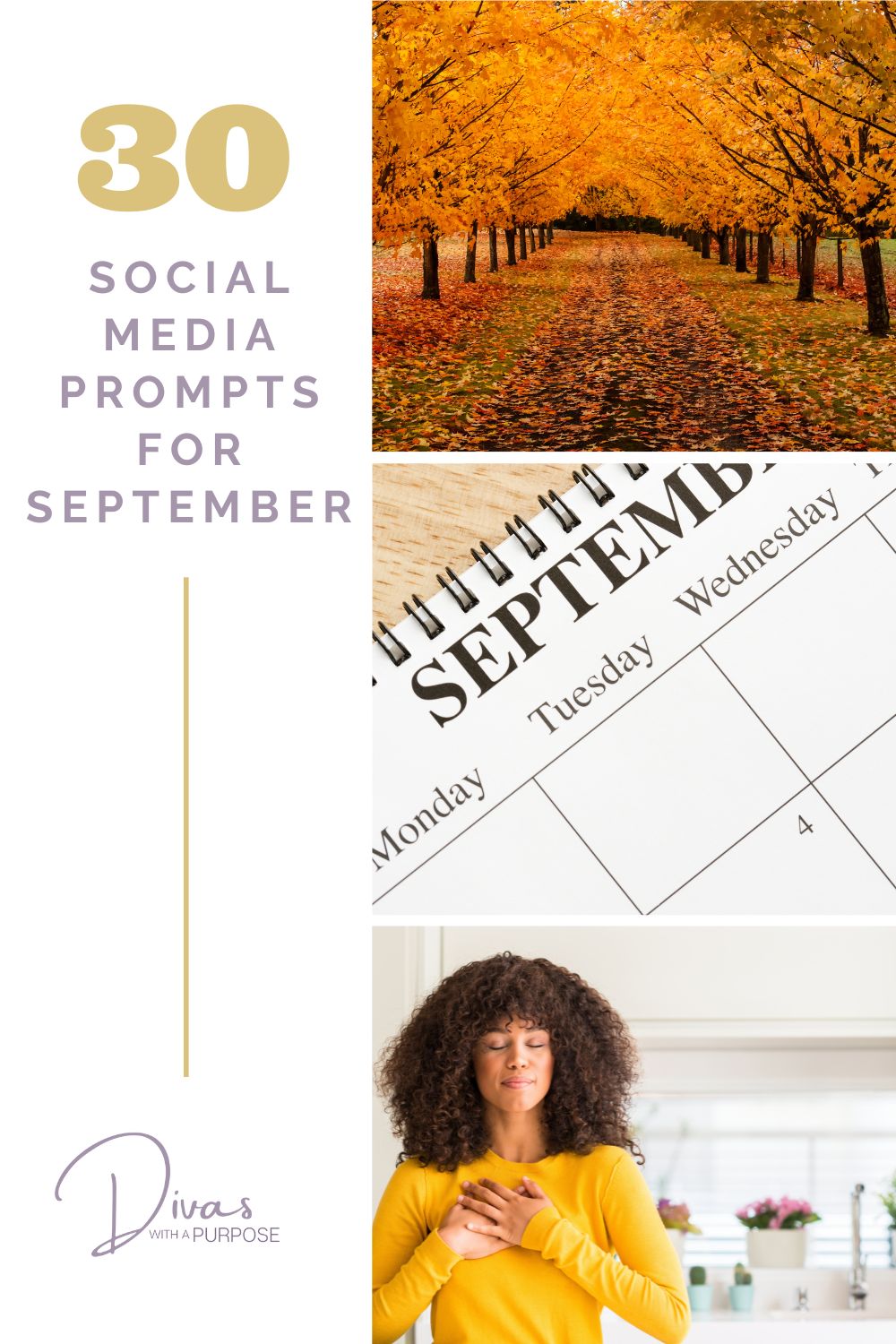 30 September Social Media Content Calendar
September is the perfect time to reflect on what you've accomplished in the past year and set goals for the upcoming year.
September is a great time to get organized and start fresh, because it signals a new season. It's also a month that many people take some time off from work, so it's an ideal opportunity to spend more time on your personal projects or side hustles.
#BizGoals: Share your goals and focus for the new month
Self-Care Awareness Month: Share simple self-care tips with your community related to your niche/audience.
Community Connection: Ask your community for tips on something new to try or do (book, movie, craft, recipe, etc).
Introductions: (Re)Introduce yourself to your community. This is a great opportunity to share what you'll be focusing on this month, or ways they can engage and connect with you.
Labor Day: How are you spending your Labor Day?
#Women2Follow: Share inspirational women in your industry with your community.
Fight Procrastination Day: How do you keep yourself from procrastinating?
#TipOfTheDay

: Share a tip that answers a question you're frequently asked.

Share Your Care Day: Provide ways (related to your niche is great) that your community can show they care in their homes, communities, online, etc.
#Gratitude: Ask your community what they are thankful for today
---
The following observances are in September: Better Breakfast Month, Healthy Aging Month, National Suicide Prevention Month and National Yoga Month.
FIND WAYS TO INCORPORATE THESE OBSERVATIONS INTO YOUR CONTENT, IF THEY ARE RELEVANT TO YOUR COMMUNITY AND NICHE.
---
Patriot Day: Commemorate as you see fit based on your platform and personal connections to 9/11.
National Day of Encouragement: Share a time someone encouraged you in your business
Positive Thinking Day: Share a positive affirmation, quote or book
I'm on Top of It Day: Share ways to stay focused, organized and productive based on your community
National Thank You Day: Ask your community for or share simple ways to express gratitude
Self Improvement Month: How do you focus on self-improvement?
Life of an Entrepreneur: What sacrifice(s) have you made and how have they paid off?
National Women's Friendship Day: Share a business friend and why she's awesome
#Motivation: Share an inspirational quote or passage that makes you smile.
Locate an Old Friend: Ask your community to share an old friend they'd like to reconnect with, and why
World Gratitude Day: Ask your community to share what they are grateful for (and do the same)
Business Women's Day: Share ways you've connected and worked with women in different industries
#GoodMorning: How are you starting your day?
#OneWord: How has your One Word impacted your biz so far this year?
World Dream Day: What dreams do you have for yourself (personally and/or professionally)?
Promote YOU: Share a testimonial from a customer.
Time Saving Tip: Share a time saving tip that you utilize in your daily routine.
Read a Child a Book You Love Day: Share what book you'd read. Even better, do this and share a photo or video with your community.
#Workspace: Share your workspace and how it helps your productivity
#SeptemberRecap: Share your favorite moments from this month
---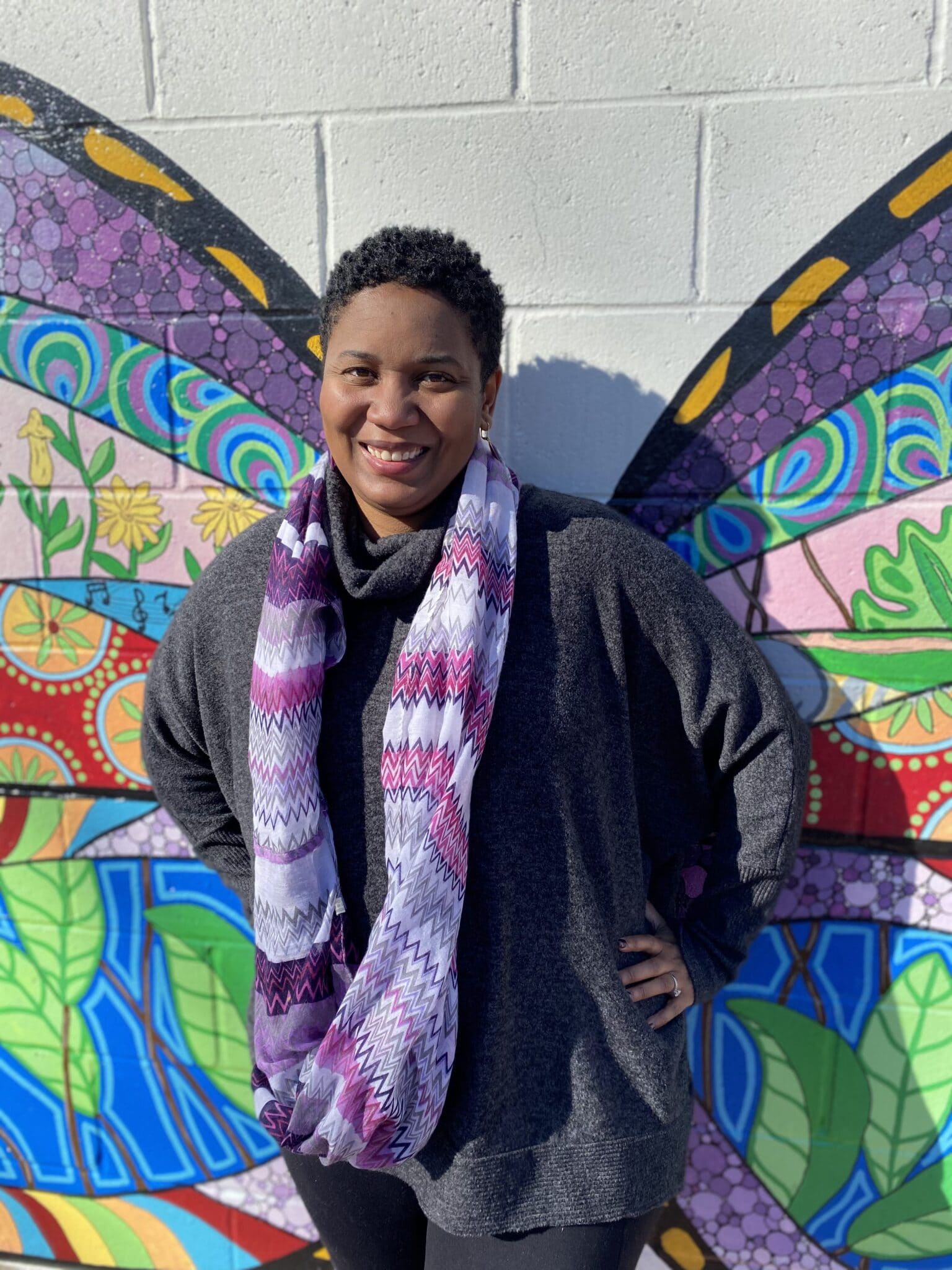 Michelle D. Garrett is the founder of Divas With A Purpose.
She focuses on sharing resources for being purposely productive; setting personal and professional goals and achieving them through daily action; and successfully running a business while focusing on your mental health. Michelle is a full-time entrepreneur who specializes in teaching female entrepreneurs how to show up consistently in their business – online and off.
---