Disclosure: This article contains affiliate links.
Thanks to some lovely blogging Divas, I have been challenged to embrace my kitchen – specifically cooking on a more regular basis. I will be honest, this is one of those things I have never had true passion for. I have tried – sort of, okay, maybe not fully.
This one challenge that I know my husband would love if I truly succeeded at. I have my signature "quick and easy" dishes, but honestly my main goal with the kitchen has been to get in and out as quickly as possible.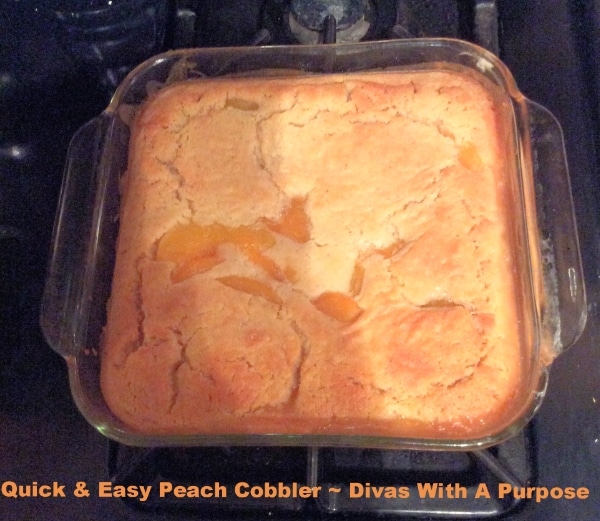 My goal (as in previous years that I have not achieved yet) is to cook at least 1 meal a week solo (I'm being realistic) and 1 meal a week with my children. My boys love getting in the kitchen and I want to encourage that.
I recently received a set of new measuring cups and maybe it's just me, but getting new kitchen gadgets does motivate me get in the kitchen to test them out.
I have to say – I love these measuring cups! The ones I had were plastic ones from my pre-married life – the measurements had long wore off and I was often guessing which one was which if I was in a hurry. I love that the measurements are engraved in these cups AND there are increments inside the cups as well – which comes in very handy for recipes that call for the same amount of measurements for multiple items.
Peach cobbler is one of my favorite desserts. It, also, reminds me of one of my favorite older cousins – who is definitely the cool #CookingDiva I strive to be. I came across a simple, but tasty, recipe to whip up when I'm in the mood for cobbler.
I recently shared this on my Instagram page and wanted to let you all in on my "secret" recipe!

This recipe is courtesy of Bisquick Original Pancake and Baking Mix and found on their website and on the back of many of their boxes.
Prep time is approximately 10 minutes and cook time is only 50-60 minutes. Within an hour, I can be enjoying scrumptious peach cobbler topped with my favorite vanilla ice cream or whipped cream!
Clean up was super easy and done within minutes!