You can use these May journal prompts for your personal journaling, group discussions and business' social media engagement.
I cannot believe that my family and I have made it all the way to May with our family journaling project. I can honestly say that throughout these months I have gotten to know more about my children and myself. Their humor, creativity and their amazing personalities that come shining through in the ways they express themselves. I have learned my daughter wants to be a nurse like her grandmother and great-aunties because she wants to help heal others hurt. I have learned how much my youngest son appreciates our bedtime routine and how much he misses it when I am away for travel. And so many ah-ha moments from my oldest that has this Momma tearing up regularly.
If you have not started a routine of connecting with your family and encouraging your children to express themselves, I challenge you to join us for our monthly family journaling project. No rules on how to engage – just a daily prompt and a challenge to share your thoughts via words, song, art, or whatever way your heart desires.
Are you in?
[Tweet "#NowReading: A List of Family Friendly Journaling Ideas for the month of May #journaling"]
May Journal Prompts
It's the 1

st

of May- what pops into mind when you think of this day?

For Mother's Day I will…

My business goals for May are…

My weekly goals for May are….

Today May 5

th

is

Cinco de Mayo I will…

My main health focus for this month is…

My favorite pet is [or would have been] …

It's Hamburger Month! The best one I ever had was…

My business special/sale for this month is…

Now that my taxes are done, for next year I need to…

My content creation calendar for May includes…

I plan on writing ___ number of blog posts this month.

What I love about my mom the most is..

My favorite Spring time activity is…

I am grateful for ______ today.

I will make today amazing by…

The last time I rode a bike was ____ and I rode it ________.

My new recipe for this week is…

I will clean ___________ this weekend.

My plans for the long weekend are…

If I had extra money I would…

What am I afraid of in life?

My wish for my family is…

With the warmer weather I will…

The best challenge I ever did was…

My garden is full of __________ this year…

My biggest adventure in life so far has been…

Today I had an interesting _______ with _______

What I have enjoyed about May so far is…

My plans for June are…

I can finish the month on a positive note because…
[Tweet "60+ Journal Prompts to use in May #journaling"]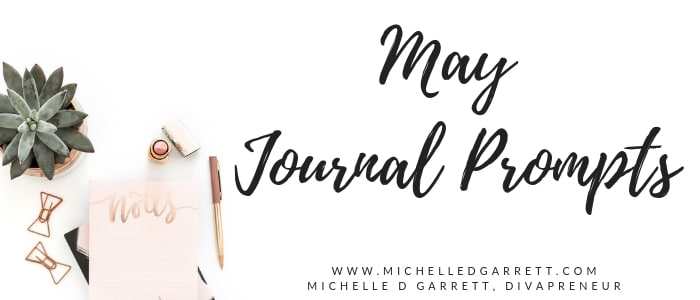 31 more prompts to use
What are you excited about for the month of May?
What do you want to do this month? Write your goals for the month and think about what you need to do to accomplish them.
What, if anything, does Mother's Day mean to you?
Talk about ways you can express gratitude to others.
What is a favorite pastime during the month of May?
What is the first thing you think about when May comes around?
It's Mardi Gras! What's the best party you've ever been to?
Happy Chinese New Year! It's the Year of The Dog! What is your favorite pet you've ever had? Or if you've never had a pet, what pet would you have if you could have any type of pet you want?
Write 5 things that made you happy this week.
It's getting warmer out. Think ahead: Make a list of fun things you are going to do this summer!
Picture yourself this time next year. What do you want to be different in your life? Write about how you envision your life to be this time next year.
Write a list of 5 things and/ or people you think should be your priorities right now.
If you could spend the entire month of May in another place, where would it be and why?
What is your happiest recent memory?
What are you most favorite and least favorite outdoor activities?
May 20th is National Be a Millionaire Day. If you were a millionaire, what would you do with your money?
May 3rd is National Paranormal Day. Do you believe in the paranormal? Why or why not? Have you or anyone you know ever had any paranormal experiences?
List 10 places you would like to visit.
List all of your favorite things about Spring.
Are there any quotes that you try to live by?
Is there anything you would like to change by the end of this month?
What are you working towards?
What is the weather outside right now? Do you like this weather?
So far, what has been better about this month than the last?
What relationships do you want to nurture and grow?
What is your favorite Mother's Day memory?
How will you celebrate Mother's Day this year?
Are you preparing for your Summer plans yet?
What changes can you make this week to improve your business?
List 5 ways to practice self-care in May.
On the final day of the month, write about how your month went.