This article shares 30 June Social Media Prompts to help you show up consistently prepare your social media content calendar for the month.
Each month I strive to share a social media calendar to get you started with engaging content to connect with your followers and build a community of supporters and customers. Community building has been a game-changer for me personally and professionally – offline and on. When you are in the process of building your community it is important to post consistently on your social media channels, engage and be your authentic self.
Each June I kick off 100 Days of Visibility. Our focus? A push for female entrepreneurs to show up consistently, be visible and BOLD with their messaging and offerings during the summer months.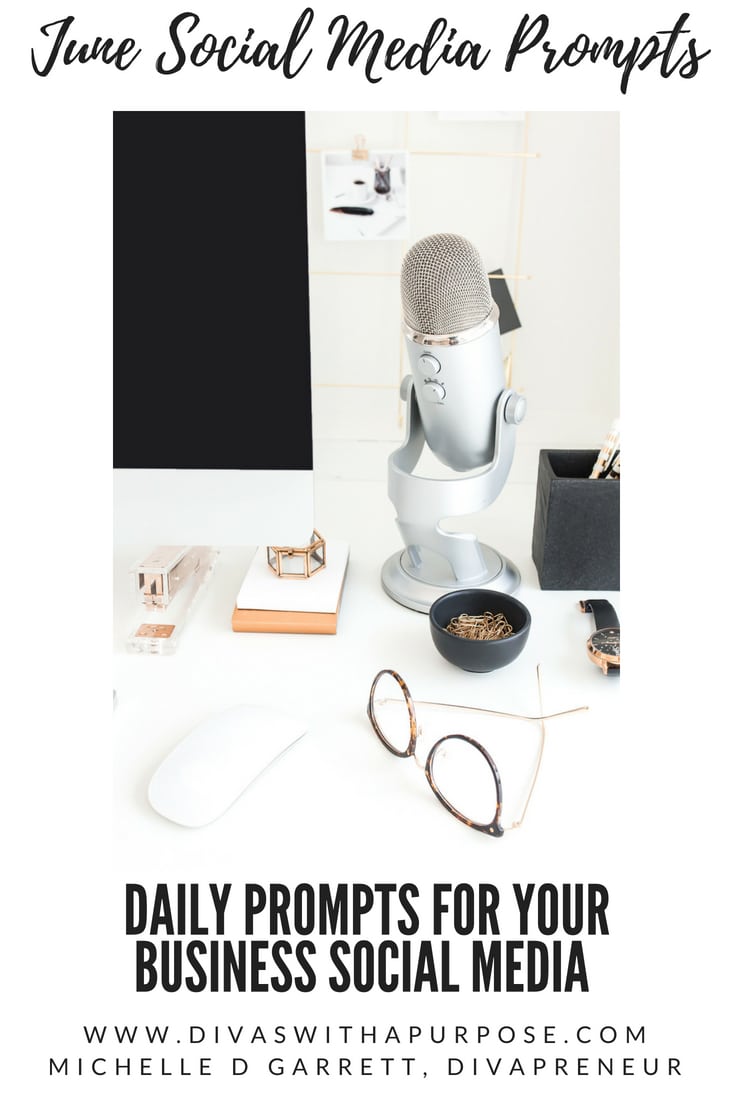 Below is a graphic you can save to for easy access or you can bookmark this article to refer to each day. The great thing about these prompts is that you can use them to post on your social media channels – Instagram, Facebook, Twitter, Periscope, Snapchat, the list is endless. You can create images, live-streams and even quick video snippets to answer each prompt and encourage your followers to respond back to you with their answers or ideas.
June Social Media Content Prompts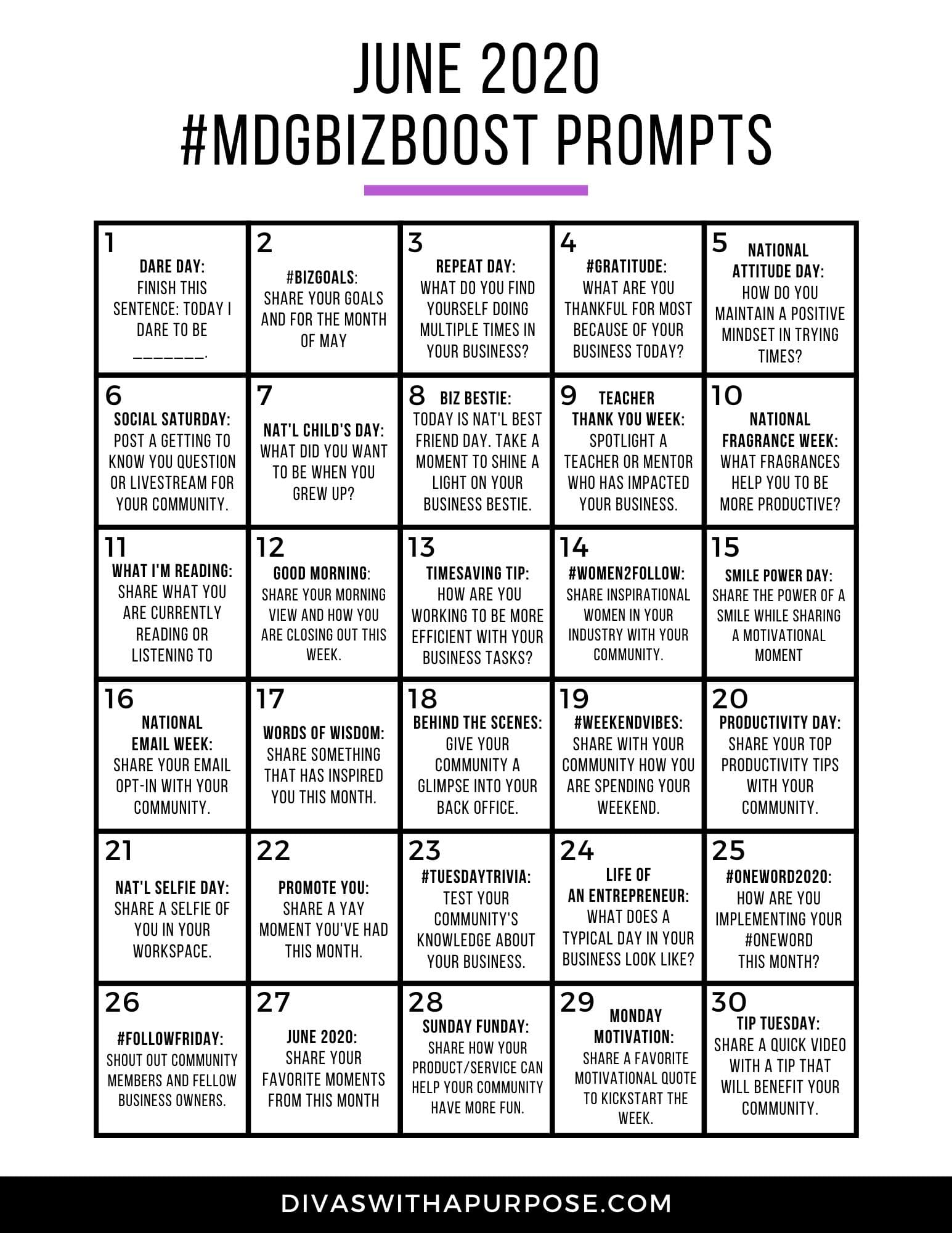 Dare Day: Finish this sentence: Today I dare to be _______. What will bold and audacious declaration will you make as we close out the first half of 2018?
#BizGoals: Share your goals and focus for the new month.
Repeat Day: What do you find yourself doing multiple times in your business? Have you established a routine to make repetitive tasks easier?
#Gratitude: What are you thankful for most because of your business today?

National

Attitude Day: H

ow do you maintain a positive mindset in trying times?

#SocialSaturday: Get (extra) Social today. Post a get to know you question or livestream to chat with your community. Announce your livestream ahead of time so your followers will know to show up.
National Child's Day: Share what you wanted to be when you grew up? How does what you currently do relate?
#BizBestie: Today is National Best Friend Day. Take a moment to shine a light on your business bestie.
Teacher Thank You Week: Spotlight a teacher or mentor who has impacted your business.
National Fragrance Week: What fragrances help you to be more productive?
What I'm Reading: Share what you are currently reading or listening to (book, podcast, article, etc).
#GoodMorning: Share your morning view and how you are closing out this week.
#TimesavingTip: How are you working to be more efficient with your business tasks? Do you provide a tool or resource that will help your customers be more efficient? Make sure you share it with them and how they can implement it in their daily routines.
#Women2Follow: Share inspirational women in your industry with your community.
National Smile Power Day: Share the power of a smile while sharing a motivational moment with your community.
National Email Week: Share your email opt-in with your community or why they should connect with your mailing list.
Words of Wisdom: Share something that has inspired you this month.
Behind the Scenes: Give your community a glimpse into your back office and what it takes to make your business run.
#WeekendVibes: Share with your community how you are spending your weekend. Ask them about theirs.
Productivity Day: Share your top productivity tips with your community.
National Selfie Day: Share a selfie of you in your workspace. (#SelfieSunday)
Promote You: Share a YAY moment you've had this month.
#TuesdayTrivia: Test your community's knowledge about your business or field. (Prizes are optional.)
#LifeOfAnEntrepreneur: What does a typical day in your business look like? This is a great opportunity to showcase multiple images, create a short video or go live and chat.
#OneWord2020: How are you implementing your #OneWord this month?
#FollowFriday: Shout out community members and fellow business owners.
#June2020: Share your favorite moments from this month.
#SundayFunday: Share fun ways your community can incorporate your products and / or services in their daily routine or how they will help them have more fun.
#MondayMotivation: Share a favorite motivational quote to kickstart the week.
#TipTuesday: Share a quick video with a tip that will benefit your community.