Are you ready to take your social media game to the next level this June? We've got you covered! In this article, we're sharing 30 June Social Media Prompts that will help you show up consistently, engage your followers, and prepare a winning content calendar for the month.
Building a strong online community is the key to success in today's digital landscape. And to connect with your followers and turn them into loyal supporters and customers, consistent and engaging content is a must. That's where our monthly social media calendar comes in.
But June is no ordinary month. It's the time when we kick off the BizBoost 100-Day Summer Impact Challenge, a powerful movement for female entrepreneurs to embrace their boldness and show up consistently with their unique messages and offerings. And guess what? The challenge starts on Monday, June 19th. Make sure to sign up for our BizBoost newsletter below to receive updates and join the movement!
Whether you're participating in the 100 Days of Visibility challenge or not, these June Social Media Prompts will supercharge your online presence. From motivational quotes to behind-the-scenes glimpses and valuable tips, we've curated a diverse set of prompts to keep your audience engaged and inspired throughout the month.
So, let's dive in and unlock your social media superpowers with these carefully crafted prompts. Get ready to ignite conversations, foster connections, and watch your online community thrive.
Remember, consistency is the key to success. Show up, engage authentically, and let your unique voice shine. Your followers are waiting to hear from you, so let's make this June your most impactful month yet!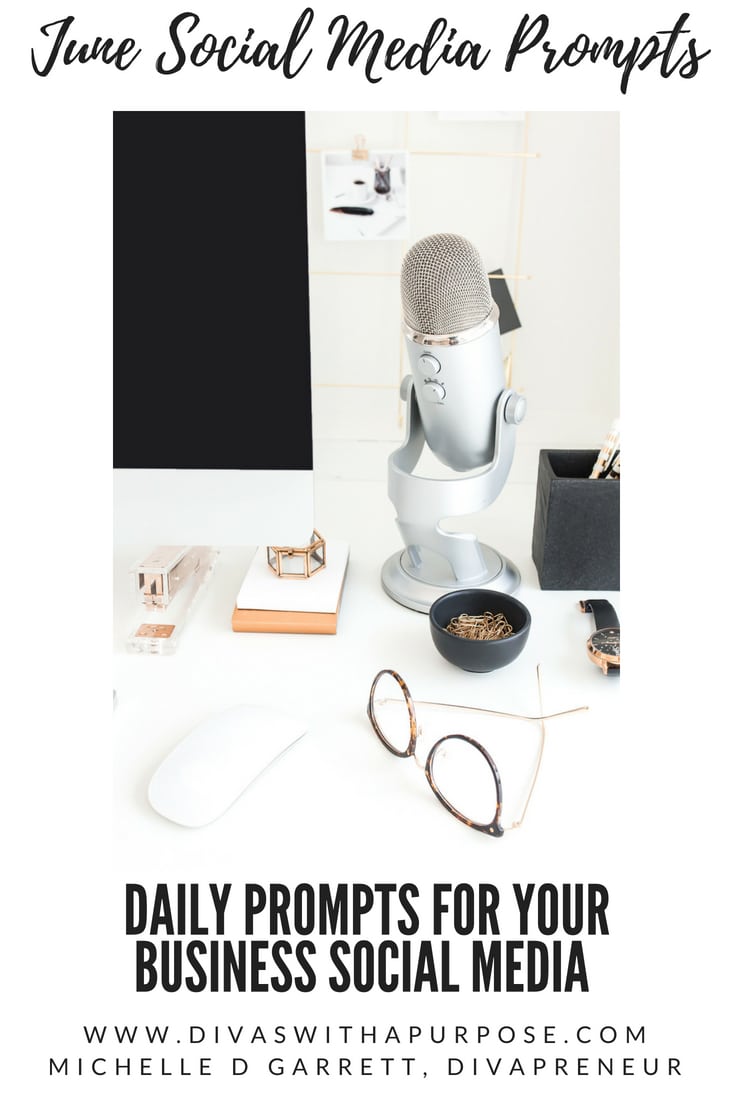 Below is a graphic you can save for easy access, or you can bookmark this article to refer to each day. The great thing about these prompts is that you can use them to post on your social media channels – Instagram, Facebook, TikTok, Snapchat, the list is endless. You can create images, live-streams and even quick video snippets to answer each prompt and encourage your followers to respond back to you with their answers or ideas.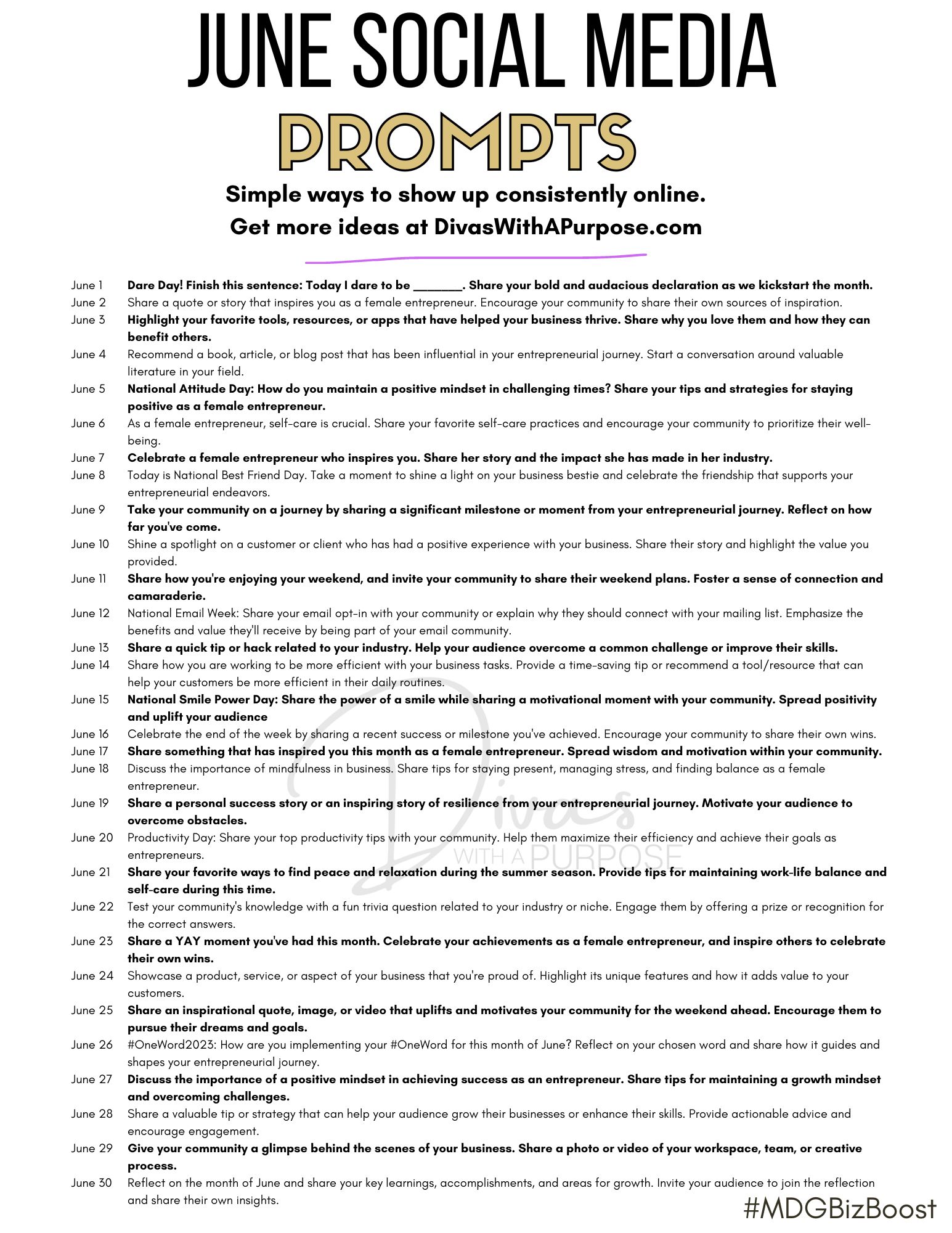 June Social Media Content Prompts
Dare Day! Finish this sentence: Today I dare to be _______. Share your bold and audacious declaration as we kickstart the month.

Share a quote or story that inspires you as a female entrepreneur. Encourage your community to share their own sources of inspiration.

Highlight your favorite tools, resources, or apps that have helped your business thrive. Share why you love them and how they can benefit others.

Recommend a book, article, or blog post that has been influential in your entrepreneurial journey. Start a conversation around valuable literature in your field.

National Attitude Day: How do you maintain a positive mindset in challenging times? Share your tips and strategies for staying positive as a female entrepreneur.

As a female entrepreneur, self-care is crucial. Share your favorite self-care practices and encourage your community to prioritize their well-being.

Celebrate a female entrepreneur who inspires you. Share her story and the impact she has made in her industry.

Today is National Best Friend Day. Take a moment to shine a light on your business bestie and celebrate the friendship that supports your entrepreneurial endeavors.

Take your community on a journey by sharing a significant milestone or moment from your entrepreneurial journey. Reflect on how far you've come.

Shine a spotlight on a customer or client who has had a positive experience with your business. Share their story and highlight the value you provided.

Share how you're enjoying your weekend, and invite your community to share their weekend plans. Foster a sense of connection and camaraderie.

National Email Week: Share your email opt-in with your community or explain why they should connect with your mailing list. Emphasize the benefits and value they'll receive by being part of your email community.

Share a quick tip or hack related to your industry. Help your audience overcome a common challenge or improve their skills.

Share how you are working to be more efficient with your business tasks. Provide a time-saving tip or recommend a tool/resource that can help your customers be more efficient in their daily routines.

National Smile Power Day: Share the power of a smile while sharing a motivational moment with your community. Spread positivity and uplift your audience

Celebrate the end of the week by sharing a recent success or milestone you've achieved. Encourage your community to share their own wins.

Share something that has inspired you this month as a female entrepreneur. Spread wisdom and motivation within your community.

Discuss the importance of mindfulness in business. Share tips for staying present, managing stress, and finding balance as a female entrepreneur.

Share a personal success story or an inspiring story of resilience from your entrepreneurial journey. Motivate your audience to overcome obstacles.

Productivity Day: Share your top productivity tips with your community. Help them maximize their efficiency and achieve their goals as entrepreneurs.

Share your favorite ways to find peace and relaxation during the summer season. Provide tips for maintaining work-life balance and self-care during this time.

Test your community's knowledge with a fun trivia question related to your industry or niche. Engage them by offering a prize or recognition for the correct answers.

Share a YAY moment you've had this month. Celebrate your achievements as a female entrepreneur, and inspire others to celebrate their own wins.

Showcase a product, service, or aspect of your business that you're proud of. Highlight its unique features and how it adds value to your customers.

Share an inspirational quote, image, or video that uplifts and motivates your community for the weekend ahead. Encourage them to pursue their dreams and goals.

#OneWord2023: How are you implementing your #OneWord for this month of June? Reflect on your chosen word and share how it guides and shapes your entrepreneurial journey.

Discuss the importance of a positive mindset in achieving success as an entrepreneur. Share tips for maintaining a growth mindset and overcoming challenges.

Share a valuable tip or strategy that can help your audience grow their businesses or enhance their skills. Provide actionable advice and encourage engagement.

Give your community a glimpse behind the scenes of your business. Share a photo or video of your workspace, team, or creative process.

Reflect on the month of June and share your key learnings, accomplishments, and areas for growth. Invite your audience to join the reflection and share their own insights.