This article shares 31 July Social Media Prompts to help you show up consistently prepare your social media content calendar for the month.
Each month I strive to share a social media calendar to get you started with engaging content to connect with your followers and build a community of supporters and customers. Community building has been a game-changer for me personally and professionally – offline and on. When you are in the process of building your community it is important to post consistently on your social media channels, engage and be your authentic self.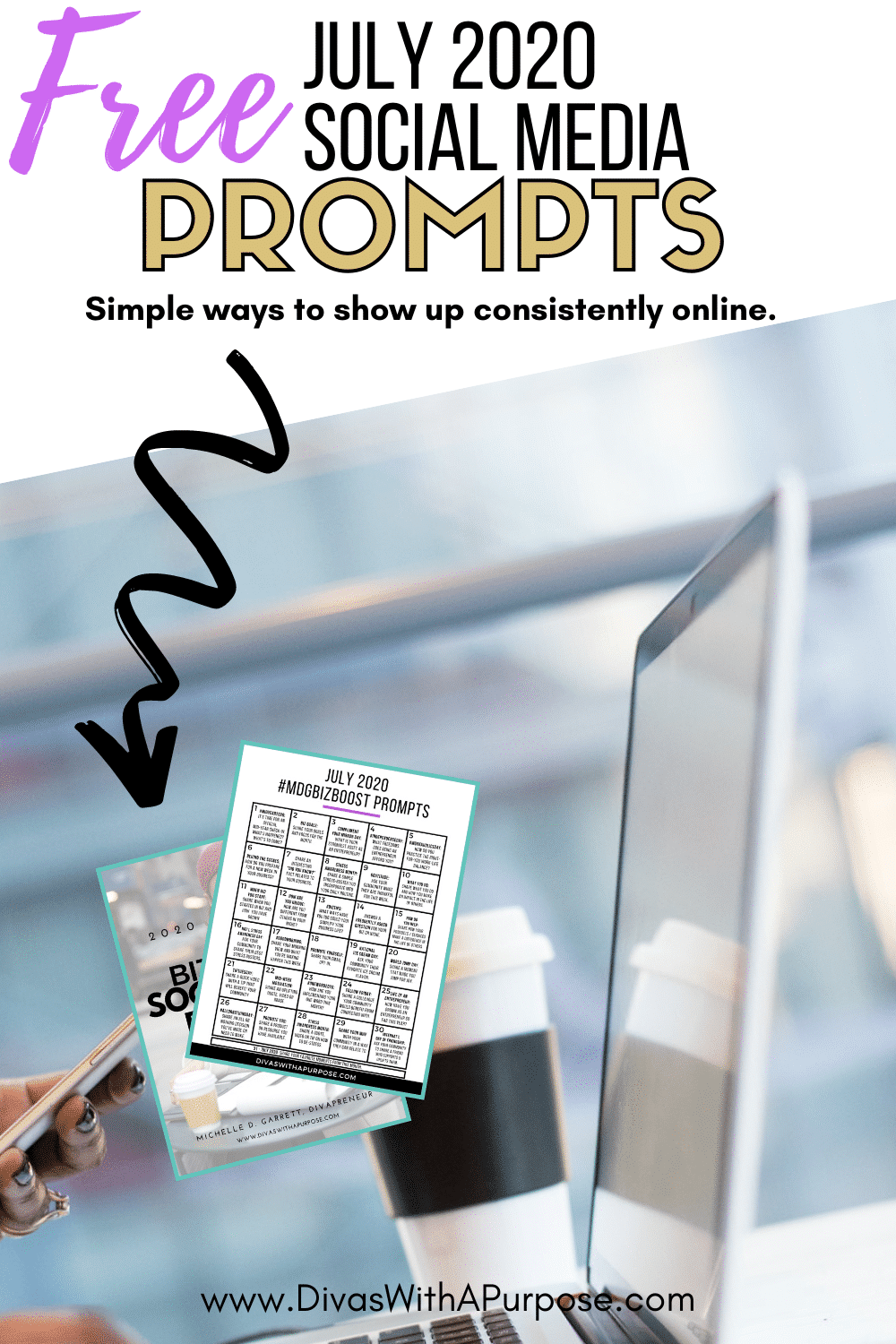 Below is a graphic you can save for easy access or you can bookmark this article to refer to each day. The great thing about these prompts is that you can use them to post on your social media channels – Instagram, Facebook, Twitter, Periscope, Snapchat, the list is endless. You can create images, live-streams and even quick video snippets to answer each prompt and encourage your followers to respond back to you with their answers or ideas.
Are you showing up on IGTV? These could be great tie-ins to your posts and stories on that platform with auto-shares to your Facebook page.
July is typically my month away from social media. Thanks to scheduling tools and pre-planning my content (ahem … thank you social media prompts!) I can stay present and connected with my social media community.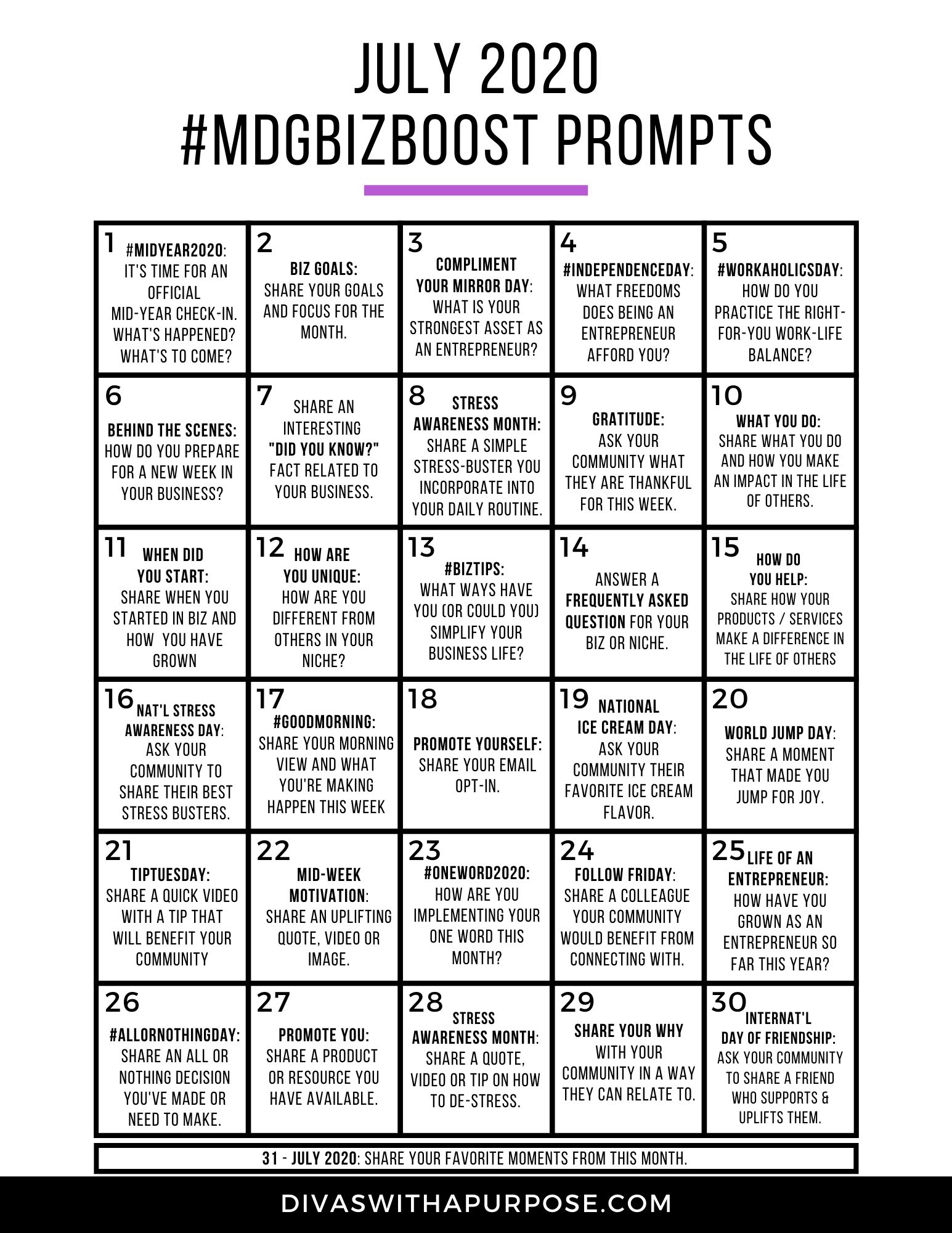 July Social Media Content Calendar
#MidYear2020: It's time for an official mid-year check-in. What's happened? What's to come?
#BizGoals: Share your goals and focus for the new month
Compliment Your Mirror Day: What is your strongest asset as an entrepreneur?
#IndependenceDay: What freedoms does being an entrepreneur afford you?
#WorkaholicsDay: How do you practice the right-for-you work-life balance?
Behind the Scenes: How do you prepare for a new week in your business?
Share an interesting "Did you know?" fact related to your niche/business/product.
Stress Awareness Month: Share a simple stress-buster you incorporate into your daily routine.
Gratitude: Ask your community what they are thankful for this week.
What You Do: Share what you do and how you make an impact in the life of others. This is a great prompt to share testimonials you have.
When Did You Start: When did you get started in your business? How have you grown?
How are you unique: How are you different from others in your niche?
#BizTips: What ways have you (or could you) simplify your business life?
Answer a frequently asked question for your business or niche..
How do you help: Share how your products / services make a difference in the life of others
National Stress Awareness Day: Ask your community to share their best stress busters.
#GoodMorning: Share your morning view and what you're making happen this week
Promote Yourself: Share your email opt-in.
National Ice Cream Day: Ask your community their favorite ice cream flavor.
World Jump Day: Share a moment that made you jump for joy.
TipTuesday: Share a quick video with a tip that will benefit your community
Mid-Week Motivation: Share an uplifting quote, video or image.
#OneWord2020: How are you implementing your #OneWord this month?
Follow Friday: Share a colleague your community would benefit from connecting with.
Life of an Entrepreneur: How have you grown as an entrepreneur this year?
#AllOrNothingDay: Share an all or nothing decision you've made or need to make.
Promote YOU: Share a product or service you offer.
Stress Awareness Month: Share a quote, video or tip on how to de-stress.
Share your why with your community in a way they can relate to.
International Day of Friendship: Ask your community to share a friend who supports and uplifts them.
#July2020: Share your favorite moments from this month
---
Do you struggle with using social media in your business? Does the thought of creating content keep you from even trying? After a long day or week working in your business does the thought of creating content overwhelm you? Do you have a plan for your social media platform but not sure how to take action?

This handy resource provides:
daily prompts to show up on social media.
100+ content ideas for each month
engaging conversation starters to use for live-streams, graphics, videos, blog posts, and more.
tips and quotes to complement the conversation starters.
Doing the math? That's over 100 ways to show up each month for your community!