Welcome to this article where you'll discover 31 evergreen social media prompts specifically crafted for July. These prompts are designed to empower you to show up consistently, prepare your social media content calendar, and foster meaningful connections with your followers.
As an entrepreneur, I understand the importance of building a strong community of supporters and customers both offline and online. It has been a transformative journey for me, both personally and professionally. That's why each month, I'm dedicated to providing you with a social media calendar that kickstarts engaging content, helping you connect with your audience and cultivate a thriving community.
In the process of community building, consistency is key. By posting regularly on your social media channels and authentically engaging with your audience, you create a strong foundation for genuine connections to flourish. So, let's dive into these 31 July social media prompts that will empower you to elevate your online presence and foster meaningful relationships with your community.
Let's get started and embrace the power of intentional and authentic engagement on social media!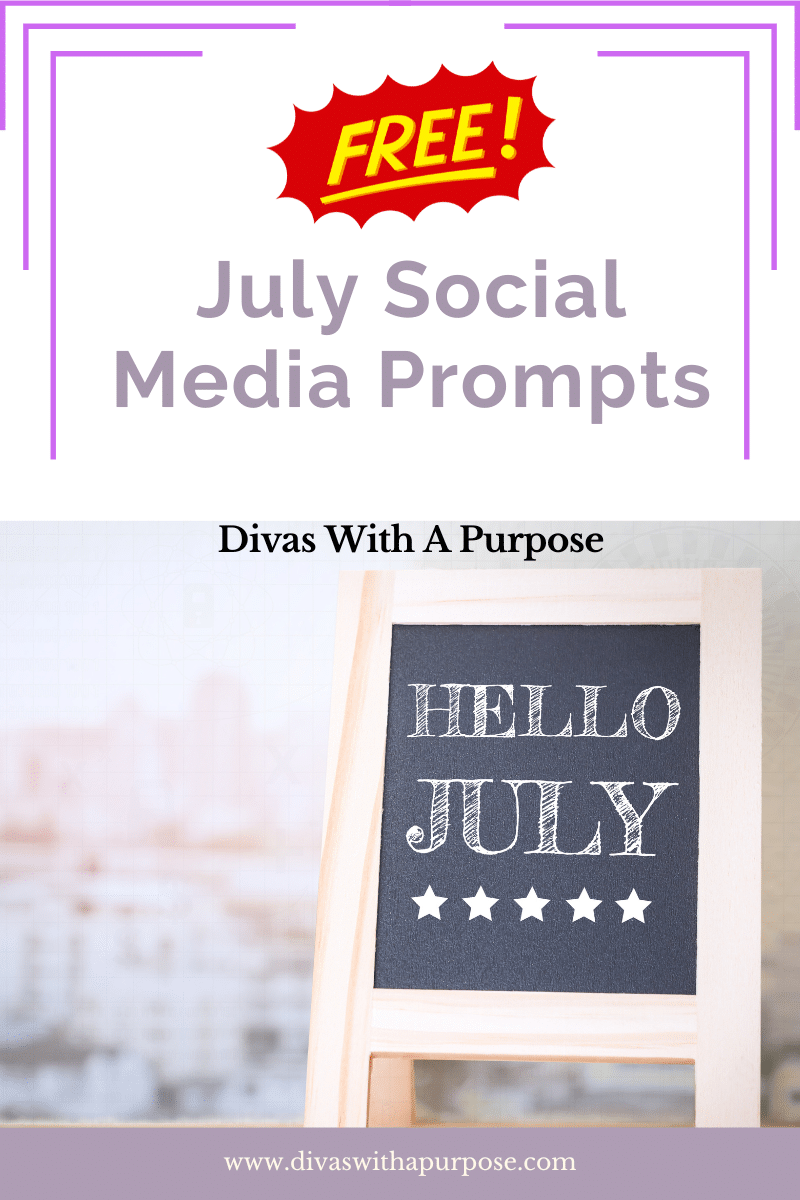 A Free Graphic with July Social Media Prompts
Below is a helpful graphic that you can save for easy access, or you can bookmark this article to refer to each day. These carefully curated prompts are designed to keep your social media channels active and engaging, even during the summer months. You can utilize them to create captivating images, host live-streams, or share quick video snippets to answer each prompt. Encourage your followers to respond back with their thoughts and ideas, fostering a vibrant and interactive community.
While July is traditionally seen as a month to step back from social media, you can still maintain a strong online presence and stay connected with your community, thanks to the power of scheduling tools and pre-planned content. With the help of these social media prompts, you can ensure that your content remains fresh, relevant, and consistent, all while enjoying your well-deserved break.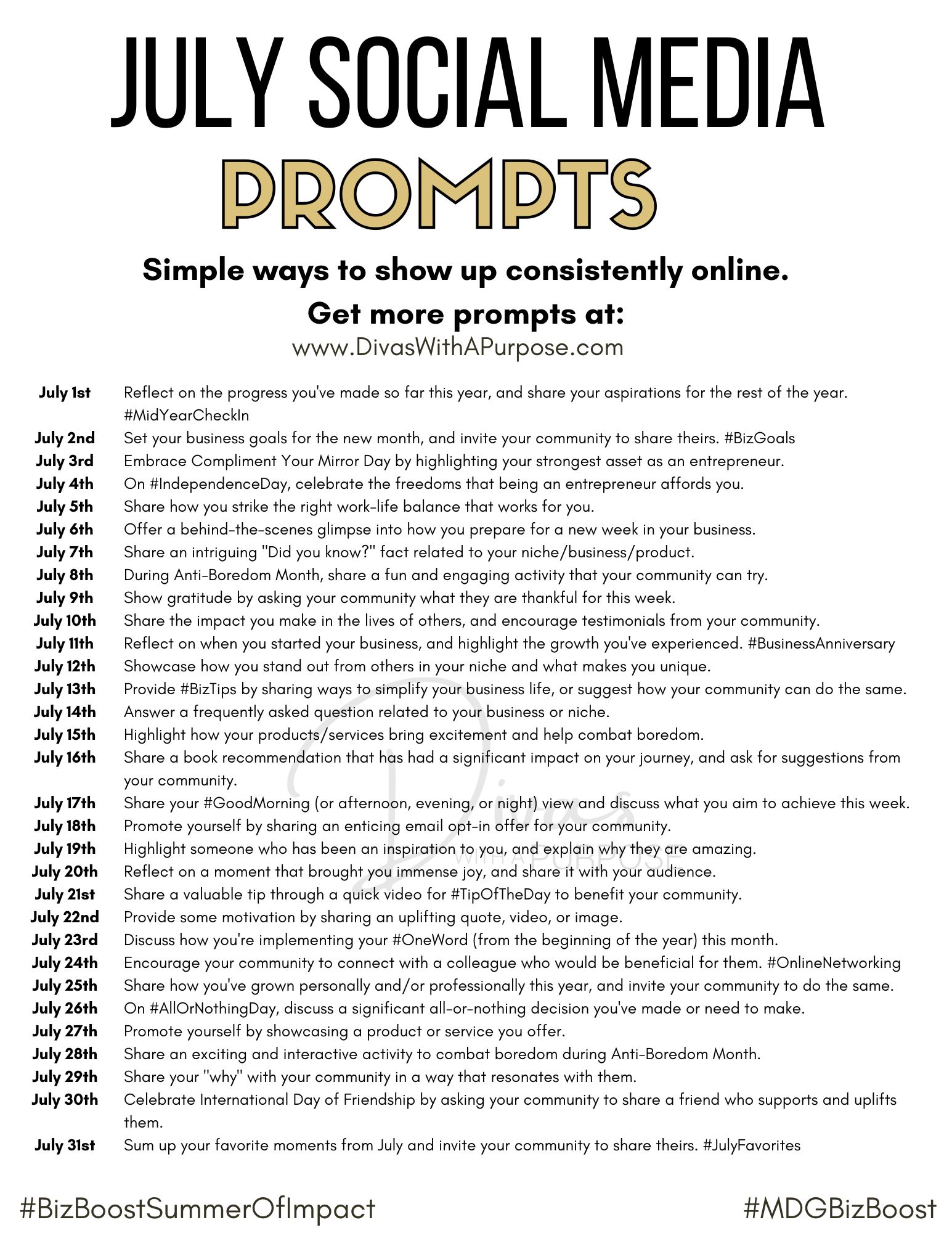 Here are some additional tips on how to show up on social media during the summer months:
Embrace the summer vibes.
Infuse your content with a touch of summer. Incorporate seasonal themes, colors, and imagery that resonate with your audience during this time of the year.
Share your summer adventures.
Take your followers on a virtual journey by sharing glimpses of your summer activities and experiences. Whether it's a vacation, outdoor adventures, or simply enjoying the sunshine, let your audience be part of your summer story.
Tap into summer trends.
Stay updated with the latest summer trends in your niche, and leverage them to create engaging content. From fashion and beauty to travel and lifestyle, align your content with what's popular and in-demand during the summer season.
Provide summer-inspired tips and advice.
Offer your audience valuable tips and advice related to the summer season. Share insights, recommendations, and strategies that can help them make the most of their summer and overcome any challenges specific to this time of year.
Engage with summer-themed contests and challenges.
Organize contests, giveaways, or challenges that align with the spirit of summer. Encourage your followers to participate and share their own summer-related stories, photos, or experiences. You can offer a chance to win prizes or gain recognition.
Collaborate with fellow entrepreneurs.
Reach out to other entrepreneurs and influencers in your niche and explore opportunities for collaboration. This can involve guest posting, joint live-streams, or co-creating content. This helps provide value to both of your audiences during the summer months.
Remember, even if you take a break from actively creating content, maintaining a consistent presence and engaging with your community will help you nurture and strengthen your relationships. With these tips and our July social media prompts, you can ensure your summer months are filled with meaningful interactions, while still enjoying the benefits of time away.
July Social Media Content Calendar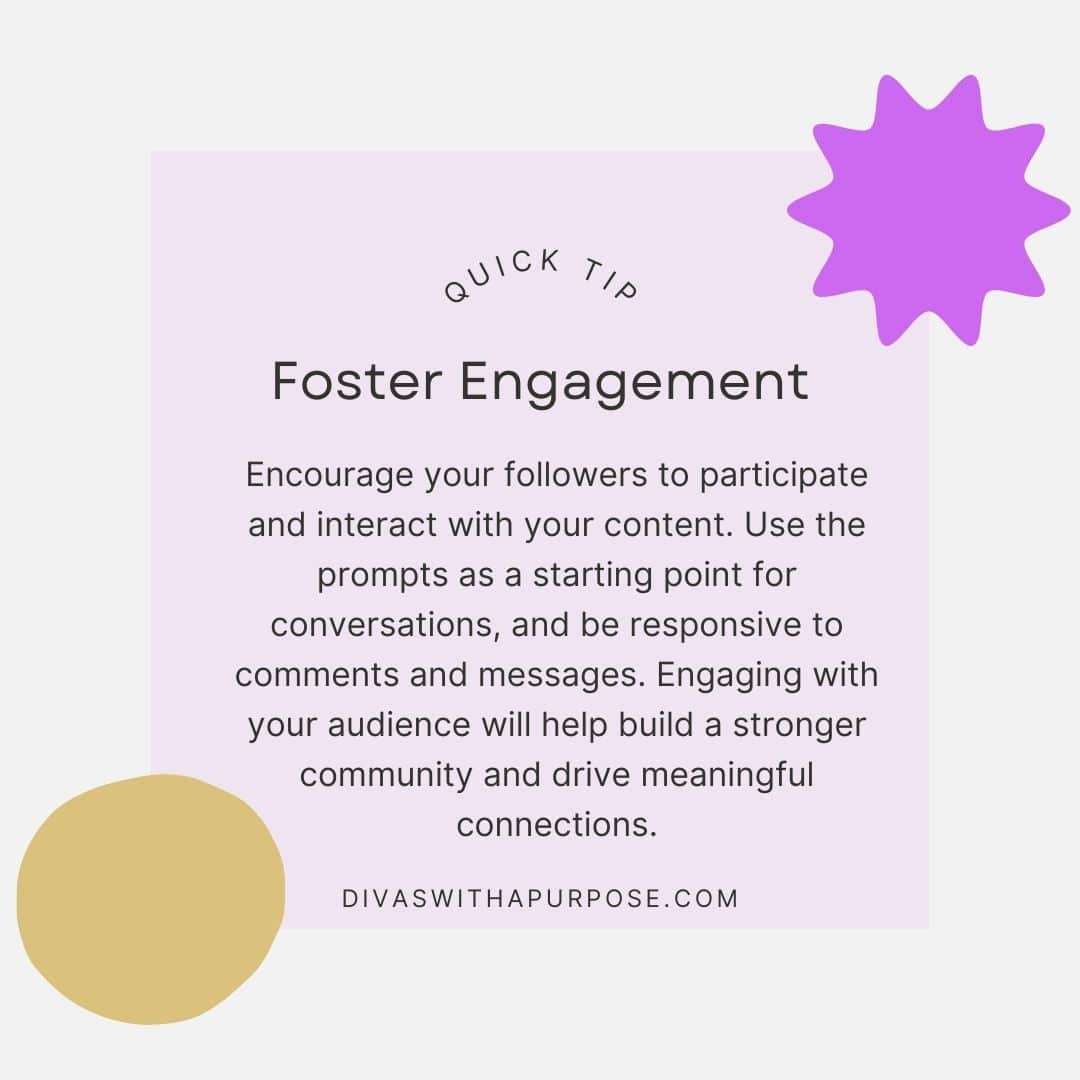 Reflect on the progress you've made so far this year, and share your aspirations for the rest of the year. #MidYearCheckIn
Set your business goals for the new month, and invite your community to share theirs. #BizGoals
Embrace Compliment Your Mirror Day by highlighting your strongest asset as an entrepreneur.
On #IndependenceDay, celebrate the freedoms that being an entrepreneur affords you.
Share how you strike the right work-life balance that works for you.
Offer a behind-the-scenes glimpse into how you prepare for a new week in your business.
Share an intriguing "Did you know?" fact related to your niche/business/product.
During Anti-Boredom Month, share a fun and engaging activity that your community can try.
Show gratitude by asking your community what they are thankful for this week.
Share the impact you make in the lives of others, and encourage testimonials from your community.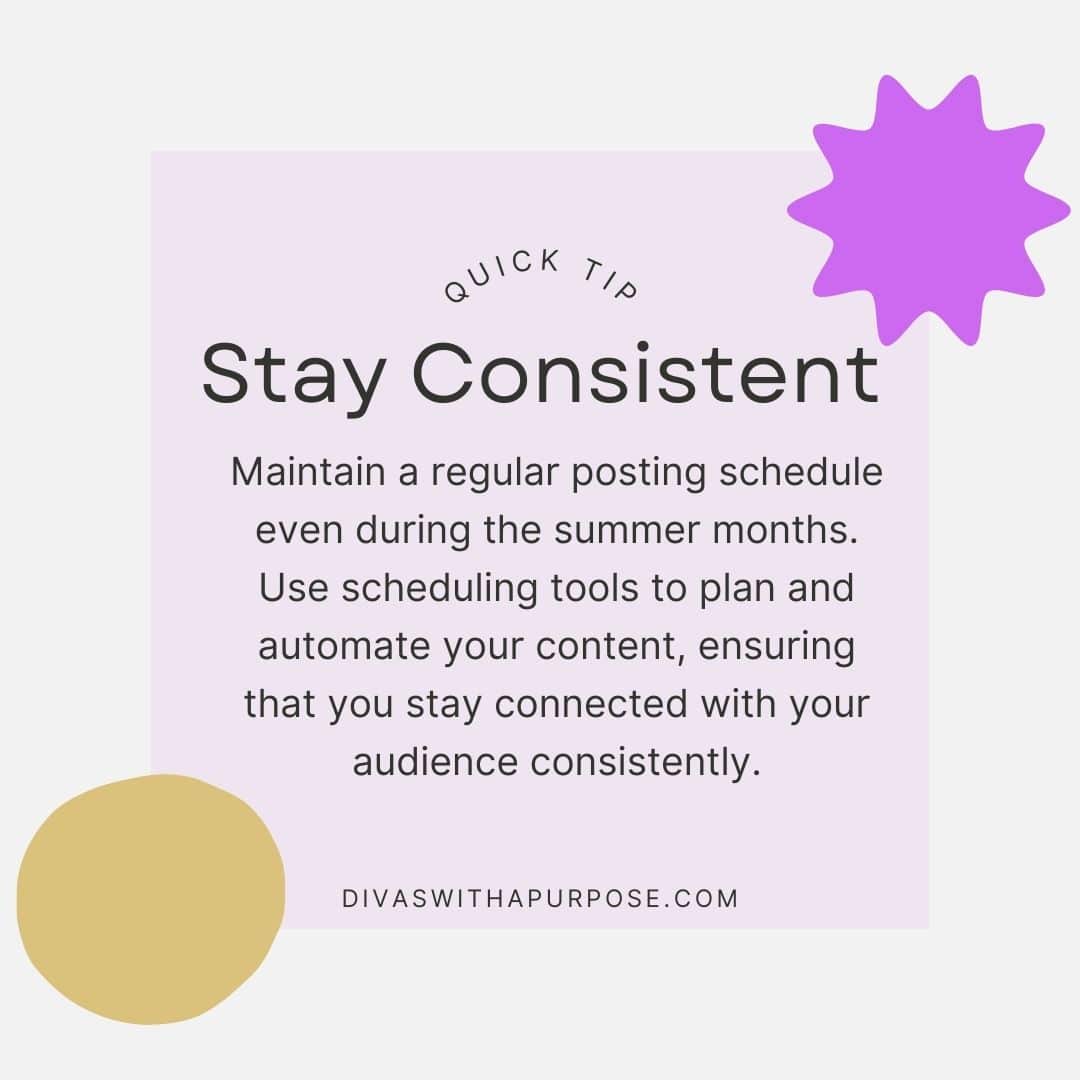 Reflect on when you started your business, and highlight the growth you've experienced. #BusinessAnniversary
Showcase how you stand out from others in your niche and what makes you unique.
Provide #BizTips by sharing ways to simplify your business life, or suggest how your community can do the same.
Answer a frequently asked question related to your business or niche.
Highlight how your products/services bring excitement and help combat boredom.
Share a book recommendation that has had a significant impact on your journey, and ask for suggestions from your community.
Share your #GoodMorning (or afternoon, evening, or night) view and discuss what you aim to achieve this week.
Promote yourself by sharing an enticing email opt-in offer for your community.
Highlight someone who has been an inspiration to you, and explain why they are amazing.
Reflect on a moment that brought you immense joy, and share it with your audience.
Share a valuable tip through a quick video for #TipOfTheDay to benefit your community.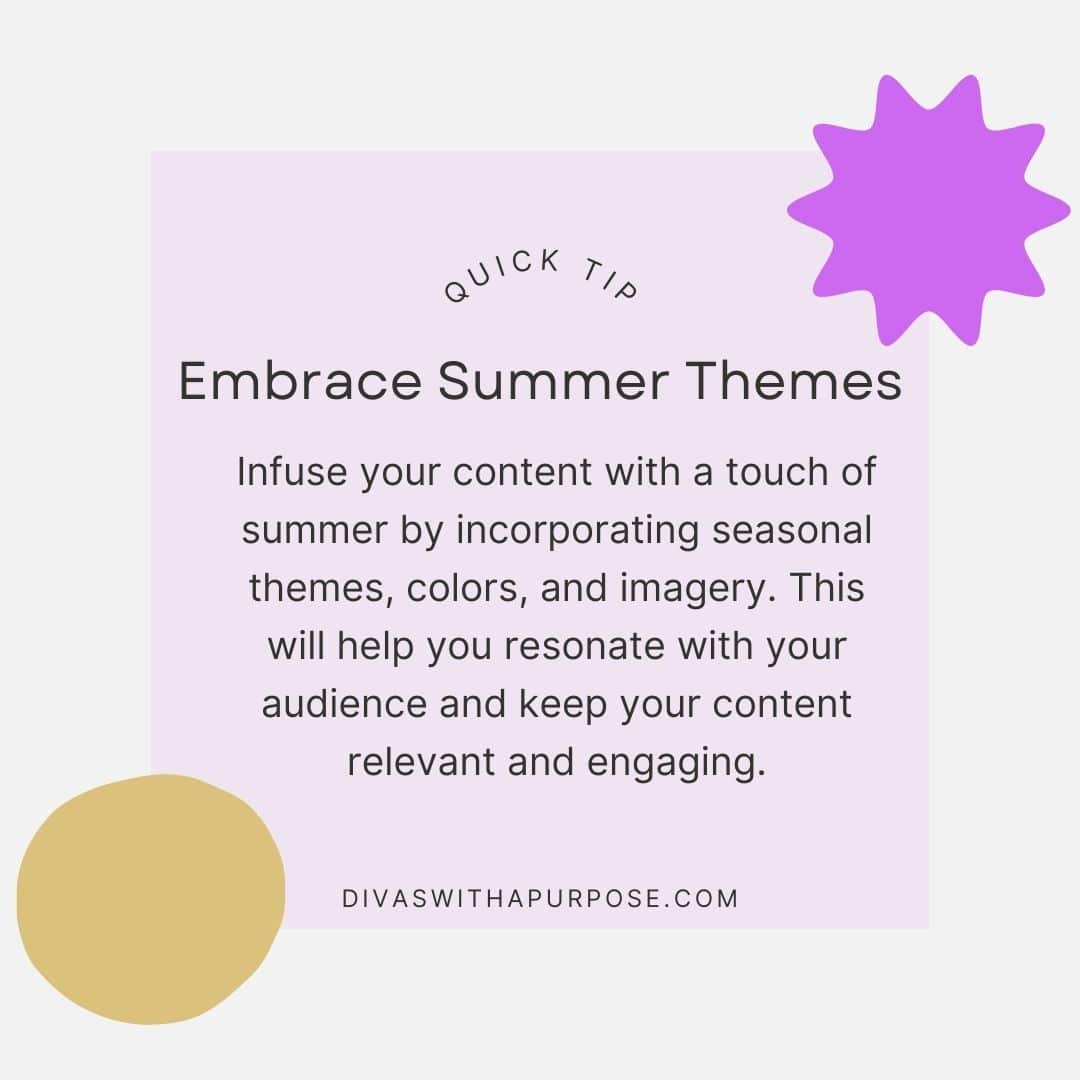 Provide some motivation by sharing an uplifting quote, video, or image.
Discuss how you're implementing your #OneWord (from the beginning of the year) this month.
Encourage your community to connect with a colleague who would be beneficial for them. #OnlineNetworking
Share how you've grown personally and/or professionally this year, and invite your community to do the same.
On #AllOrNothingDay, discuss a significant all-or-nothing decision you've made or need to make.
Promote yourself by showcasing a product or service you offer.
Share an exciting and interactive activity to combat boredom during Anti-Boredom Month.
Share your "why" with your community in a way that resonates with them.
Celebrate International Day of Friendship by asking your community to share a friend who supports and uplifts them.
Sum up your favorite moments from July and invite your community to share theirs. #JulyFavorites
---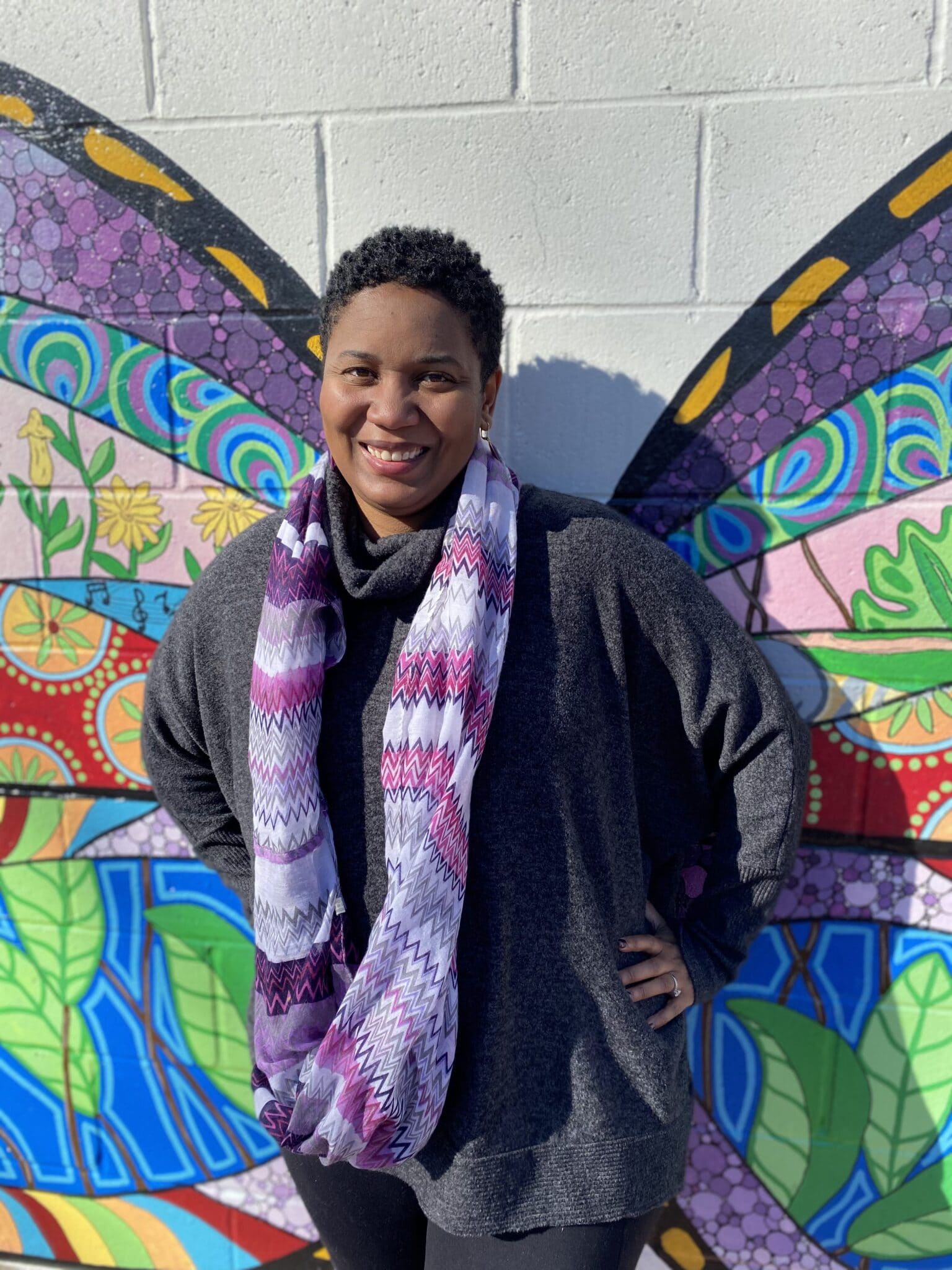 Michelle D. Garrett is the founder of Divas With A Purpose.
She focuses on sharing resources for being purposely productive; setting personal and professional goals and achieving them through daily action; and successfully running a business while focusing on your mental health. Michelle is a full-time entrepreneur who specializes in teaching female entrepreneurs how to show up consistently in their business – online and off.
---
Boost your social media presence and engage your community with our exclusive eBook for female entrepreneurs.
BizBoost Themed Content and Conversation Starters eBook
Unlock the power of conversation with these conversation starters, tips, and quotes that will inspire dialogue and connection.
🌟 Ignite meaningful conversations: Use our conversation starters to spark engaging discussions with your audience.
🎥 Elevate your live videos: Gain inspiration from our tips and quotes to create compelling live videos that captivate your viewers.
🎨 Personalized graphics made easy: Seamlessly integrate our conversation starters into your personalized graphics for eye-catching visuals that resonate with your audience.
💡 Monthly prompts for ongoing inspiration: Get a series of monthly prompts delivered to your doorstep for three months after your purchase, ensuring a steady stream of fresh ideas to keep your social media engagement thriving.
💪 Fuel personal and professional growth: Dive into topics such as personal development, health and wellness, communication, self-esteem, and more, to enhance your skills and empower your entrepreneurial journey.
📚 Convenient eBook format: Gain instant access to a wealth of valuable content in the form of an eBook, ready to inspire and guide you whenever you need it.
🚀 Take charge of your success: Embrace the power of conversation, foster community engagement, and unlock the doors to your entrepreneurial triumph.
🎯 Designed for female entrepreneurs: This resource is tailored specifically for ambitious women like you, providing insights and inspiration to help you thrive in your business endeavors.
Don't miss out on this transformative resource! Grab your copy today and embark on a journey of connection, inspiration, and growth.