What is the importance of 35th birthday?
Many women that I've connected with have mentioned that turning 35 left them feeling rejuvenated and enlightened.
I can definitely relate.
We take a moment and think about what we have experienced in life.
Turning 35 was a birthday that hit me differently than any of the other milestones I had already celebrated did.
The older you get milestone birthdays have a way of doing that. For many of us, it is a (maybe not-so-gentle) reminder of where we are … or aren't … in life. We take a moment and think about what we have experienced in life. It can be a wake-up call to change our lives: change of job, begin exercising or changing our diet.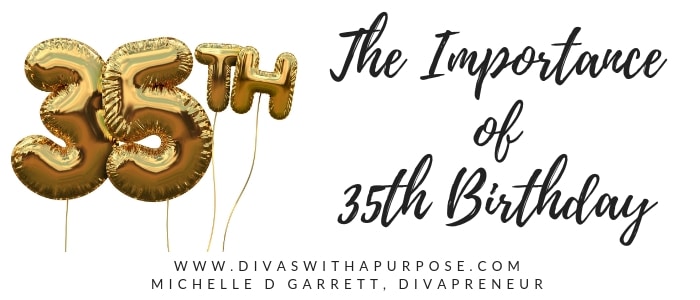 On the morning of mine, I sat down and wrote these 35 reflections on turning 35.
They are in no particular order – just thoughts that popped into my head as I started writing and thinking on where I am, what I've experienced and what's on the horizon.
35 Reflections on Turning 35
1 – I am enough.
2 – I am worthy.
3 – I can forgive and let go.
4 – I learn from my life experiences – the good and the not so good.
5 – I embrace change – even the unexpected ones that seem to throw life into a spiral.
6 –SMART Goals are so important and essential in life!
7 –Budgeting is NOT a dirty word!
8 – I embrace my DIVAtude – being driven, inspiring, victorious and called to action!
9 – I am beautiful – from the inside out!
10 – I don't always have to have the last word – because actions often speak louder than words!
11 – I don't regret any choices or paths in life I've taken – they've all helped to shape me to be the wonderful DIVA I am today
12 – My mother was right…about it all!
13 – Never say never...
14 – I'm so my mother's daughter…and that's okay
15 – I'm, also, my Daddy's daughter…and that's alright, too!
16 – I'm comfortable in my own skin
17 – Forgiveness is a powerful thing.
18 The right-for-me work-life balance is essential to being the best I can be
19 – Always remember my WHY – some sacrifices need not be made
20 – I am creating my legacy
21- Laundry multiplies magically so there's no point in stressing because I'm not "caught up"
22 – It's okay to be selfish
23 – Daily, sincere gratitude opens the door to so many blessings
24 – Time heals
25 – One can never watch too much Law & Order
26 – Or Criminal Minds
27 – There's something about curling up with a good book that does wonders for the soul
28 – A good laugh with your DIVAs is pretty awesome, too!
29 – You can't do it all alone – get a team and delegate
30 – Decluttering is a dirty job … but someone has to do it!
31 – Life hurts but it is an awesome journey
32 – You may learn things from the most unexpected sources
33 – It's okay to question what you don't understand
34 – Hugs are great
35 So is cuddle time!
---