Many thanks to MomSelect and HP for sponsoring portions of this article about our Girls Night In: Divapreneur Style. I received HP Products and financial compensation to share about our experience using HP Social Media Snapshots.
One of my greatest joys is getting women together to discuss ways we can grow our businesses and support one another. This past weekend, I had the opportunity to host a group of fellow Divapreneurs in my home for a Girls Night In: Divapreneur Style. We shared our businesses, motivation for success, ways we can utilize social media to connect with our customers and discussed possible ways to collaborate with one another. Don't let the topics fool you, we had tons of fun and shared lots of laughter as we connected and shared our passion for growing our businesses with one another.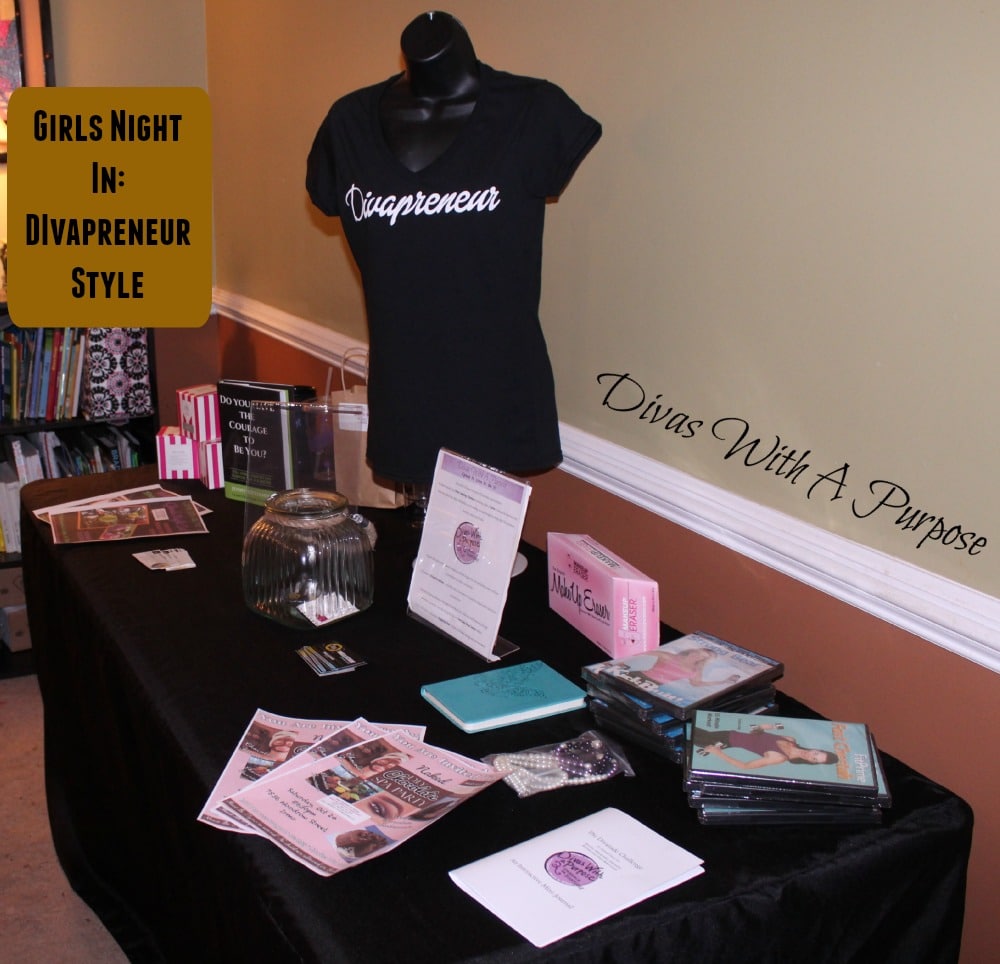 One of our favorite parts of the evening was the ability to print photos of the fun we were having right from our smart phones and tablets thanks to HP's Social Media Snapshots!
[Tweet "#NowReading: Girls Night In: #Divapreneur Style"]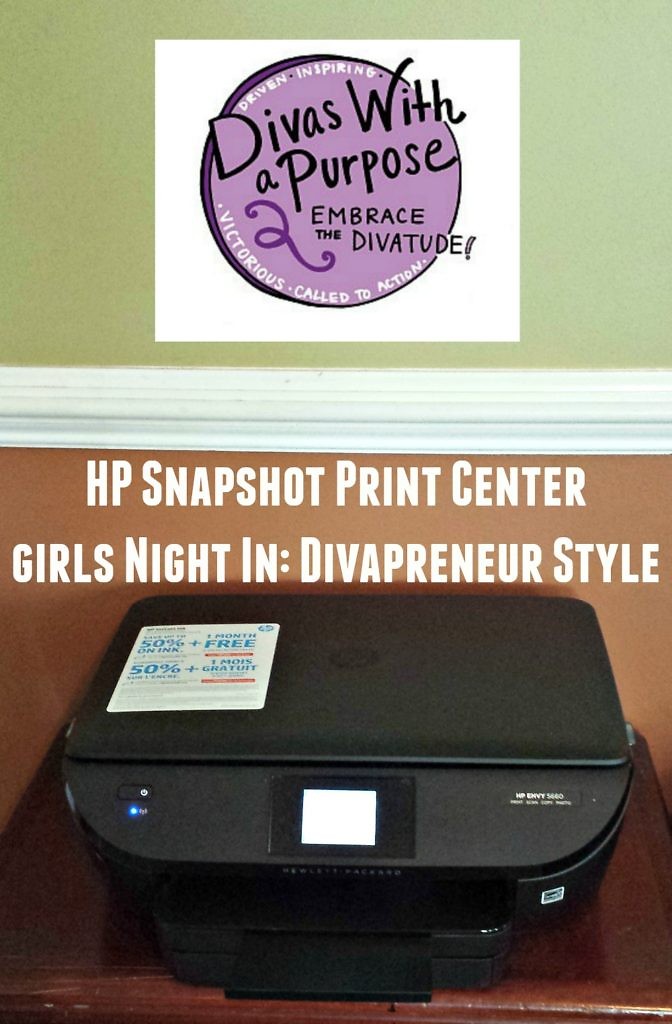 It was great discussing the features of the HP Envy 5660 and the Social Media Snapshots. Many of us host events within the community and this is a great way to encourage our guests to snap photos, share them on social media and take home personalized souvenirs. With the HP Snapshots Application, you can pull photos from your social media stream and camera gallery and print directly to the HP printer. I, also, love that I can print directly from my smartphone and tablets to my HP Envy 5660.
The HP Social Media Snapshots are sticky-backed photo sheets that you can print your photos on with backgrounds, borders and text added through the app and display. These are going to be great to decorate my work space and our refrigerator. All those awesome Instagram photos can be instantly printed out and are displayed. Love!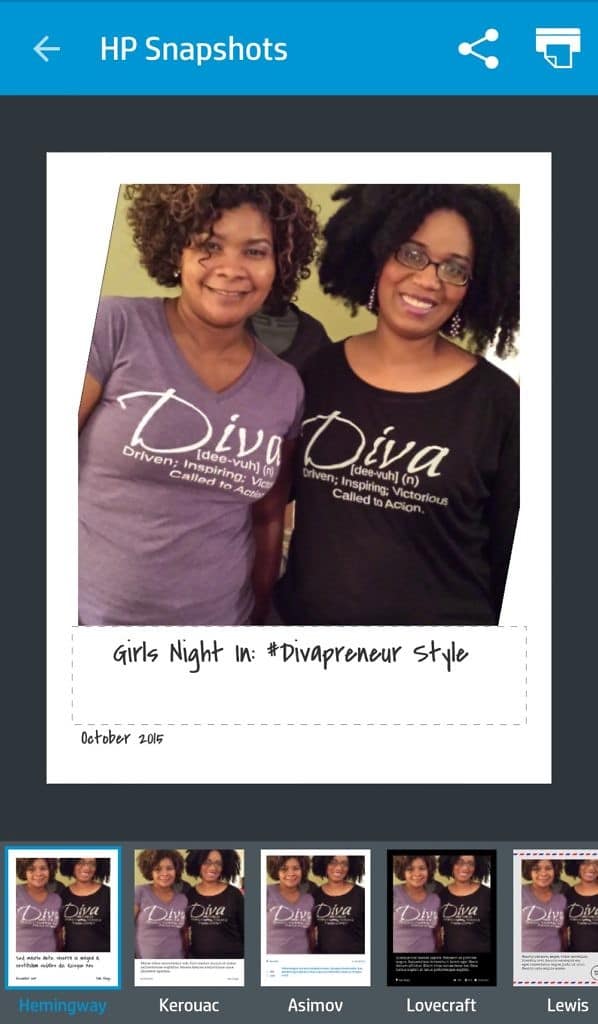 Exclusive Savings Offer: Now through October 31, 2015, HP Social Media Snapshots are Buy One, Get One Free at Staples when you use this link and click "redeem now". Tip: To save on shipping, by picking up your order in your local Staples store.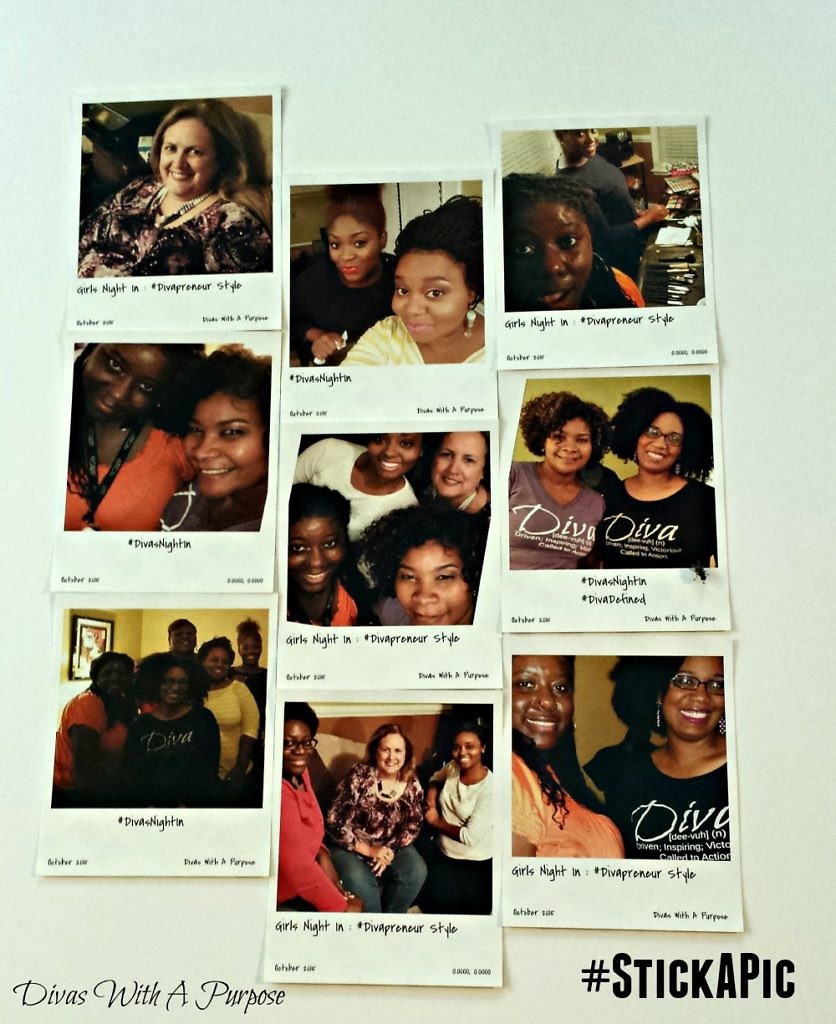 Thank you to the wonderful ladies of Columbia, South Carolina that came out for Girls Night In: Divapreneur Style. We had a fantastic time getting to know one another and learning about our respective businesses.
You can order our #Divapreneur Tee from our online store:
[wp_eStore_buy_now_fancy id=2]