There are days when it is very hard to get out of bed when you live with depression. For many, mornings are the hardest. The thought of starting your day, engaging with others and doing things can be overwhelming.
However, it must happen. Taking small action steps make a big difference. Positive self-talk and giving yourself grace are also very important. Below are some action tasks that have helped me over the past few years to start my day when everything in me wanted to stay snuggled in my bed not facing the world.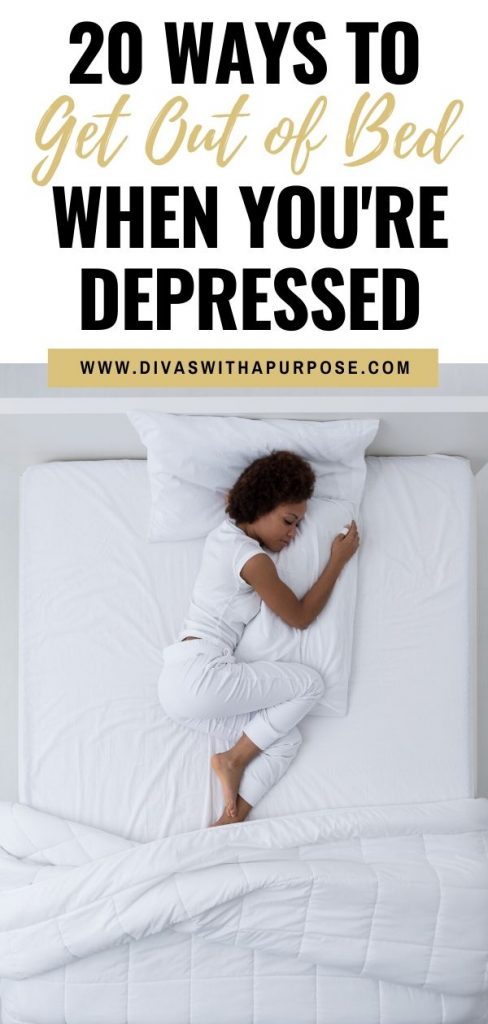 20 Ways to Get Out of Bed When You are Depressed
1 – Get an annoyingly loud alarm clock and put it across the room.
2 – Start your day by writing what you are thankful for and an affirmation. Your affirmation can be simple and action-based – "Today I will get up and be productive."
3 – Create a routine that works for you. Those small steps matter and your body will go into auto-pilot.
4 – Reach out to your support system for help. My daughter is a pro at making sure I get out of bed every morning she is home.
5 – Make it a point to get dressed when you get out of bed. Lay out your clothes the night before.
6 – Make up your bed once you are out of it. (Especially if you work from home!)
7 – Keep a bottle or glass of water next to your bed to drink when you wake up. Hydration helps (and it'll active your bladder).
8 – You know that up-beat morning person friend you have? Ask them to call and motivate you to get up and moving occasionally.
9 – Allow yourself a day in if you need it. Just be mindful that that day does not turn into multiple days.
10 – Be kind to yourself. Talk to yourself as you would a friend that needed encouragement. "Michelle, you can do this. One step at a time."
11 – Move your body. Even while you're laying down. Stretch your legs, your arms, rotate your ankles, etc.
12 – Play upbeat and energizing music.
13 – Set small goals to accomplish. You can even have a visible checklist to mark items off. Shower – check. Breakfast – check. Gratitude – check.
14 – Reach out to others who understand letting them know you're having one of those days.
15 – Write out a list of 3-5 simple tasks you need to accomplish. Give yourself a small reward for getting up and completing them.
16 – Let natural light in.
17 – Start the day doing something you love.
18 – Let some fresh air in.
19 – Meditate.
20 – If you are on medication, keep your schedule. Speak with your medical team to see if you need an activating prescription to help motivate you in the mornings.
I hope that at least one of these helps. If you have not spoken to a professional, I highly encourage you to do so. Having a team that works with you to help you be your best self makes a world of difference in how you feel. It is not an overnight fix, but you will slowly feel like a better version of yourself.