Happy March-Eve, Divas! Another month is coming to an end and it's been one packed with all kinds of awesomeness!
We kicked off the month of love celebrating some awesome divas … OURSELVES! I challenged us all to celebrate the wonderful diva we see in the mirror each day; work on our positive self-talk and be specific with the reasons why we're so awesome. How did you do?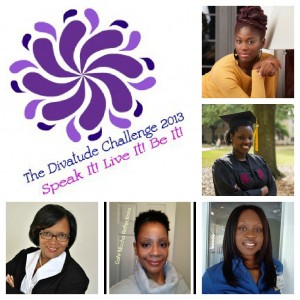 You were introduced to the members of this year's Divatude Challenge and their individual personal and professional goals and challenges for the upcoming year. Catch up and chime in on their individual posts with encouragement, support, and suggestions.
Many thanks to Brittney, Janeane, Whitney, E'thoshia, and Kimberly for sharing their experiences with us all.
Speaking of goals, how are you all coming with your 2013 goals?
One of my 2013 goals is to have conversations with my children about savings and financial responsibilities – I got the perfect opportunity to start when my 11 year old announced he wanted to save up to purchase his first car by 17! My response? To go half on it with him by matching every dollar he saves between now and then! Wish us luck and check out how I'm teaching my kids about savings
Speaking of children, I got a little heated about the terrible words spoken about 9 year old Quvenzhane' Wallis (the youngest person ever nominated for the Academy Award for Best Actress!) and shared why I'm rooting for her to rise above the negativity. We have to encourage and motivate your children at all times to be the best that they can be.
Happy February Divas! Talk to you in March 🙂
What's your best memory of the past month? Mine is the thank you note I found while cleaning out my oldest son's backpack!