This is a sponsored post for SheSpeaks/Philips.
My husband recently came home and announced we were having a date night. That night. He then informed me that I had about an hour to be ready and nonchalantly walked away.
Seriously?!?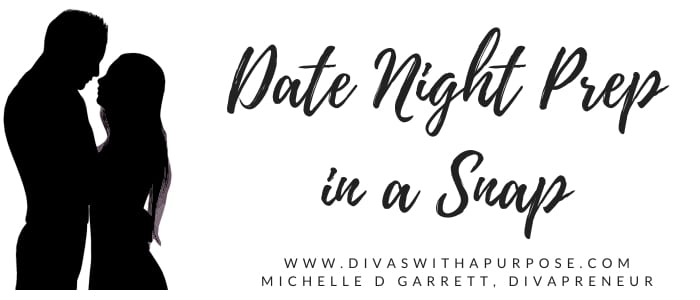 I was excited about the idea of date night. Then … I immediately started thinking of all the date night prep I needed to do. As a mompreneur who works from home and is coming off of an unplanned medical leave, I was a hot mess at that moment.
Thankfully I've learned how to be the queen of "date night prep in a snap" after 13 years of marriage, four children and conflicting schedules that often make our heads spin.
[Tweet "Date night prep made easier thanks to @PhilipsBeautyUS #PhilipsSatinShaver (AD) @SheSpeaksUp"]
Getting all dolled up for date night is not always necessary or feasible.
First things first, I had to remind myself not to panic and get moving. My husband just wanted to spend one-on-one time with me. He did not want or need all the bells and whistles. Yes, it is great to get super dolled up. It's just not always necessary and feasible.
Multi-Task in the Shower
This Diva has quite a bit of practice when it comes to multitasking in the shower. Before jumping in, I slathered on a leave-in curling crème and my facial cleansing cream. This way I was able to get in and out while taking care of my hair and face.
While toweling off after my shower, I noticed that I may have missed a few opportunities to shave my legs in the last few weeks … maybe months. (This is a no-judgment zone, y'all!)
No worries, my Philips SatinShave had me covered and has become one of my favorite tools to use at home and when traveling.
The great thing about Philips SatinShave is that it can be used wet or dry, in or out of the tub, and has an anti-slip grip for easy handling. Available at Philips.com, it is designed to reach the curvy areas on your legs and body for fewer missed hairs. You can experience a smooth shave with fewer nicks, cuts, and less irritation. It even includes a trimming comb attachment for grooming the bikini area. (Let's be really real, Divas! It is date night.)
Click here to shop for the Philips SatinShave at Philips.com and receive 10% off now through 12/31/19 with promo code SATINSHAVER! Plus, there's free shipping.
Once I'm done with a quick shave, I lather on my favorite body butter. I do not wear much make-up. For date night I will put on some foundation (maybe) and lipstick. After that, I'm ready to get dressed.
My best tip is to have a few easy to slip-on outfits in your closet. My go-to favorites are maxi-dresses and a simple black jumper. I can dress up both with a scarf or a fun necklace. Finish off with your (or his) favorite scent and ta-da!
Remember date nights are for connecting and engaging with your spouse
Finally, remember the object of date night is to have fun and connect with your spouse. We like to try new places together, have great conversation and use the time to reconnect with one another.
[rafflepress id="1″]