When my youngest son was about one, he latched on to one of my favorite shirts and claimed it as his blankie. I made the mistake of putting in on for work one day and it was not a pretty sight. I soon resolved that I had one less article of clothing in my closet and, secretly, gloated that he picked something of mine to claim as his.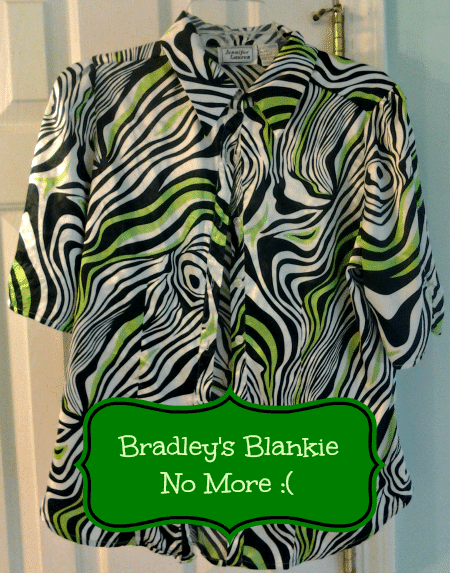 Well, recently after doing laundry and handing him his fresh, clean, snuggly blankie he gave it back to me.
"Momma, this is your shirt. Here you go."
Divas, my heart broke just a little bit.
"Silly, it's your blankie, go put it in your room."
"No, it's your shirt. You can have it back. I don't need it anymore."
What could I do, but take it back and hang it up. I haven't worn it and, honestly, don't think I will. It will now forever be known as Bradley's blankie.
My baby boy is growing up on me. I knew the day was going to come, but for some reason my heart just wasn't prepared for it to come that day and in that way. I mean, he's supposed to want his blankie until he leaves for college, right?
Kindergarten is on the horizon. A little over a month from now, his carefree days of daycare, snack time and naps will be snatched away. I've been prepping him for the past year and he's truly excited. Let's be honest, Divas,
I've been really prepping myself.
My baby's growing up on me….I think I'm going to go curl up with his blankie for a bit.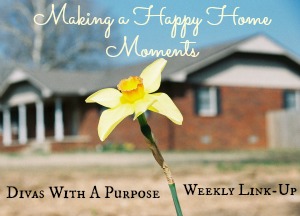 Welcome to our weekly Making a Happy Home post. One of my focuses this year is home life. Specifically spending more quality time together, organization, cooking and pre-planning meals, and decorating. To help with that focus, I have this weekly post for all things home-life. If you'd like to contribute as guest poster with this series, feel free to email us at divaswithpurpose@gmail.com