Are you looking for bullet journal ideas for beginners? A bullet journal can help you get and stay organized in the different areas of your life.
I might be slightly addicted to my bullet journal. I'm not sure I could function throughout the day without it. OK, I'm very addicted to mine! I use it as one part daily planner, one part journal, and one part to do list. I'm always trying to come up with new list to fill my journal and help me stay on track with my goals. Here are a few of my favorite bullet journal list ideas to keep you organized.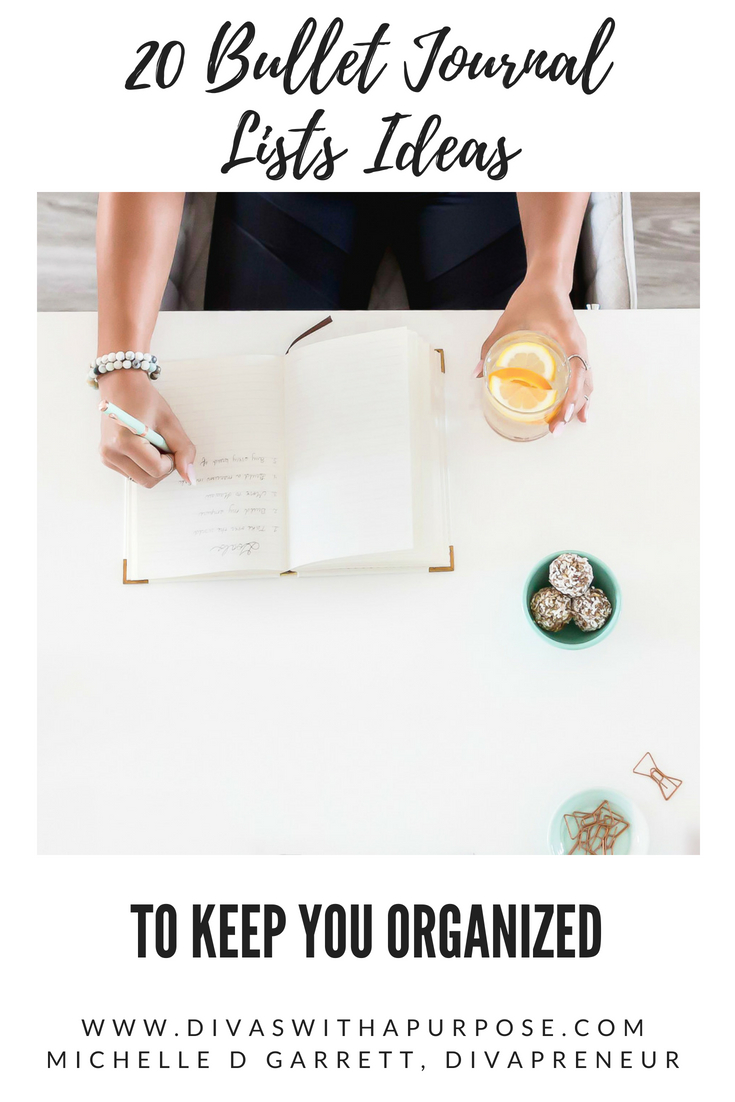 20 Bullet Journal Ideas for Beginners that Will Keep You Goal-Focused
Timeline of Your Life
It can be therapeutic to retrace your footsteps through life. Many people like to start their bullet journal with a more personal spread about progress through life. Start from birth and outline any important milestones throughout your life that you believe to be foundational to who you are.
Books You Want to Read
Reading more expands your vocabulary and knowledge of the world around you. Plus, it's fun to experience new stories. I like to keep track of all the books I want to read by listing them out by title and author in fun formats in my bullet journal.
Find Bullet Journal Supplies in my Amazon Store (affiliate link)
Birthday List
While I primarily keep track of birthdays through Facebook, these days it's getting harder to manage with all the new friends. Instead I like to make a spread specifically for the most important birthdays in my life. It helps me to make sure they won't get lost with all the random acquaintances I have on Facebook.
View this post on Instagram
Bucket List
I like to think of my bucket list as my big picture or pie in the sky goals list. I love trying new things and having adventures, adding them to my bucket list is one part goal planning and one part daydreaming.
Travel Plans
Speaking of daydreaming, your bullet journal is the perfect place to make lists of your travel plans. Write out all the activities, restaurants, and hotels you'd like to experience. It helps to keep everything in one place when you're planning an event over a long period of time.
Exercise Tracker
There's just something about checking things off my lists that gives me great pleasure. I'm not really the type of person who gets great joy out of working out for the sake of working out but it's a necessary evil for my life. While I'm running I get sick joy out of fantasizing about checking it off my daily to do list.
Monthly Budget
Having a well organized and formulated budget helps to track monthly expenses and creates a foundation for future monetary goals.
Savings Goals
I like to use my monthly budget in correlation with my savings goals spread to help me plan for big picture life expenses and to create a nest egg. I've set this page up in different ways but using a visual like a piggy bank or a dollar sign and filling in sections when the money is saved is a cute and fun way to make something a bit boring more visually interesting.
View this post on Instagram
Income Growth
When you're setting financial goals, many people like to pick up a side hustle to bring in extra income. Regardless if you're driving for Uber or selling crafts on Etsy you can use an income growth spread to help track the extra income coming in from your projects.
Chore List
Chores come at different intervals, some are daily, weekly, or monthly. Using a chore spread helps keep everything organized and ensures you won't forget to dust or mop the floor this month.
Restaurants to Visit
Every time we decide we want to go out to eat we spend at least ten minutes debating what we want before ending up at the same handful of restaurants. The restaurant list is a game changer for trying new places to eat and new foods.
Wish list
I like to set goals and reward myself for following through with a new treat for myself. Sometimes it's as simple as a new book and sometimes its a larger reward like a few new outfits or a vacation getaway. Having a wish list ensures you stay on top of your financial goals and keeps you from making silly choices on impulse buys you may not actually want.
View this post on Instagram
Projects to Complete
If you're like me you probably have a running list of tasks to finish. Our house always has 4-5 half finished projects that need time. Keeping a list helps you remember when you've got a few extra minutes on your hands.
Self Care Ideas
Self care is super important to our mental wellness. Sometimes it's hard to remember what we truly enjoy in moments of care. Do we really want to watch five more hours of Netflix? Maybe – but maybe there's another idea we can use to take care of ourselves.
Favorite Quotes
I love using quotes in my writing and on my instagram. I keep track of my favorites in my bullet journal so when it comes time to find one that fits they're right at my finger tips.
5 Year Goals
Putting your desires into writing helps you plan but it also helps you sort out what is really a priority and what is just something that would be nice. If you truly want to get a new job or lose that last 20 pounds of baby weight creating a detailed five year goals list will help you to break your goals down to being measurable and obtainable.
View this post on Instagram
Daily Tasks Log
This is the most used spread in my bullet journal. I love a to do list. It helps me keep my day organized and reminds me what the most  important tasks are for that day.
Gratitude Log
Many people have a tendency to get bogged down in the negative. Using a gratitude log to remind yourself what you're thankful for can be a great way to track all the positives in your life.
Deadlines Tracker
Everyone has important dates to remember. Sometimes it's a kid's soccer game and other times it's the due date for an important project. Regardless – keeping a running list of dates will help you remember when something is coming.
View this post on Instagram
Work Goals
I use my bullet journal to track my blogging projects. I mark my growth, post ideas, brands I'm working with, and other lists of information to keep my work life flowing. Even if you don't have a blog, you can use the same principal to help you keep your work life organized.