Great news all you fans of Swagbucks – one of my favorite websites to earn gift cards!
Starting March 2nd, you will be able to redeem 2,200 Swag Bucks for one $25 Gift Card OF YOUR CHOICE once a month. This gift card discount only excludes PayPal and Gas Cards.
Swagbucks is, also,  introducing a new $3 Amazon Gift Card which is only 300 SB.
I bought the majority of my holiday gifts using Amazon gift cards I'd earned through Swagbucks!
Swagbucks.com allows web and mobile members to earn virtual currency (called Swag Bucks) for doing what they already do online every day- watching videos, searching the web, playing games, participating in market research and shopping online. Swag Bucks can then be redeemed for valuable rewards, including gift cards to the world's online and offline retailers. Since its launch in 2008, Swagbucks has awarded more than $45 million in real life rewards.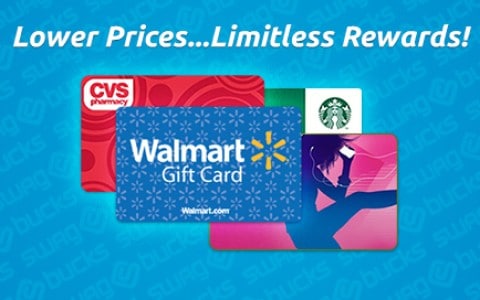 Some additional benefits include:
1. Greater Savings – If you previously redeemed five $5 Amazon Gift Cards, you were spending 2250 SB. Now you can get the same $25 worth of Amazon Gift Cards for 2200 SB, a 20% higher discount!
2. More Choices – Right now, the only gift card we currently discount is Amazon. This introduction offers you a discount on over 100 gift card choices of your favorite brands, stores, retailers, and restaurants – brands like CVS, Walmart, Visa, Target, Starbucks, Ebay, Best Buy and more!
3. Faster Redemptions – The $3 Amazon Gift Card allows you to get an Amazon Gift Card 33% faster than is currently possible. To expand the options for speedier gift card redemptions, we also plan on offering more low denomination Gift Cards of other brands in the coming months.
If you've ever heard me talk about Swagbucks, you know that one of the easiest ways to earn Swag Bucks, which come in very handy when you want a gift card. Well, here's a way to make earning with Swagbucks Search even easier: make Swagbucks Search your default search engine on your browser, and you'll NEVER miss a Search win again!
With Swagbucks, every time you search online is an opportunity to win, and another step closer to a new gift card from Swagbucks. In fact, users who default their search to Swagbucks can earn 3x more than the average user!
Here's how you can too:
Defaulting your Search Engine in Chrome
Go to Settings on your Chrome browser (the 3 lines on the top right of the browser)
Click on "Settings" from the dropdown list
Click on "Manage Search Engines"
Look for Swagbucks under "Other Search Engines"
Click "Make Default"
Defaulting your Search Engine in Firefox
Go to your browser search field, this can be found on the right of your address bar, and click the drop down menu and look for Swagbucks
Click on Swagbucks
*Please Note: If you've never performed a search from search.swagbucks.com you may not see Swagbucks in the list. Perform a search from Search.Swagbucks.com and then follow the instructions to set it as your default search engine. Haven't signed up yet?
Join now and start earning like a pro to get your first gift card in no time!