Disclosure: This is a sponsored conversation in partnership with EveryDollar and Acorn Influence. Financial compensation will be received (and budgeted accordingly).
This year I am being more intentional with my budgeting and savings plan.
What does that mean?
For starters, I am actually creating a budget. And set a savings goal.
Yes, I am winning in 2017 already. (Baby steps, people, baby steps.)
These are things that I regularly did when I worked full-time outside of the home, but in the past few years I found myself focusing more on making money as I built my business. Making money is great, spending and saving money wisely is even better.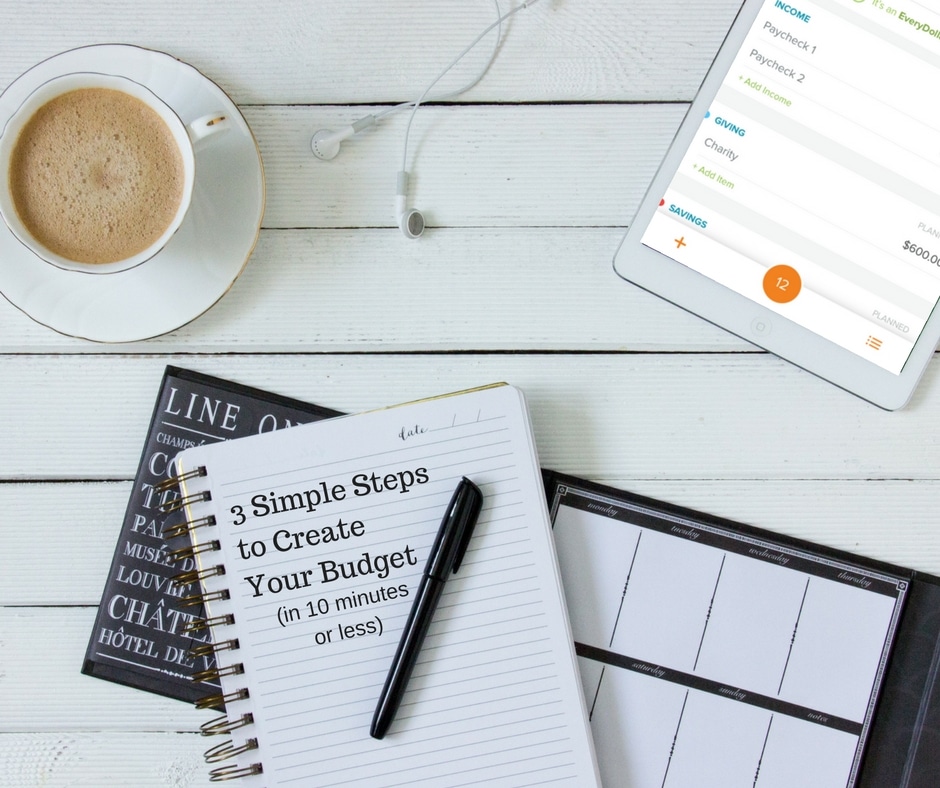 Seriously though, reflecting over what has worked and not worked for me in the past, having a plan and setting specific savings goals is my best motivation.
Now that the holidays are behind us and it's back to a normal working routine, one of my first tasks of the new year was reviewing my business and personal budget for the year and deciding on my 2017 savings goal.
When it comes to finances, I prefer simple and straight-forward. Below are the 3 steps I am incorporating to overcome the budgeting and savings challenges I face with inconsistent income as a full-time entrepreneur.
# 1 – Budget Your Essentials
Thanks to EveryDollar, I can log into their website or use my mobile app, to plug in my essential expenses and get a quick idea of how much income I need to bring in. This step allows me to really reflect on what's "essentially essential" and what I can eliminate or put on pause for a period of time.
I am, also, able to add previous months and years information to get a quick snapshot of what I have earned and spent in the past.
This step can be done in 10 minutes or less and is not as painful as it seems. I promise. The benefit of using an app, like EveryDollar, that has web-based access, as well, is that you can access your budget from anywhere. Joint budget? Both of you can download the app or access (and update) your budget and spending from the web.
# 2: Pay Yourself a Salary
The biggest struggle with inconsistent income is inconsistent income.
How am I alleviating that this year? I have a set salary. After a year and a half of full-time entrepreneurship and six and a half years of part-time entrepreneurship, I have a fairly good idea of what a worst-case scenario, a regular month and a WHOA!!! month looks like for me. With that knowledge I was able to set a bi-weekly salary for myself. This step itself was such a freeing moment for me. I have a regular bi-weekly transfer scheduled from my business account to my personal account.
This step, also, forces me to completely separate my business and personal income and expenses. With EveryDollar Plus – the premium version of the site – I am able to create separate budgets for each aspect of my business and a personal budget.
# 3: Budget to Zero
Every dollar I make is budgeted. Knowing that each dollar is already allocated keeps me from making unnecessary or unplanned spending. I, even, have a category for "splurges" and "coffee". Most importantly, I have a savings category that is one of the first I "pay" to motivate me to meet my savings goal for this year.
You can learn more about EveryDollar by visiting their website and, also, read additional articles on budgeting, saving and celebrating individuals who are living debt-free. You can, also, get additional details on EveryDollar Plus and receive a 15 day free trial.