Disclaimer: This is a sponsored conversation on my love of banana nut bread and how my family is implementing Nestle Gerber cereals and products in our day-to-day lives on behalf of The Women Bloggers and Kendal King Group.
Banana nut bread is an absolute favorite of mine.
Which means, it's an absolute favorite of my mini-me because that's what 4 year-olds do, right?
Now that I work from home full-time, I am challenging myself to get better acquainted with my kitchen and spend more one-on-one time with each of my children preparing recipes and dishes that we love. It's great because they all love to cook and their excitement is motivation.
Another benefit to working from home full-time is being available and present for my family more. We're excited to be welcoming the 10th grandchild to our family next month and I cannot wait to be Number 1 Auntie to the 7th of my nieces and nephews.
With "big kids", toddlers and newborns around on a regular basis, there always seems to be some type of baby food in my pantry or refrigerator.
I love that I can quickly run to our local Walmart and purchase Gerber Cereal and other products – the brand that's been used and trusted by our family for years.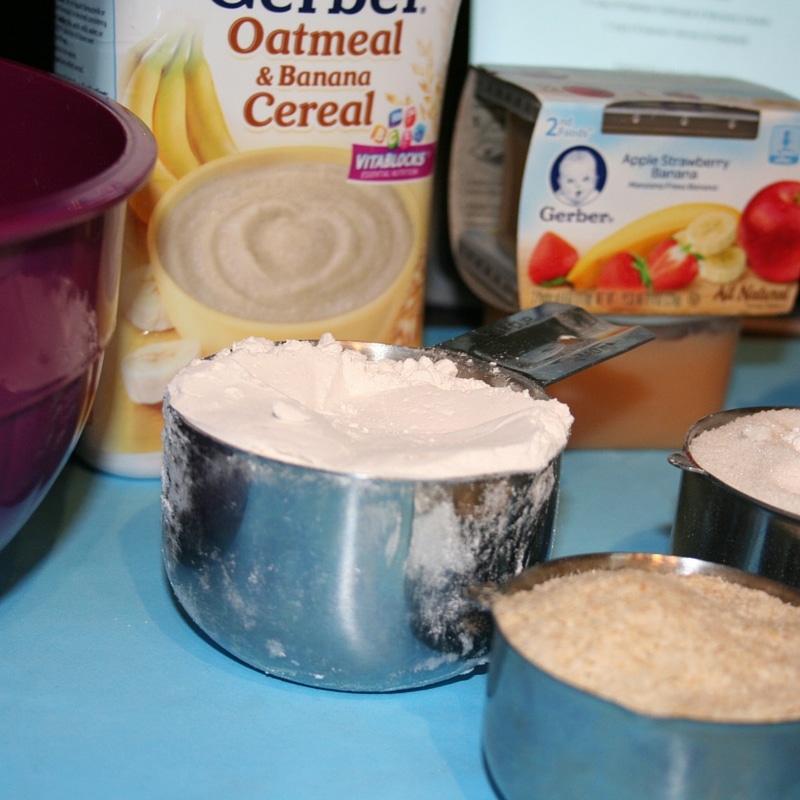 As I have begun stocking up on baby products, there are some items that I am multi-tasking with.
When you have picky eaters, you find creative ways to ensure they are getting the nutrients and essential vitamins they need – Gerber's Single and Multigrain cereals are iron-fortified and have Vitablocks® – a blend of six B Vitamins, Vitamins E and C, iron, zinc, and calcium.
Which brings me back to my beloved banana nut bread! My daughter and I recently spent some time together baking our favorite treat – but we replaced some of the key ingredients with Gerber products we had on hand.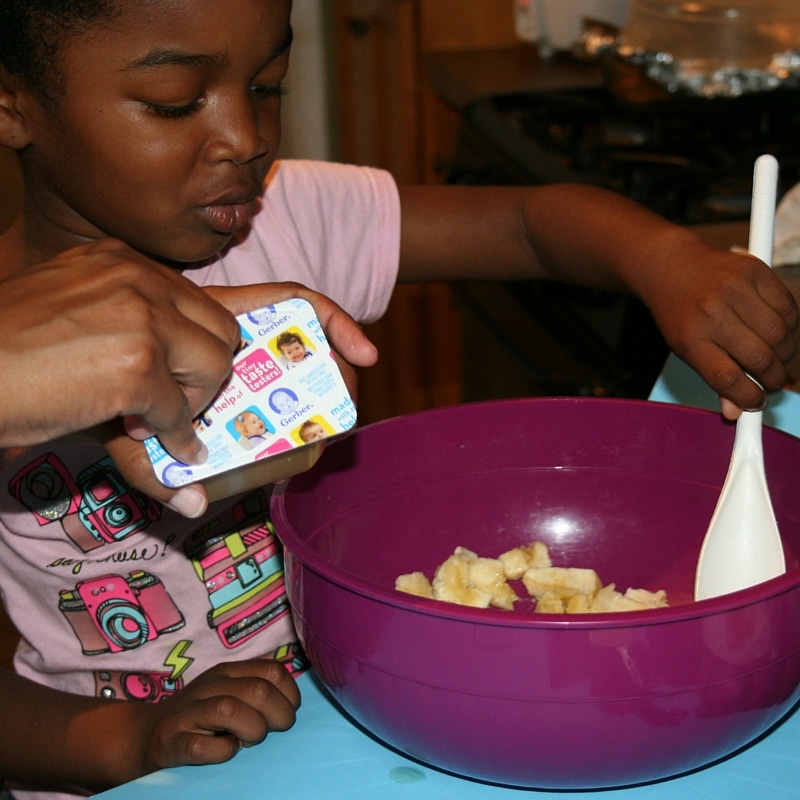 My daughter was adamant about doing most of the preparation and I have to admit – she did a great job. As with most children her age, she was full of questions which I patiently answered. It was great to listen to her repeat my answers back to her big brothers later when we were enjoying our banana nut bread and see the look of accomplishment on her face as they praised her delectable creation.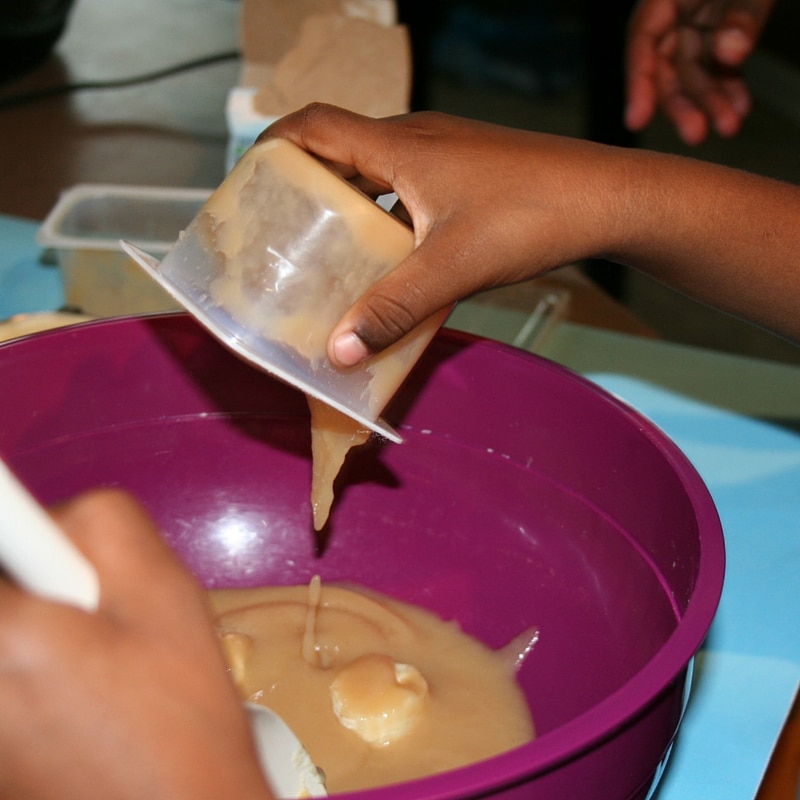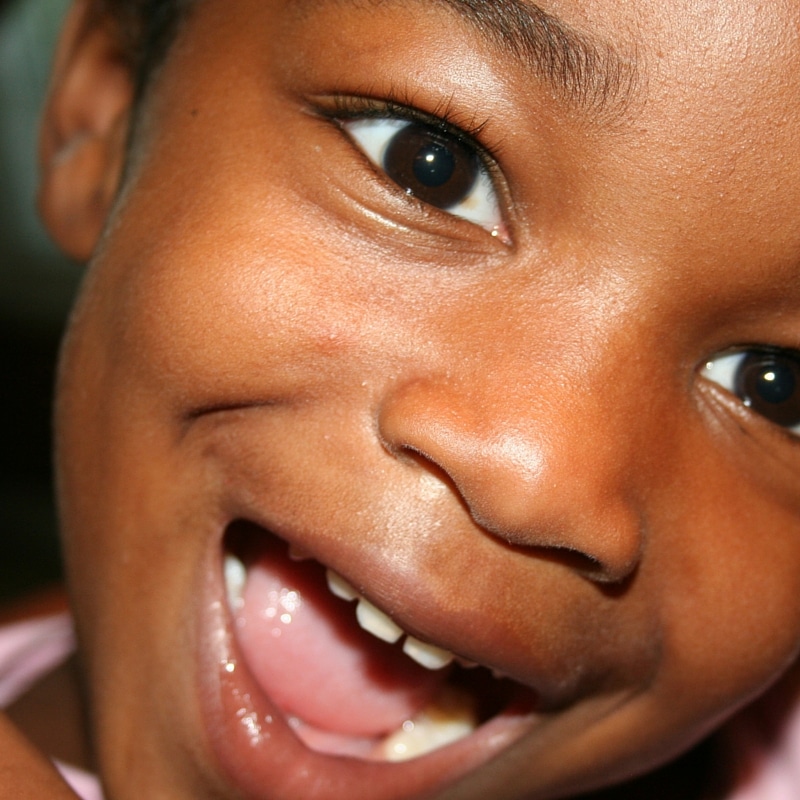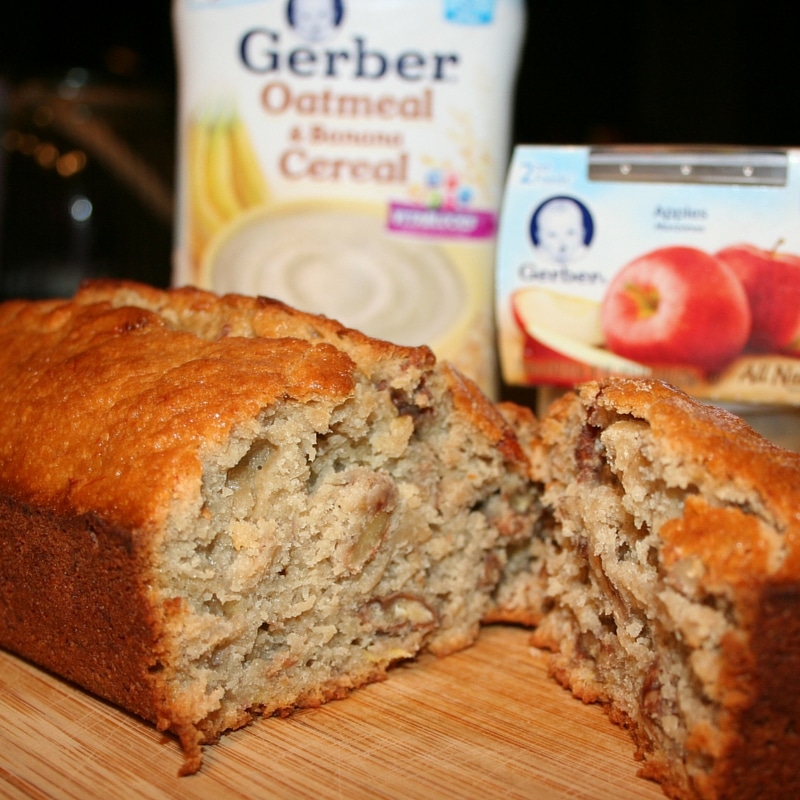 Banana Nut Bread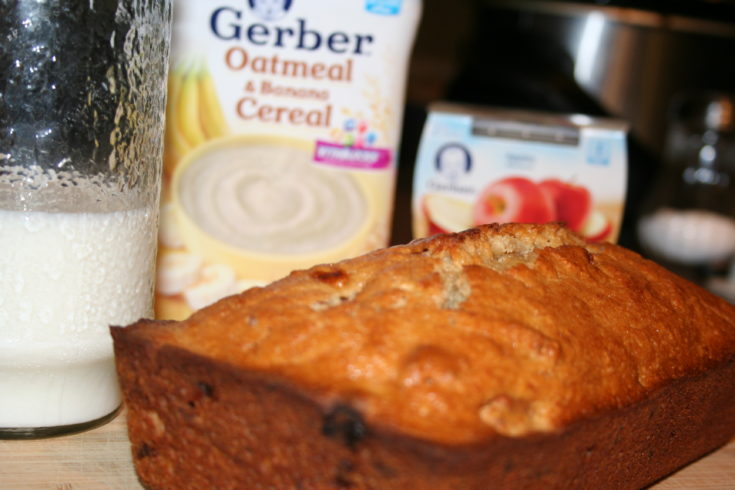 Ingredients
1 banana
2 containers of Apple Strawberry Banana Gerber 2nd Foods
1/3 cup melted butter
¾ cup sugar (can add ¼ cup more or less)
1 egg beaten
1 teaspoon vanilla
1 teaspoon baking soda
Pinch of salt
1 cup of All Purpose flour
½ cup of Gerber Oatmeal & Banana Cereal
1 cup of pecan halves (if desired)
Instructions
Preheat the oven to 350 degrees
In a mixing bowl, mash the banana and Apple Strawberry Banana baby food with a fork until completely smooth. Stir the melted butter into the mashed mixture.
Mix in the baking soda and salt. Stir in the sugar, beaten egg, and vanilla extract. Mix in the flour and Oatmeal & Banana Cereal.
Mix in the pecan halves.
Pour the batter into a greased / floured loaf pan and bake for 50 minutes to an hour or until a tester is entered into the center and comes out clean.
Remove from oven and cool on a rack. Remove from the pan, slice and serve.
Enjoy!
---
$50 Pre-Paid Card #CookingWithGerber