This article shares 31 August Social Media Prompts to help you show up consistently prepare your social media content calendar for the month.
August brings a wave of exciting opportunities for content creation! From Black Business Month to Admit You're Happy Month, Family Fun Month, and Home Business Month, there's an abundance of awareness and month-long focuses that align perfectly with your social media platforms.
As female entrepreneurs in various stages of business growth, showing up consistently online can be a challenge. That's why, as always, I'm dedicated to providing you with a social media calendar filled with engaging content to connect with your followers and cultivate a supportive community of loyal customers.
Building a strong community has been a game changer for my business and social media presence, and I believe it can be transformative for yours too. Let's dive into this month's social media prompts, empowering you to post consistently, authentically engage with your audience, and showcase the heart of your brand. Together, we'll make August a month of meaningful connections and remarkable growth on your entrepreneurial journey.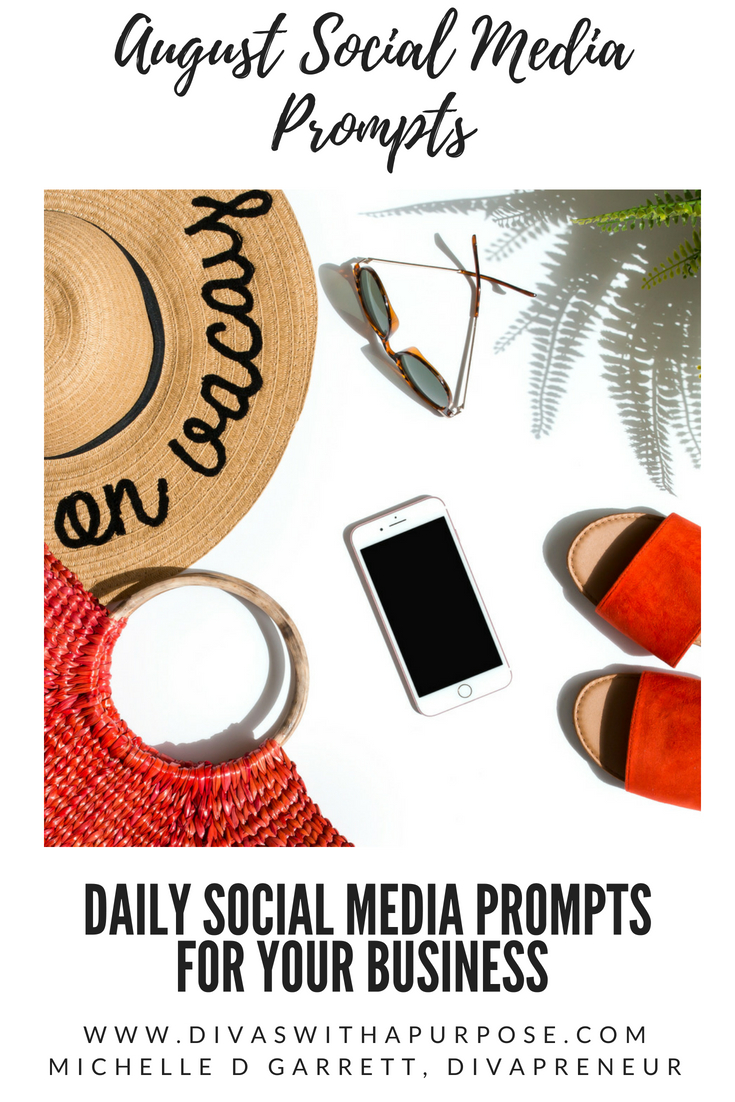 Below is a graphic you can save for easy access, or you can bookmark this article to refer to each day for your August Social Media Prompts. The great thing about these prompts is that you can use them to post on your social media channels. You can create images, live-streams and even quick video snippets to answer each prompt and encourage your followers to respond back to you with their answers or ideas.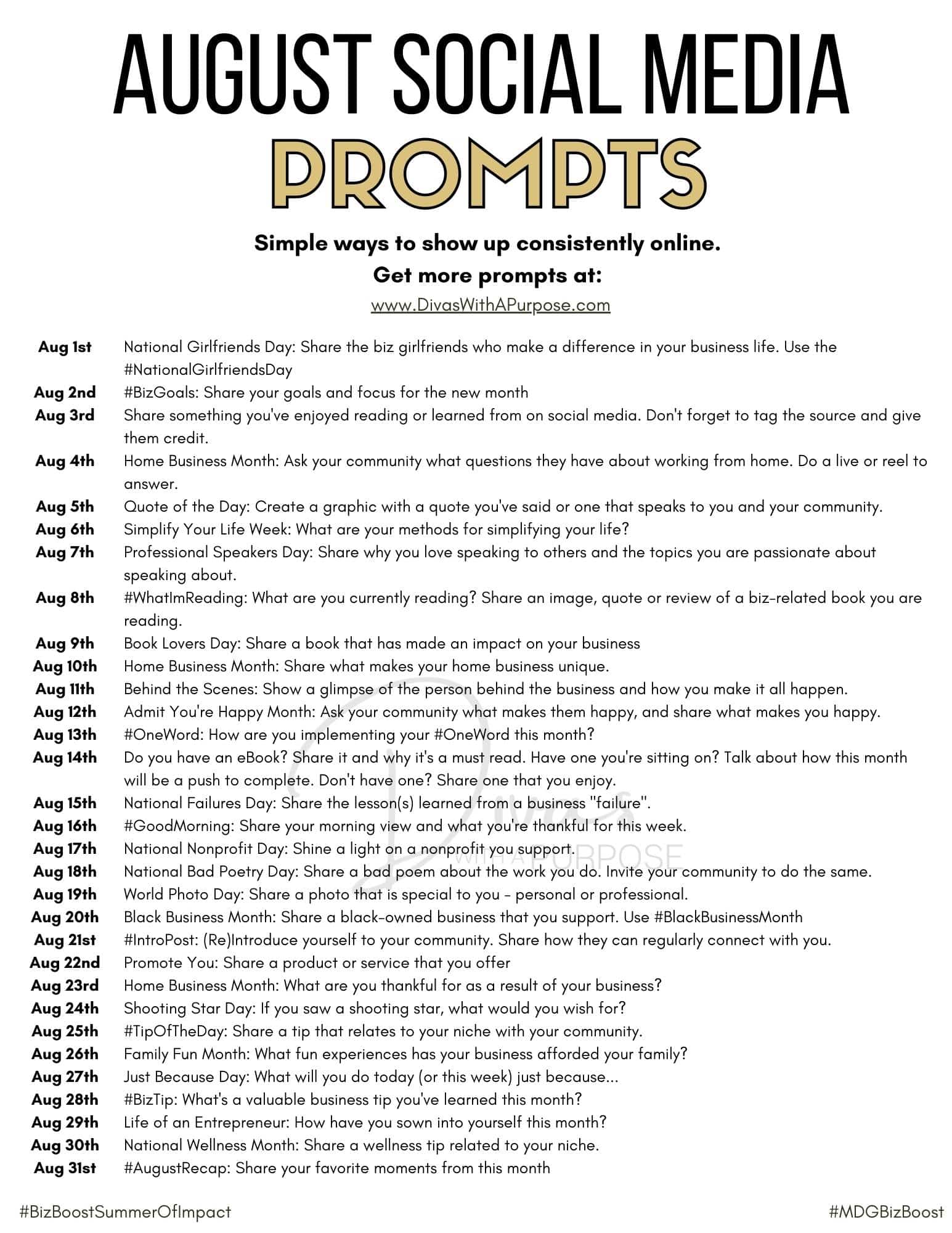 August Social Media Content Calendar
National Girlfriends Day: Share the biz girlfriends who make a difference in your business life. Use the #NationalGirlfriendsDay
#BizGoals: Share your goals and focus for the new month
Share something you've enjoyed reading or learned from on social media. Don't forget to tag the source and give them credit.
Home Business Month: Ask your community what questions they have about working from home. Answer them in the thread, do a live or recorded video, or publish an article on your website or LinkedIn.
Quote of the Day: Create a graphic with a quote you've said or one that speaks to you and your community.
Simplify Your Life Week: Simplify Your Life is the focus for the first full week of August. What are your methods for simplifying your life? You can share the business tools / resources you use or specific methods you've implemented.
Professional Speakers Day: Share why you love speaking to others and the topics you are passionate about speaking about. Include a photo of you speaking. Not a public speaker? Share a speaker you've heard recently that you admire or said something that stood out to you.
#WhatImReading: What are you currently reading? Share an image, quote or review of a business-related book you are reading.
Book Lovers Day: Share a book that has made an impact on your business
Home Business Month: Share what makes your home business unique.
Quick Tip: Plan Ahead. Take advantage of the numerous awareness and month-long focuses in August by planning your content in advance. Use a social media calendar and schedule posts strategically to align with relevant themes, such as Black Business Month, Admit You're Happy Month, Family Fun Month, and Home Business Month.
Behind the Scenes: Show a glimpse of the person behind the business and how you make it all happen.
Admit You're Happy Month: Ask your community what makes them happy. Don't forget to share what makes YOU happy!
#OneWord: How are you implementing your #OneWord this month?
Do you have an eBook? Share it and why it's a must read. Have one you're sitting on? Talk about how this month will be a push to complete. Don't have one? Share one that you enjoy.
National Failures Day: Share the lesson(s) learned from a business "failure".
#GoodMorning: Share your morning view and what you're thankful for this week.
National Nonprofit Day: Shine a light on a nonprofit you support.
National Bad Poetry Day: Share a bad poem about the work you do. Invite your community to do the same. Best "worst" poem wins a prize (could be a social media shout out, interview, digital product, etc)
World Photo Day: Share a photo that is special to you – personal or professional. Invite your community to do the same.
Quick Tip: Engage Authentically. As you connect with your audience, be your authentic self and engage in meaningful conversations. Respond promptly to comments and messages, and actively participate in discussions related to the month's themes. Genuine engagement fosters a strong bond with your community.
Black Business Month: Share a black-owned business that you support. Use #BlackBusinessMonth
#IntroPost: (Re)Introduce yourself to your community. Share how they can regularly connect with you (email opt-in, website, etc).
Promote You: Share a product or service that you offer
Home Business Month: What are you thankful for as a result of your business?
Shooting Star Day: If you saw a shooting star, what would you wish for?
#TipOfTheDay: Share a tip that relates to your niche with your community.
Family Fun Month: What fun experiences has your business afforded your family?
Just Because Day: What will you do today (or this week) just because…
#BizTip: What's a valuable business tip you've learned this month?
Life of an Entrepreneur: How have you sown into yourself this month?
National Wellness Month: Share a wellness tip related to your niche.
#AugustRecap: Share your favorite moments from this month
---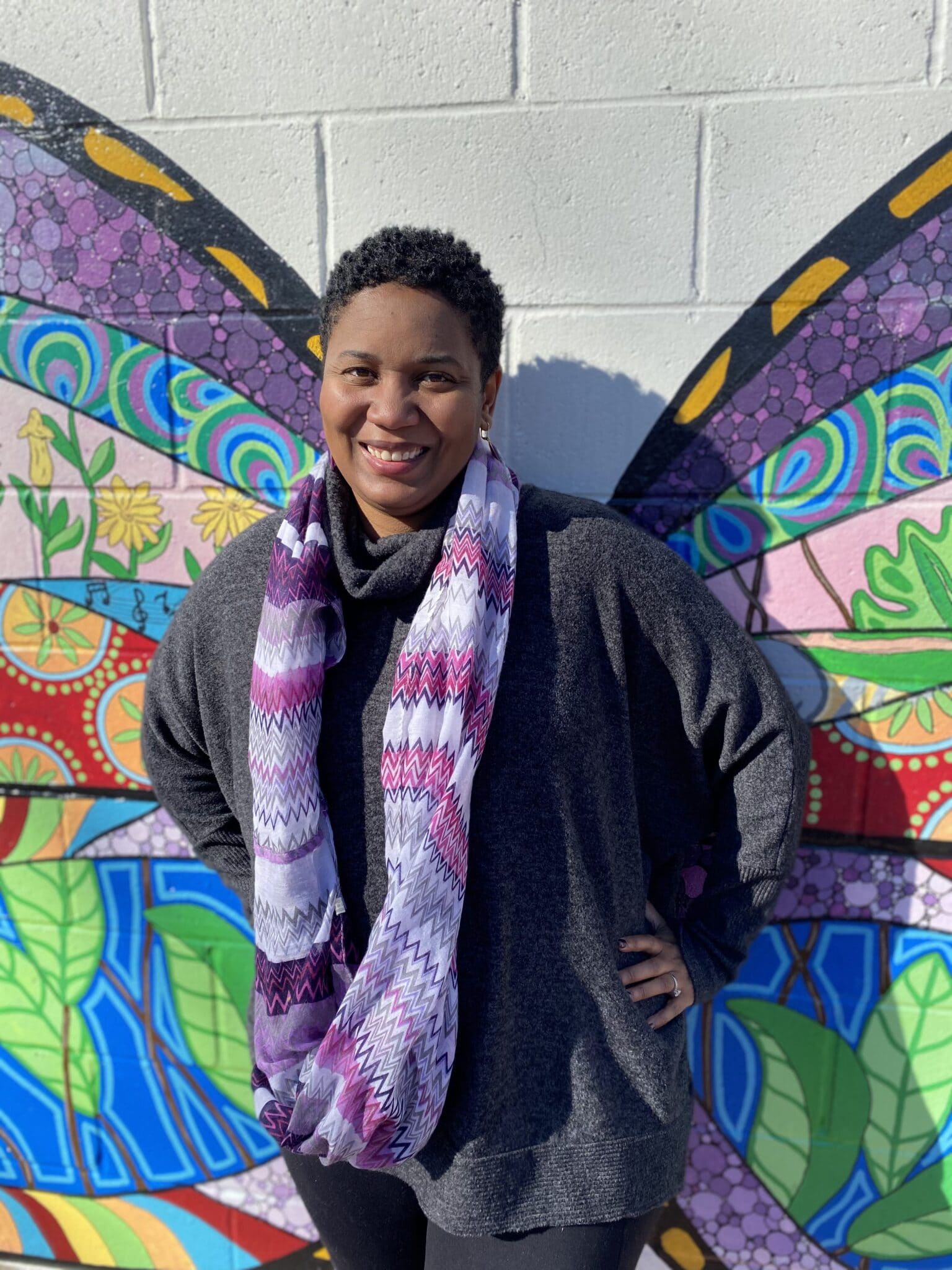 Michelle D. Garrett is the founder of Divas With A Purpose.
She focuses on sharing resources for being purposely productive; setting personal and professional goals and achieving them through daily action; and successfully running a business while focusing on your mental health. Michelle is a full-time entrepreneur who specializes in teaching female entrepreneurs how to show up consistently in their business – online and off.
---