Hard to believe that January is over! The first month of 2015 is coming to an end. When I reflect on the month, I am amazed at how much has been jammed into this month. My focus word for 2015 is being INTENTIONAL and for January many of my activities centered around compiling my SMART goals and establishing a routine and accountability for them.
I hosted a vision board party for a group of awesome Divas here in Columbia, South Carolina. We came together for a night of food, fun and focus. We shared our goals for the upcoming years, offered advice and feedback and some even found ways that they will be able to collaborate with one another in the near future.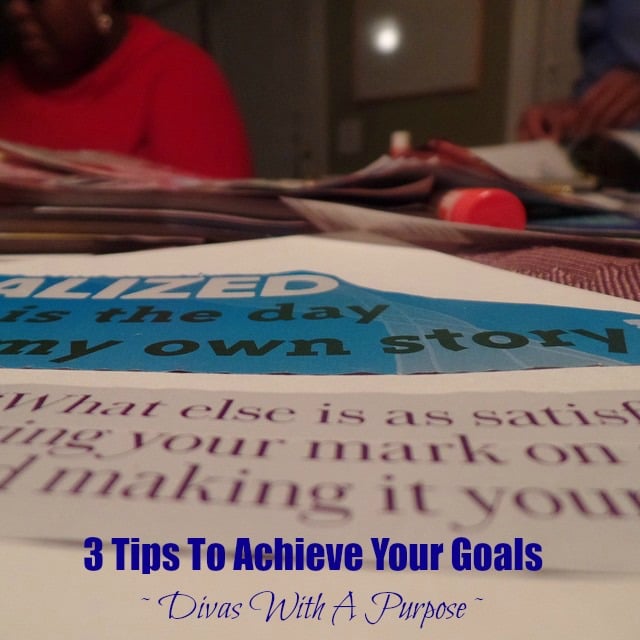 One thing we discussed in detail during our Vision Board Party was the difference between goal-planning and making a "wish list" or "to-do list" for the year. The ladies that participate in our annual Divatude Challenge are held accountable and create SMART goals that we review monthly.
[Tweet "3 Tips To Achieve Your Goals"]
3 Tips To Achieve Your Goals
Here's an overview of what was shared with them on ways to successfully achieve their goals for this year:
1. Target in on your goal: Your goal must be specific, measurable, attainable, realistic, and timely. Remember: Some goals must be big and some goals must be long-range.
Significant goals should be broken down into smaller parts to ensure daily accountability. For example, if you want to lose 50 pounds this year, you can break that down to a goal of 4 pounds a month or 1 pound a week and then figure out how many calories you need to cut out or burn off to achieve that weekly weight loss.
2. Identify how you benefit from the goal: People often fail to reach their goals because they concentrate on the costs rather than the benefits. If I lose the weight, they reason, I will have to give up this and do that. Or If I quit smoking, I know that I will gain weight and be miserable and difficult to get along with.
Instead of concentrating on the negatives, think of the benefits that you are going to enjoy. As you set goals, make a list of the tangible rewards that will be yours when you reach each goal. Each time you begin to ask yourself whether pursuing a goal is worth the effort, simply take out the list of benefits and read them aloud again.
3. List the obstacles that stand between you and your goal: You need to identify obstacles in order to be realistic and avoid being surprised. People have experienced many times that they had no idea that pursuing such-and-such a goal was going to be so demanding, require so much effort, take so long, and involve so many unexpected pitfalls. Careful planning in advance eliminates much of this disappointment, but you must understand that you cant always see the roadblocks ahead. That's why commitment, attitude, responsibility, and focus on the benefits remain constant necessities. Patience is, also, extremely important. Just remember that by keeping yourself focused on the goal, you can see the benefits and not just the obstacles.
Very few people get excited about obstacles. A mammoth traffic jam when you're in a big hurry or a bad cold just before a long-planned vacation doesn't create excitement in your life. Disappointments or setbacks of any kind are seldom viewed with enthusiasm. Rather than with dread and disappointment I challenge you to view those obstacles with a positive mindset, if for no other reason than overcoming obstacles makes you strong and enables you to soar to greater heights.
Let's Talk About It:
What did you accomplish this month?
What is one of your goals for 2015?
Do you have an accountability partner or group?