When it comes to habits, sometimes we don't make the best decisions when it comes to our money. We all want to save more and spend less, but the truth is that our money habits might be holding us back.
[Tweet "#NowReading: 20 Money Habits To Implement Today"]
Here are 20 money habits to implement today for a better financial future:
1 – Automate your savings
We all know we should be saving money, but the logistics of how to do that can get complicated. Treat your savings just like another bill and automate your savings!
2 – Avoid late fees by automating your bills
Don't leave yourself wondering whether or not you've paid that bill! Set up automatic bill pay and pay your bills on autopilot.
3 – Keep a minimum of $500 in your savings account
You never know when an emergency will pop up out of nowhere. Be prepared with a little bit of extra money on hand.
[Tweet "#NowReading: 20 Money Habits To Implement Today"]
4 – Stop using your credit cards
Credit cards don't just cause unwanted debt, but they may cause you to spend more.
5 – Combine all of your errands when possible
This will not only help save on gas but will also cause you to move quickly through each stop and avoid unnecessary spending.
6 – Cancel your cable bill
With so many streaming services available, it doesn't make sense to pay for cable anymore! Cut your cable bill, and find a cheaper alternative to watch your favorite shows.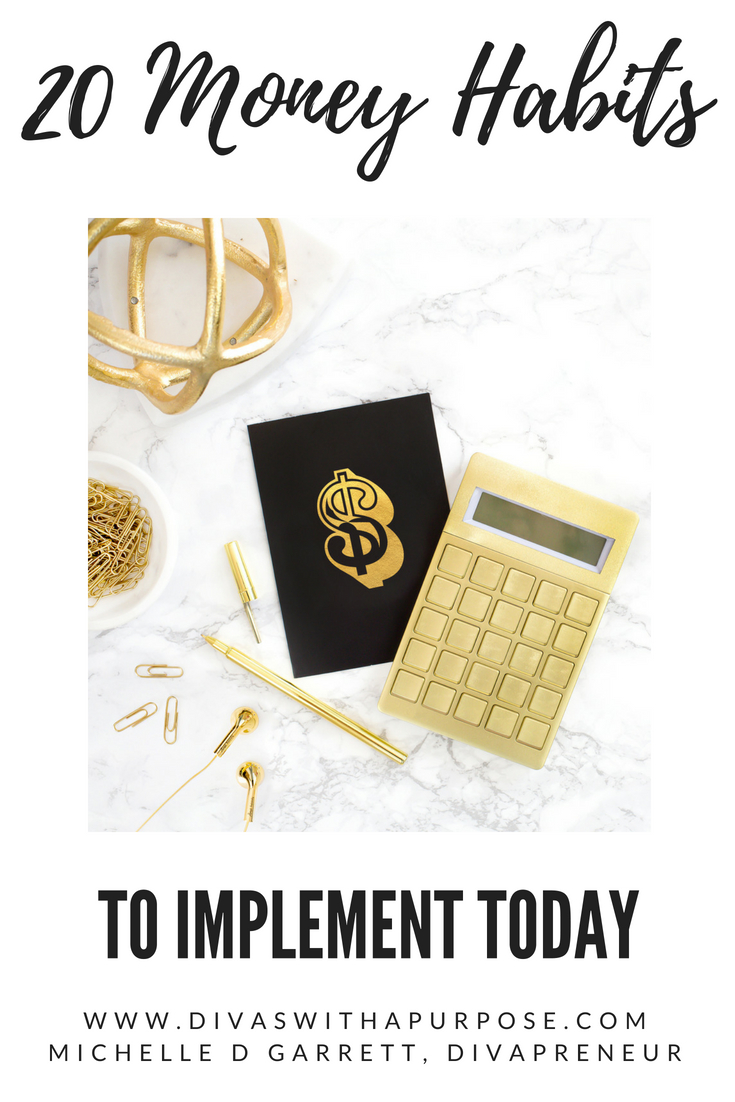 7 – Make extra payments toward your debt
There is a saying that a little goes a long way, and making extra payments on your debt proves that point! One extra payment today could mean paying less on your debt later.
8 – Create a budget
If you don't already have a budget, consider starting one today. Start by taking a look at your bank statements and credit card statements to determine how much you should be spending in each category.
9 – Evaluate your spending habits
Are you spending too much money on one specific area? Do a quick evaluation of your spending habits and find out how much money you are really spending.
10 – Start a side hustle
Whether it's mowing lawns or walking dogs, having a side hustle can help you earn a little extra money in your downtime. This can be a quick boost for your savings, an extra payment on your debt, and so much more!
11 – Limit your meals out
Eating out can get expensive quickly. Limit your meals out to only special occasions.
12 – Find ways to reduce your electricity usage
Whether it's something simple like turning off a light or turning up the thermostat when it's hot outside, finding ways to reduce your electricity usage can really add up.
13 – Buy groceries based on what's on sale
Plan your meals around what's on sale to help lower your grocery bill.
14 – Stock up when there is a good deal
If you find something on sale for something that your family uses regularly, consider stocking up to stretch your dollars further.
15 – Take advantage of discount days
Movie theaters, restaurants, and even stores all have discount days. Take advantage of these to save serious cash on your purchases!
16 – Buy discounted gift cards
If you know you will be dining somewhere or shopping at a particular store, consider buying discounted gift cards to save money on your purchases.
17 – Buy used whenever possible
Whether it's for clothes or a new kitchen appliance, shop used before you head to the store for a new one. You'll usually be able to save 50% or more!
18 – Buy last year's tech
If you want to play with something new but without the high price tag, consider waiting a year to buy phones, computers, tablets, and TVs. You can get great deals on last year's tech for rock bottom prices.
19 – Look for ways to extend the life of your products
If you treat things well, they will last a whole lot longer! Keep things clean, do regular maintenance when needed, and treat things like they are fragile.
20 – Have family or spouse budget meetings regularly
If you are married and have a family, do regular check-ins. This can be a great way to discuss goals, and fix problems before they become costly.
You don't have to be the next Dave Ramsey in order to save money and use your money wisely. Implement these 20 money habits, and you'll have a brighter financial future starting today.
---
Related Articles: