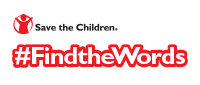 As the school year begins, too many children are already falling behind. I am 1 of 30 bloggers helping #FindtheWords with @SavetheChildren to raise awareness of the need for early childhood education for all kids. I am participating in this social media campaign to highlight 30 words in 30 days — to symbolize the 30 million fewer words that children from low-income homes hear by age 3.
Save the Children provides kids in need with access to books, essential learning support and a literacy-rich environment, setting them up for success in school and a brighter future. Learn more about Save the Children's work in the US and around the world: http://www.savethechildren.org/site/c.8rKLIXMGIpI4E/b.6153159/k.C8D5/USA.htm
I am excited to work with Save The Children and lend my voice to the awareness of how important early childhood education is for all children. To help spread the word via our social media networks about they are sponsoring a $100 Amazon Gift Card Giveaway! To enter you can join the conversation on our Facebook page or look for the word MOTIVATE or things that motivate while you're out and about and share visuals on your Facebook, Twitter and/or Instagram outlets.
Head here to enter!

This giveaway is open to US Residents age 18+ and the prize will be provided by Save The Children once a winner is confirmed. Have fun and good luck!