Moment of Truth: There are times when I really wish I could keep my babies babies forever. These days self-esteem and my tween are an ongoing issue. I have no clue what it is like to be a twelve-year-old boy, but I CAN remember what kinds of grief I gave them when I was his age. Tweens and teens can be pretty ruthless and cutthroat with one another – whether it is malicious or not.
I was recently given the opportunity to review Stinkin' Thinkin' Stinks by Bill King. I was excited because I thought it would be something that would come in handy in our family. From my twelve-year-old all the way down to my two-year-old ~ a book that we could utilize for years to come. I had serious issues with self-esteem growing up and it was not something that was regularly addressed. It was treated as a "stage" that I would outgrow. I would not say that I outgrew it, but over the years I learned to truly love myself inside and out.
When Stinkin' Thinkin' Stinks arrived, my twelve-year-old was instantly intrigued by the cover and title. He asked if it was for him and if he could begin reading it. OF COURSE! I gave him about a week before saying anything and I really thought it was something that would get buried in his bedroom. I was pleasantly surprised when he said how much he was enjoying it and had completed many of the exercises.
Stinkin' Thinkin' Stinks is an interactive book written to provide kids with real tools for changing negative habits. Readers will:
become aware of negative thought patterns
discover ways to eliminate negative thinking
learn how to avoid a negative "pack" mentality
access the positive in life
develop techniques for dealing with negative people and situations
embrace positivity as their dominant way of thinking
What ways do you encourage positive thinking in your children?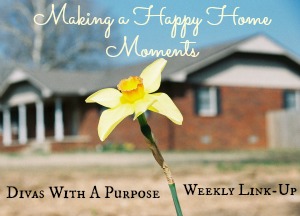 Welcome to our weekly Making a Happy Home post. One of my focuses this year is home life. Specifically spending more quality time together, organization, cooking and pre-planning meals, and decorating. To help with that focus, I have this weekly post for all things home-life. If you'd like to contribute as guest poster with this series, feel free to email us at divaswithpurpose@gmail.com