Hi DIVAs! Today I'm sharing the importance of a media kit and want to thank HIP Media Kits for the opportunity to use their service in exchange for sharing with you my thoughts. I am, also, an affiliate of HIP Media Kits which means I will receive a portion of your purchase price if you choose to use my links to work with them.
A media kit is an essential and important tool to have when it comes to promoting your brand to others.
A media kit helps to add credibility to your business and is a simple and efficient way to show others just how great you are!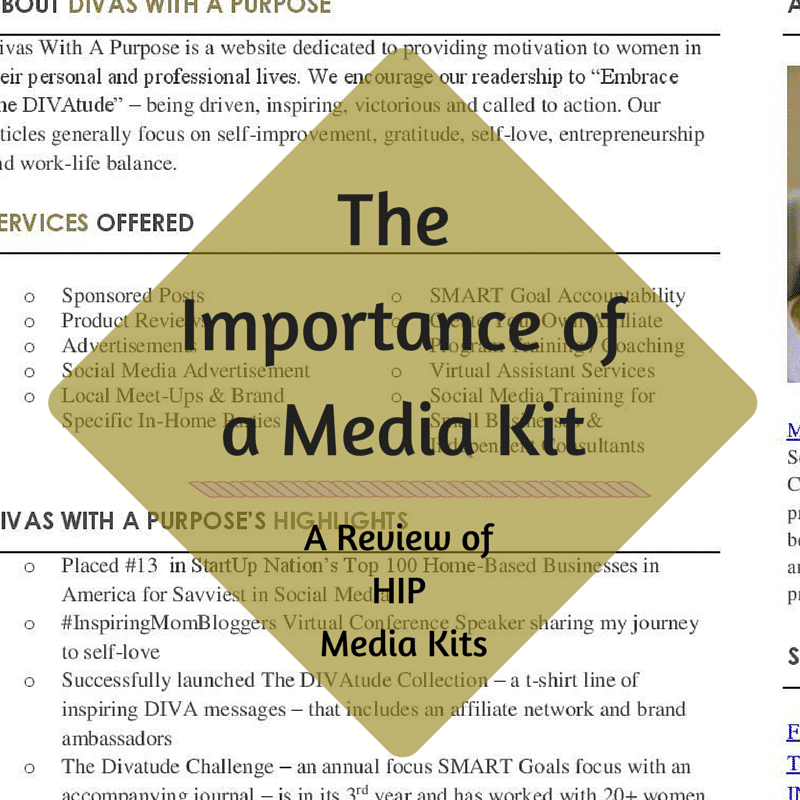 Media Kit: What Info To Include
Your media kit is an overview of your website and your brand. So, what should you include with your media kit? Some items are:
Your photo
A brief bio and overview of your website
Your contact information
For bloggers: Your family's lifestyle information (think about the sponsored posts you've applied for and the pertinent information needed for selection); brands you've worked with and brands you are loyal to
Links to social media platforms you utilize regularly and your followers
Email subscription numbers
Services and rates
Testimonials if you have them (if not, start gathering them! – yes, I'm preaching to the choir on this one)
Links to press releases, articles and publications
Photos of major products produced by your company
FAQs pertinent to working with your company
Do not be daunted by putting numbers on paper! I'm thankful to be a part of an awesome group of bloggers called Courage to Earn spearheaded by Brandi Riley of Mama Knows It All. There are bloggers at varying skill levels and sizes and one recurring advice is to "own what you bring to the table and believe in your worth!". Having a media kit is an essential piece to doing just that!
HIP Media Kit Review
I'll be honest – a media kit is one of those things I know I've needed and has been discussed within blogger circles I have belonged to for years. It's, also, one of those tasks that consistently gets put at the bottom of my to-do list for various reasons.
Recently, I was offered the opportunity to work with HIP Media Kits and utilize their media kit templates. They offer professionally designed templates that are super-easy to update and utilize. They reiterate the importance of having a media kit by stating "it will help to create trust, credibility, and brand recognition within your online community." It took me no time at all to update my information and viola – my up-to-date media kit!
Reading through their reviews there is a recurring theme with fellow users: ease of use, professional look and time-saver! All are three things this busy DIVA is constantly in need of.
From sophisticated to sassy to classy fun – the selection of media kit templates on HIP Media Kits site appears to have something that will fit every business and bloggers need.
Let's Talk About It:
Do you have a media kit?
If so, how often do you update it?
Related Articles: