Disclosure: This sponsored article includes affiliate links.
Show of hands if you struggle with keeping your home clean during the holidays? Especially after holiday gatherings or making sweet treats with the family. Let's not even get started with the clutter of Christmas. This article is all about easy tips to clean your home fast for the holidays. Let's be real – cleaning is inevitable during the holiday season. Sometimes it can be overwhelming to do it all while still making time to spend with friends and family.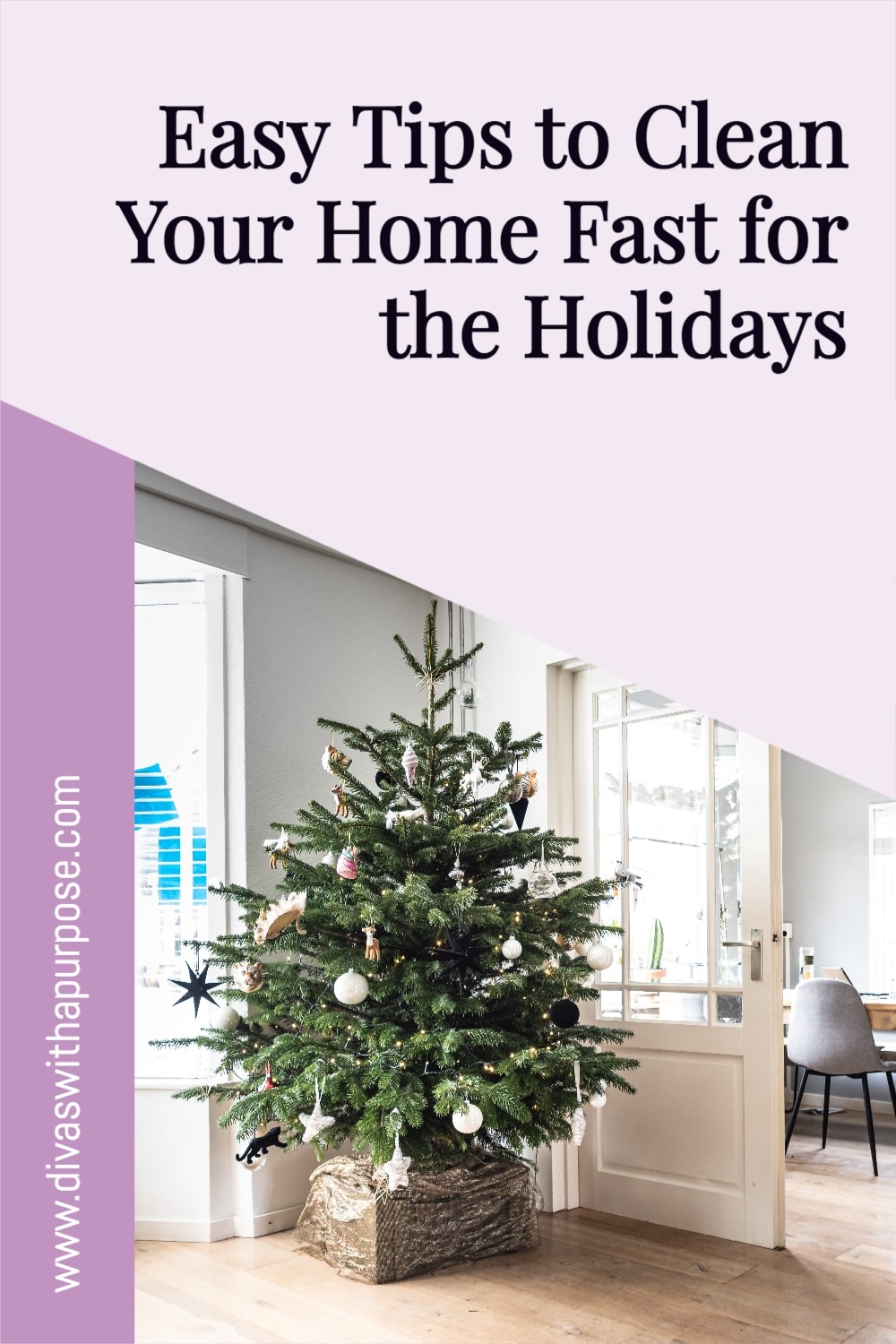 Declutter Your Home
I learned early on how important it is to declutter your home. I admit that I have a tendency to collect a lot of things with well-meaning intentions. As I've learned to let go of stuff, I've realized that decluttering will reduce that feeling of being overwhelmed. It also helps you get down to the most important tasks. To declutter, start by throwing out expired food products, tossing old clothes, and donating unused items that are no longer needed.
Decluttering our family room was a priority and has been a game-changer! So much happens in that area and it's easy for all the things to accumulate there. During the holidays we spend even more time together in that space – holiday movies (which means snacks which means spills); arts and crafts; and entertaining family and friends who pop by.
Get things off the floor
We are all guilty of not cleaning up the house every day, but getting things off the floor can be a quick way to make things look better.
Getting everything off the floor will help you see how much you have, which is a good way to start. You may find that you have more than you think!
This is also a great time to get rid of anything you don't want in your room, like clothes, shoes, old toys, etc. This will help you clear up some space and make it easier to vacuum or mop.
Vacuuming and mopping will get rid of a lot of dust and dirt that has been accumulating on the floor over time. Even better, with the use of a robot vacuum like a Neato Robot Vacuum, this is something that can be completed from the comfort of your favorite spot on the couch while watching holiday movies.
Neato's D-shaped vacuums have a brush twice the size of an ordinary round robot vacuum, which allows them to get into corners & along walls more effectively. They can even provide up to 70% more coverage than competitors!
Give your large home the ultimate cleaning with the new Neato D10 Intelligent Robot Vacuum. It can clean up to 2,700 square feet on a single charge.
The Neato D10 has multiple modes to clean and vacuums longer than ever with up to 300 minutes of runtime. Eco mode is the safest choice for day-to-day use because it's gentler on surfaces & provides all-round vacuum performance. If you want a more powerful suction for specific areas, Turbo mode will do the trick. If your robot needs more time to clean, it will automatically recharge and resume. Max Mode is exclusive to the Neato D10, which targets dirt for an even deeper clean than Eco or Turbo modes do.
The Neato D9 Intelligent Robot Vacuum can clean up to 1,600 square feet on a single charge and provides flexible, adaptable cleaning for no-compromises cleaning in medium-sized homes.
The Neato D9 features 40% more dirt pick-up than previous models and an easy-to-clean Ultra-Performance filter capturing up to 99.5% of allergens and fine dust particles as small as 10 microns. The pleated design allows for greater filtering surface area without sacrificing vacuum suction.
With no cameras or microphones on board, both the Neato D9 and D10 use LaserSmart navigation powered by LIDAR to navigate. And unlike camera-based mapping technologies, LIDAR allows Neato to operate in the dark. The Neato LaserSmart SLAM technology will map, navigate and clean your home. Neato doesn't take pictures or audio recordings of your home. State-of-the-art encryption is used both on the robot vacuums and in the cloud, ensuring safety and security. Your data will never be sold to any third-party companies.
Create a Schedule and Stick to It
It's no secret that schedules and lists make my heart happy. They also help me and my family to be more productive and spend less time doing housework. I suggest setting out a time frame to focus on cleaning each room in your house. Once you have a plan in place, it's much easier to prioritize what needs to be done next. What worked for us?
Creating a schedule and sticking to it.
Starting with the big items like furniture, carpets and rugs, and then moving on to bookcases and closets.
Doing the least distressing tasks first; for example, you can clean windows after you have finished dusting.
Finally, breaking it up into manageable chunks. Cleaning a different room or hot spot each day versus trying to tackle everything at once helps to get more done and reduces stress and frustration for everyone.
The Biggest Holiday Cleaning Mistakes You Might be Making
No matter if you are hosting a party, hosting family over the holidays, or just need to spruce up your house in preparation for the holiday season, there are some common mistakes that people make when it comes to cleaning their homes. Here are three of them:
1. Cleaning is an important task, but when we clean because of too much stress or overwhelm it will make the task more difficult and less enjoyable.
2. Cleaning with too many products and chemicals. Over the years I've learned that the simpler the better! There's no need to have a closet full of products to help with cleaning the different areas of your home.
3. Ignoring areas and surfaces that don't receive a lot of traffic and don't get much visibility. Out of sight out of mind is not necessarily the best method when it comes to cleaning and decluttering.
Tackle Just One Task at a Time
If you are someone who loves to multitask, this article is not for you. But if you are someone who is looking to make your productivity better, then read on.
It can be tempting to try juggling multiple tasks at the same time. But no matter how good you are, one task will always take more time than the other. So what's the best way to tackle these tasks? Tackle them one at a time!
The key is to divide your work into manageable chunks that can be accomplished in an hour or less and tackle just one task at a time.
More articles with easy tips to clean your home: