The 8th Annual BronzeLens Film Festival starts this week in Atlanta, Georgia and I am excited to be attending as a part of their social media team!
The festival, a non-profit organization, was founded in 2009 to promote Atlanta as the new film mecca for people of color and to showcase films and provide networking opportunities that will develop the next generation of filmmakers. It features screenings in multiple venues, as well as informative panels, and Master Classes led by top names in film, direction, and production.
Since its inception BronzeLens has provided a platform to showcase the work of some the world's most talented independent filmmakers. Ava DuVernay (Queen Sugar, I Will Follow, Middle of Nowhere, SELMA), Abderrahmane Sissako (TIMBUKTU), Issa Rae (Insecure, The Misadventures of Awkward Black Girl), Deborah Riley Draper, (Olympic Pride American Prejudice, Versailles'73), Nefertiti Nguvu (In The Morning), Russ Parr (Ringside, 35 and Ticking, Hear No Evil), S. Epatha Merkerson and Rockell Metcalf (The Contradictions of Fair Hope), Chris Eska (The Retrieval), Mahmet-Saleh Haroun( Bye Bye Africa, Grisgris, Screaming Man), are among distinguished BronzeLens Film Festival alumni.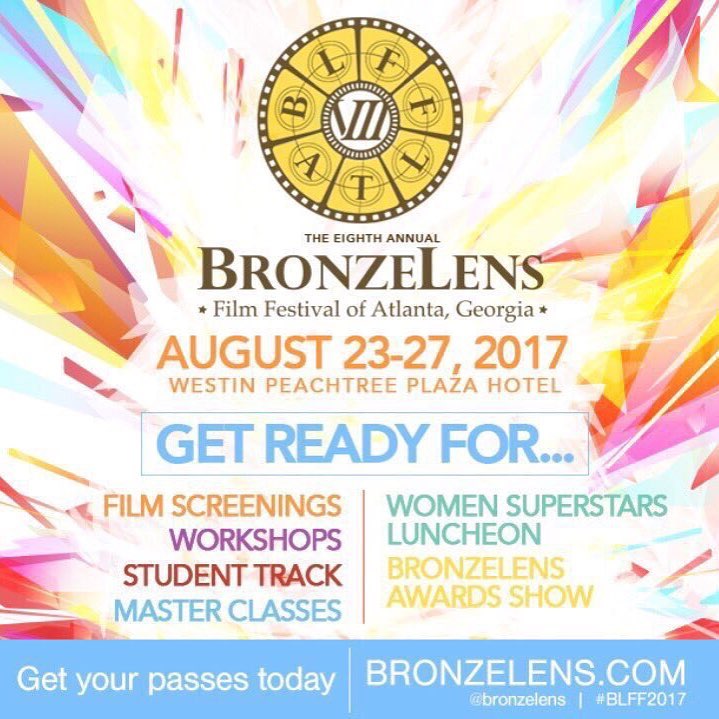 Over the course of eight days (August 20-27, 2017), film lovers, actors, and filmmakers will gather to share a creative platform of education, entertainment, empowerment related to film, television, and the production of both. The Academy of Motion Picture Arts and Sciences has approved BronzeLens as a qualifying festival for the Short Film Awards category. The short film that receives the BronzeLens Best Short Award may now be eligible to enter the Academy's Short Subject competition for the concurrent
BronzeLens Women SuperStars Luncheon is one of the most significant events in the southeast to celebrate and honor the achievements of women of color. It has become a must-attend signature event for film production insiders, corporations and the local community. I am truly looking forward to celebrating the accomplishments of Divas and Divapreneurs that have significantly influenced the film and television industry during this luncheon.
BronzeLens will, also, take a moment to salute the men in film and television who are making waves in their own unique way during Brunch With the Brothers. The participants will be sharing lessons learned from their journeys to success – which have no been without challenges, many unique to men of color.
The Official Hashtag for this year's event is #BLFF2017 – connect with attendees on social media by searching out that hashtag on different platforms. I will be sharing on Twitter, Instagram, Periscope and Facebook.