#Review – Nurturing the Soul of Your Family
Renée Peterson Trudeau's
Nurturing the Soul of Your Family: 10 Ways to Reconnect and Find Peace in Everyday Life
 is jam-packed filled with tidbits, exercises, journaling prompts, thought-provoking questions to help us find peace and focus throughout our daily interaction with our families.  Our immediate family has such a lasting impact on our lives and personalities – it shapes who we are, how we react to situations, whom we marry, how we raise our own children and so much more.  The information in this book is easy to follow and implement in our families, but have the ability to make a lasting impact on us individually and collectively.
" Families are definitely much more than a bunch of people who happen to live together.  I believe there is a divine orchestration at play. We're together for a reason. These souls. At this time. In this place. There's no more perfect incubator or hothouse for personal and spiritual growth than one's family" ~ Renée Peterson Trudeau, Nurturing the Soul of Your Family
Renée shares the following with the DWP Community and we'll share an excerpt of her book a little later this week!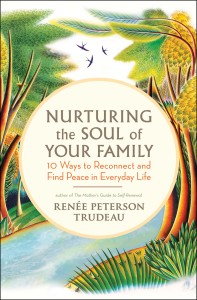 You have worked with thousands of women at all life stages from around the globe for almost 14 years through your Personal Renewal Group program and workshops. What do they share are the biggest challenges they face?
Many women (and men) share they feel overscheduled, overworked, like they're always rushing and life has become a giant to-do list. Overuse and misuse of technology is making them feel disconnected and it's hard to unplug and just "be." Due to an extreme lack of self-care — they're parenting from an "empty cup," feeling exhausted, and are concerned that they're losing the ability to find joy in daily family life.  
You seem very passionate about the topic of emotional well-being for families. What inspired the work you now do?  
My mom suffered from clinical depression and I grew up navigating a lot of chaos and uncertainty (part of this was due to coming from a family of nine). I never knew what to expect day-to-day and feelings of peace and harmony seemed fleeting and far between. My emotional well-being was entirely dependent on what was going on around me. I was never taught that it's possible to experience inner peace even in the midst of disequilibrium. Nurturing the Soul of Your Family teaches parents an invaluable skill: to anchor within themselves and that they can experience happiness, harmony and well-being, even in the midst of mayhem.
If families were to just embrace three or four insights or strategies from Nurturing the Soul of Your Family that would make a big impact on their daily lives, what would they be?
1. Be open to a new way of being: Be bold, do it different. Be willing to take the road less traveled. Open up to the possibility that there is another way of seeing and experiencing life and begin to imagine what that would look like for your family.
2. Be compassionate and loving with yourself: treat yourself as worthy of the same self-nurturing, acceptance, and tenderness that are afforded your children.
3. Invite in playfulness and curiosity as you begin your journey; awareness is the first step towards positive change.
4. Get support — smart people do. It makes everything easier.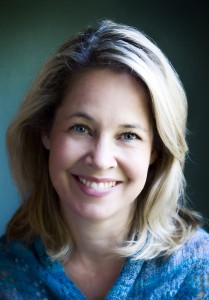 Renée Peterson Trudeau is the author of the new book Nurturing the Soul of Your Family. A sought after life balance coach/speaker and president of Career Strategists, her work has appeared in The New York Times, Good Housekeeping and numerous media outlets. On the faculty of Kripalu Center for Yoga & Wellness, she leads life balance workshops and retreats for Fortune 500 companies and organizations worldwide. Thousands of women in ten countries are participating in Personal Renewal Groups based on her first book, The Mother's Guide to Self-Renewal. She lives in Austin, Texas, with her husband and son. http://www.reneetrudeau.com.
‹ Focus on Divatude – Week 8 #NoKidHungry Campaign and how you can make a difference ›